Ladies, (and fashion-fabulous Gentlemen) I've seen the future of shopping and it's eco-friendly, easy on the budget and totally fabulous! Just in time for Earth Day...
I've just returned from a trip to Los Angeles and discovered something that's going to rock your world.
It happened around 2pm on a sunny Sunday in LA, I had just finished a late brunch at Ronnie's Diner and my friend Melanie whispers to me, "I have to show you something you are going to love." We pull into a nondescript parking lot in Playa del Rey and walk up 2 flights of steps to a cute little entrance with a sign that says "Give + Take Swap Boutique".
Melanie tells me she dropped off two giant bags of clothes from her closet last weekend. She needs to pack for an early morning flight to New York and would like to grab a few items for her trip. She pulls out a card that says 35/25 and explains to me that she has 35 points in the designer room and 25 points in the one-to-one room. I have absolutely no idea what she is talking about, but I watch with a mixture of excitement and envy as Melanie tries on numerous adorable ensembles assisted by Sunita Lasdow, stylist extraordinaire.
Give + Take Swap Boutique is the brain child of Dora Copperthite, the first of its kind "swap boutique," that introduces a revolutionary, green shopping concept: pay by the month, not per item.  A hybrid between informal clothing swaps and a traditional second-hand boutique. Women exchange their previously loved designer clothing, shoes and accessories for merchandise in the store--all collected from other women with designer duds to trade.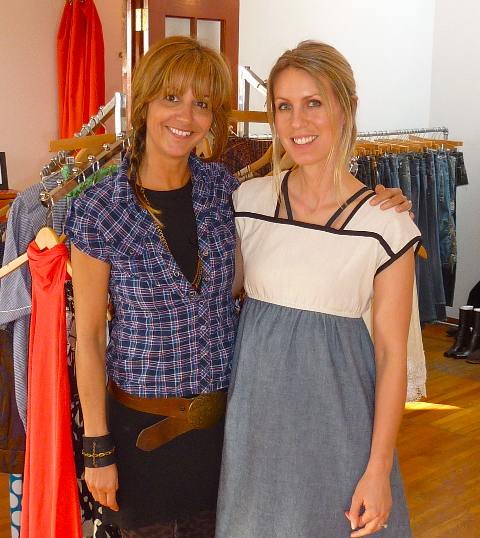 What if there was a boutique where you could exchange your too-skinny skinny jeans for a barely-used Marc Jacobs handbag--without spending a dime?
 
For $20 a month, women bring in their previously loved clothing, are awarded points based upon the value (a $200 dress is worth $200 in points), and then can spend those points in the boutique--all at once or over multiple visits.  The flat monthly membership fee allows women to exchange as much and as often as they would like without losing the value of their clothing.
 
Without the threat of losing value, women have incentive to move underused clothing out of the backs of their closets and into usable circulation once again--recycling and diminishing the need for new purchases.  In fact, because this shopping model offers such amazing value, even fashionistas without an environmental conscious behave like eco-chicks!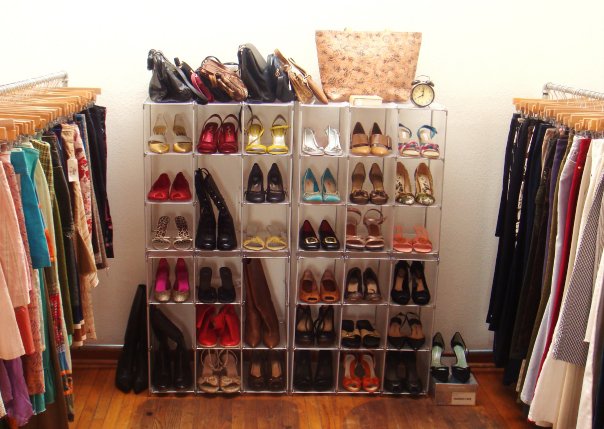 >
Dora told me the idea had been percolating for approximately eight months, before she made the leap and opened the doors. "Seeing this vision I had coming to fruition, it's not there yet, but it's happening. People are taking better things out of their closet and bringing it in."
In fact, a regular client had an epiphany while shopping on Melrose recently for an upcoming party and said "This is stupid! I should go shop at Give + Take!"
It isn't just shopping in our own closets--it's literally shopping in the closets of hundreds of fashion-savvy women.
I can't wait for the expansion of Give + Take to Boulder or anywhere within driving distance! What could be better, shopping for fabulous new clothes, sharing your previously loved items with other savvy women and being green too?! It's the perfect Earth Day shopping experience.
Welcome to The Shopping Revolution -- we all want to change the world.