Too many of my clients utterly destroy their own wedding budgets and get really upset about it. Let's face it, if you've spent too much money then you either have to start cutting things or find more money (be sure to check all the trees in your backyard -- it's spring, after all).
The thing that blows my mind is that, when their final headcounts are in and the numbers are tallied, these brides and grooms are (in some cases) screaming at me about things they chose and bad decisions they made, even the ones I warned them about.
Five excellent examples of how to blow your budget:
1. Invite more guests than you can reasonably afford.
I've had a few REALLY pissed off clients in the past year who couldn't figure out why inviting four times as many guests as they could afford might result in an out-of-control budget. Reality check -- the food and beverage at your events is the biggest part of your budget. Double the guest count, double the money. Do not invite 175 guests to your wedding that you've budgeted for 45 guests and then yell at me when you have to pay for the 90 who accepted the invitation.
2. Shop for stupid things without adding up their costs and you'll quickly find yourself in dire straits simply because the little things DO add up. Cheesy favors (nobody wants a wine stopper with your names on it or a shot glass with your wedding date) cost you money. Pinterest is dangerous. Use it for ideas and then stop when you've made your choices. Same with Instagram.
3. Buy more than one wedding gown.
If you have a tight budget, this is a trend YOU CANNOT AFFORD unless you find the party dress for the reception at Marshalls.
4. Insist on expensive floral centerpieces at a venue that is already beautiful and doesn't require a lot of decoration. If you're getting married in a $5 million waterfront villa, it isn't necessary to guild the lily. Think creative lighting and forget the elaborate centerpieces that nobody can see around anyway.
5. Serve a top shelf bar at your events and you'll double your costs.
I hate to say this because I'm a picky drinker myself, but your wedding guests (especially at a destination wedding) won't care what they're drinking after the first 30 minutes as long as it's stiff and plentiful.
At the end of the day, the budget decisions are ultimately the brides and grooms' to make. More times than I can count, I've warned clients "that's not the best budget option for you" and been snapped at and shut down. But they sure want to blame it on anybody else when they get their final invoice.
Want to avoid that stress? Here are five solutions to the five specific budget pitfalls described above:
1. Write a realistic guest list with your fiancé and your parents and then whittle it down to a realistic number for your budget. If your planner tells you $100/person estimate for dinner, do the basic math. You can't afford 100-plus guests on a $15,000 budget.
2. Keep track of what you're spending on your own in addition to the general wedding expenses. Your gowns, invitations, suits/tuxes, rings, gifts to each other and the wedding party and your families add up quickly. If you're not keeping track, you may find the wedding fund already depleted when it's time to pay the vendors.
3. Don't start gown shopping at the most expensive boutique in town, especially if you have a great figure and can shop trunk shows or big designer clearance sales. Take advantage of that fabulous bod and save yourself thousands. Then you can have the second dress for $100.
4. Don't ask seven girls to be bridesmaids if you cannot afford seven bouquets of the flowers that you want. Do not insist on elaborate centerpieces that your guests will move anyway (they like to see each other) that cost you more money because of their ginormous size. Don't ask for delicate northern flowers if you're getting married in the tropics -- they cost you more than orchids!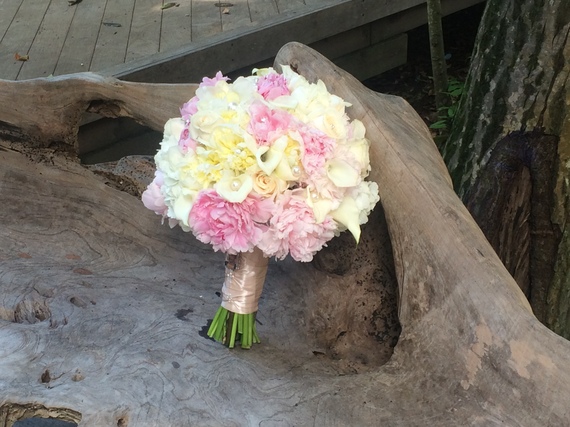 5. Don't try to extend you reception beyond the standard four to five hours. That's enough free unlimited alcohol for any group of wedding guests. After that, some people get out of control. Consider having an after-party at a nearby bar or restaurant so that people can drink all night on their own dime after your reception. The fun doesn't have to end, but you also don't have to pay for nine hours of booze.
Be smart, keep track of ALL your wedding spending, outside of the actual wedding planning too -- and for God's sake, take your wedding planner's advice. Otherwise, there's nobody to blame but yourselves when you max out all your credit cards. If the planner told you that it was more than you should spend, she had no motive to lie. She was just trying to keep you on budget!
Until next time, happy wedding planning from Weddings in Vieques and Weddings in Culebra!
Sandy
PHOTO GALLERY
Best Ways To Save On Your Wedding Budget