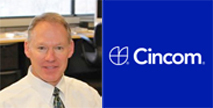 During this year's Microsoft Summit, I had fun with Cincom's manufacturing demo; what's not fun about outfitting your own 18-wheeler with custom tires and lights? As always, it was great to see Brad Fleming, Cincom's Director of Sales for NA for CPQ and ERP, and he was kind enough to sit down with me for this Q&A, where I learned that Cincom's relationship with Microsoft Dynamics is unprecedented in size and scope.
SDM: How did Cincom come to focus on manufacturing?
BF: The primary reason is that we are headquartered in Cincinnati, the heart of the industrial Midwest. There is a lot of manufacturing in this region. Our vertical direction has been driven by manufacturing customers who need help achieving their business goals. Our clients went from wanting database solutions to other business solutions such as the ERP and CPQ solutions that we offer today. Over time, we've also extended out industry expertise beyond manufacturing. Now we also have product lines that service the insurance and healthcare industries.
SDM: What is end-to-end ERP/CRM/CPQ?

BF: You can walk all the way through the selling pieces, put quotes together, and do project management. We built-in different modules -- the sell module contains full CPQ for configurable products -- and push those functions and data into the ERP system. We can create the routings, multi-organization, and project-based planning and controls, with regulatory compliance, and, after shipping, can get into some really core high-level project management and data management functions. We have a module for services, assets, engineering and service operations. When you get into highly complex project work, you need a powerful estimating module. With these types of complex projects, you're really starting with a blank piece of paper -- working with contract manufacturing -- and going through revisions through every quotation. Really, what end-to-end means is that our ERP product can take your original sales quotes and configurations from your CRM and CPQ and push them to your ERP, where revisions can be made, and then move that project through the entire supply chain and manufacturing process with all of the project information intact. The product also contains a module for aftermarket support. We're really closing the loop from the initiation of a project through the sales process, project revisions, manufacturing process, and aftermarket services.
SDM: Who are your competitors?
BF: In the CPQ space, Experlogix and others in the space like Axinom and Calitus Cloud. In the ERP space, Oracle, SAP, and Infor. In the government space our competitors are IFS, Columbus and Deltek.
SDM: Do you have a case study you can share?
BF: One that comes to mind is Harris Corporation in the government sector. They replaced an old legacy MRP and, once we were finished, they had a 20% improvement in productivity three months after implementation. Harris is a $5.4M aerospace company. We've simplified things like multi-organization project-based revision controls.
SDM: With that much of a global footprint you must see manufacturing trends.
BF: We are watching a lot of global consolidation eating away at some of the smaller niche players who have good IP and we're seeing a lot of acquisitions of those smaller entities. We see a lot of disparate systems in need of good integration. How, for example, do you take your seven different ERP systems, rip everything out and put in one good platform, able to handle complex configurations, in the discreet manufacturing industry? Manufacturing is dealing with globalization. Globalization is causing an increase in the number of people, governments, and customers that a manufacturer has to deal on a daily basis. Having scalable technology will be beneficial to that manufacturer and the growth of the market.
SDM: And you're seeing a lot of manufacturing come back to the US?
BF: Yes, it's re-shoring but as I said, it's also due to the fact that businesses are recognizing that they need to be closer to the customer. I think that's the main reason that some manufacturers are choosing to move their operations back to the US, which is a big market. I know that it has been a topic of conversation in the manufacturing community for some time. At Cincom, we really are focusing our efforts not just on our customers in the US, but also trying to keep a global mindset.
SDM: What do you see looking out to the future?
BF: The future of manufacturing is really cloud, mobility, and IoT (Internet of Things). There has been some discussion of whether cloud is really where manufacturing is going to be moving, but I think it's already shifting that way. A manufacturer is still going to need to see its operations, information, and analytics on the go; that's where cloud and mobility are really going to make sense. Our products are capable of supplying both the ability to use the cloud and mobility options to our customers. We're able to host on Microsoft Azure, and all of our products are responsive to any device that you're using. This includes Cincom's ERP solution.