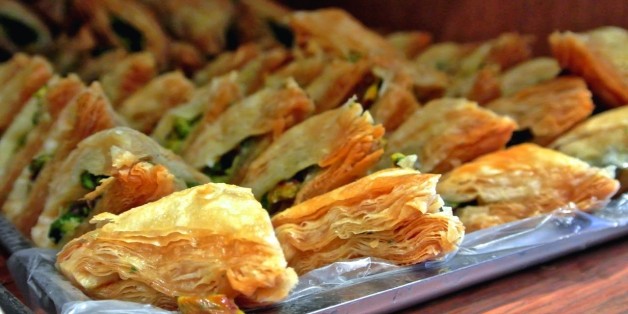 It was 5 pm on a Ramadan weekday in Cairo, two hours before sunset. A long pastry case stretched out before me, separating an army of bakers from a hungry mob of customers. Enormous aluminum platters filled with kanafeh were lifted out of ovens and carried like trophies above bobbing heads and bent backs. Two industrial machines chugged away incessantly, one producing streamers of pastry noodles ready to be fried while the other squirted out puddles of qatayef pancakes, round and fluffy, almost spongey. To place an order with one of the bakers meant to summon all your courage, take a deep breath, and execute a series of gestures, supplications, and commands that would, God willing, result in a package of the most heavenly sweets this side of the Nile delta.
Bloudan
and, unlike most Cairene pastry shops, it is new (less than two years old) and very small. I found it by intention, having heard of it through a reputable Egyptian academic with a refined sense for pastry. Syrians are known in the Arab world for holding the keys to the region's culinary treasures. In Egypt, housewives go silent when Syrian pastries are mentioned, murmuring only of the special
tik-ka
, that little way, that Syrians have with food.
baklava
, thinly wrapped flaky sheets of phyllo dough separated by butter, stuffed with roasted nuts, and held together by a sticky, extra sweet syrup. Baklava here takes on several shapes, wrapped up in a cylinder or sliced into tiny cubes sized to make your cheeks swell but still with enough room to chew.
Namoura
is another specialty, with layers of buttery pastry encasing soft cream. Cream here is not whipped, nor clotted. It borders on butter, with a consistency almost of cream cheese. The flavor is clean and milky, with a rounded mildness (like mozzarella) that offsets the pastry dough perfectly.
Kanafeh
gets its treatment in the traditional hotplates, covering a layer of melted sweet cheese (
kanafeh bel jebneh
), or wrapped up into little birds nests (
'aysh el bolbol
, literally "the nightingale's nest").
halawet el jebn
and
warbat
, both rare in Cairo.
Halawet el jebn
, "the sweetness of cheese", is made with semolina and
'akkawi
, a soft and sweet Middle Eastern cheese found mostly in the Levant. Melted, rolled together with sugar and pistachios, and stuffed with fresh cream, this is what I imagine imperial courts in the Ottoman Empire served to visitors and guests.
Warbat
, baklava's triangular cousin, is like a flaky pita pocket stuffed with freshly roasted sugared walnuts, or pistachios, or almonds, or cream. The trick is in the pastry, which is at once light and flaky yet sturdy, and tastes of brown butter.
As sunset nears and the cars slowly empty from the streets, ribbon-wrapped packages sail out of Cairo's pastry shops to restore life to those at home. And though our Syrian friends are far from their homes, they've brought their food and their hearts along with them. And so, for now, downtown Cairo is blessed with a visitor who comes bearing the sweetest of gifts.
Practicalities:
26 Mahmous Bassiouny Street
Cairo, Egypt
+201001410944
+2025756675
For more of Sarah's writing, visit her website.