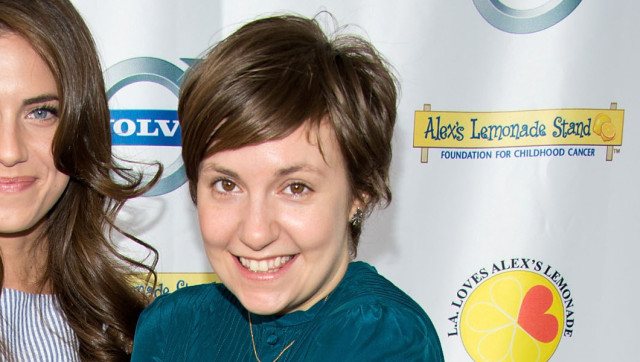 Fall is finally here. We can pack up the fake tanner and bronzer brushes until we next need them. If we ever do, because the suntan is slipping out of style faster than an old bikini off a rainy sun bed. In the Parisian "frows" and on the runways, all the coolest girls stuck with their natural-born color, whatever it was. At this year's Emmy Awards, the newest stars were either naturally dark, like Maya Rudolph and Mindy Kaling, or pale as spring blossoms, like in the cases of Lena Dunham and Emilia Clarke (Game of Thrones). Hollywood's rising stars Chloe Moretz, Emma Stone and Emma Watson are following Anne Hathaway, Natalie Portman and Keira Knightley's pale and interesting leads.
Suntans and highlighted hair remain firmly planted in the 35+ age group. Kate Hudson, Charlize Theron, Gwyneth Paltrow, Cameron Diaz and, of course, Jennifer Aniston are all tanners and, somehow, their looks seem dated now. It could just be the lovely, fresh weather of fall setting a new fashion scene, but I find myself exfoliating like mad at the moment in an attempt to find a natural glow. Trouble is, if you have always been a "faker" like me, it is hard to venture back to nature's hue, no matter how fashionable it may be. Although Hudson, Paltrow and co. are too savvy to have suffered skin damage, my bet is that they probably feel better beauty-wise with a tan. Not only does the age-old argument that a person looks healthier with a suntan still resonate, a tan slims down the look of even the skinniest body. In more extreme tanning circles, multi-coloured fake-tanning is fashionable. This involves an uber-expensive, fake all-over tan with contours painted on top in darker-colored tan to create an optical illusion, a slimming effect. Seems ridiculous even to me.
From the 1920s to the 1970s, a suntan equalled one of two lifestyles: Either a person was a laborer, who worked outside in all weathers, or a jet-setter, able to zoom off to sun-tanning places at a moment's notice. Over the decades since, the social tan lines have blurred. Unless you are a leathery and on-the-wrong-side-of-50 fashion goddess like Carine Roitfeld or Franca Sozzani, a tan is now just too down-market. "Tanning Mom from New Jersey" has scared the tanning bejesus out many former tanning devotees. Nobody wants to even faintly resemble that particular look. Fashion abandoned the tan decades ago, with the closure of Studio 54. If a healthy, tanned glow is required now, models are sent to the tannery -- sorry, salon -- for a spray before the shoot. No one knows the official pantone shade for a healthy glow, but it is more of an overall effect than an actual colour.
Natural differences are the key to what gives us an authentic, stylish look. Sticking with the skin and hair colour we were born with just feels easier for us all. Every time I see a new, rising star on the fashion runway or coming out of Hollywood these days, natural colouring is key to her look. Pale Emma Stone with her freckles and fair skin stands out against Hollywood's perma-tans and highlights. Solange Knowles with her fabulous 'fro is the coolest girl on the fashion circuit, right now. For fall, natural beauty is the most stylish canvas for any fashion look. Cosmetic colours work best on natural skin tones and un-bleached hair always looks healthiest. Plus there is something very cool at the moment about a naturally colored, "un-groomed," snaggly-eyebrow look. It is young, fresh and, thankfully, free.