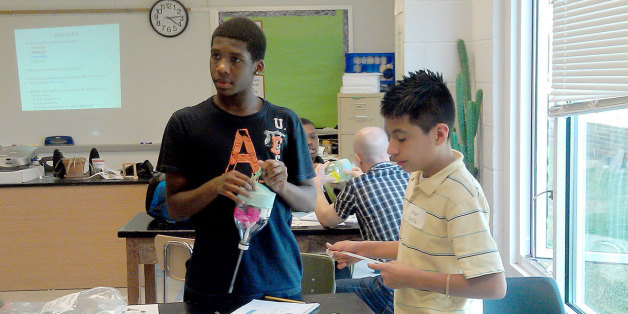 Sarah Rabiner served as an AmeriCorps Teaching Fellow with Citizen Schools in North Carolina.
I will never forget the day my students had the chance to study lungs -- real pig lungs. The focus of their afternoon, a "Healthy Lungs, Happy Living" apprenticeship class, was how smoking tobacco can affect the lungs.
Volunteers from the National Institute of Environmental Health Services (NIEHS) led the class through the nonprofit Citizen Schools. One day, the NIEHS volunteers brought in two sets of pig lungs for students to examine, as they are similar to human lungs. One set of lungs represented the healthy lungs of individuals who do not smoke tobacco. Another set of lungs represented unhealthy lungs common among individuals who did smoke tobacco. The volunteers had manipulated the pig lungs to resemble unhealthy lungs in appearance and texture by dying them black and changing their texture to reflect hardened muscle. They challenged students to identify all of the differences between the healthy and unhealthy lungs -- a task that would be best accomplished with a true hands-on approach.
Being able to see and feel real lungs helped make the harmful effects of smoking tangible to students. Rather than being told that smoking "is bad for you," students could truly conceptualize what habitual smoking can do to the body. The level of engagement and excitement in this middle school classroom was astonishing.
The Healthy Lungs, Happy Living apprenticeship is a part of a longer school-day program provided by the nonprofit Citizen Schools. The organization partners with urban middle schools to expand the school day and mobilize a team of AmeriCorps Teaching Fellows and volunteers to teach real-world learning projects and provide academic support. As AmeriCorps Teaching Fellows with Citizen Schools we saw these incredible "light bulb" moments in students all the time.
As science, technology, engineering, and math (STEM) fields become even more important to our national economy, it is crucial to engage students in the sciences at this critical time in their life. Students from underserved communities might not routinely interact with an engineer or a scientist, but at Citizen Schools, they not only meet them but also have the chance to experience what it might be like to have one of those careers. In these apprenticeships, they work alongside STEM professionals for 10 weeks, building new skills, gaining confidence and more importantly getting inspired and excited about school and their future.
While it was thrilling to see students fully-engaged and curious about science when handling pig lungs, it was even more moving to see them get excited about more mundane activities. At the start of each apprenticeship class, students measured their lung capacity by blowing as much air as they could through a straw in an attempt to move an empty jug out of a bucket of water. They would then record and plot their lung capacity in their lab notebooks, which they needed to keep track of from week to week. Having taught middle school as part of my AmeriCorps service, I knew first hand that keeping up with projects across 10 weeks and creating and analyzing graphs are not necessarily students' favorite activities. But students found ways to make these processes fun.
Not surprisingly, students routinely competed against each other to see who had the "best" lung capacity. The NIEHS volunteers heard these comparisons and prompted students to hypothesize why some of their peers had a larger lung capacity than others (e.g., gender, height, frequency of aerobic activity). Within moments, the seemingly silly competition became the basis for real-world learning.
Students channeled their excitement over measuring their lung capacity into graphing their progress. Each week, I'd hear students debating the most appropriate major and minor units for their x- and y-axes, reminding each other of the formula to calculate the average change in their lung capacity from one week to the next and predicting their expected lung capacity the next time it was measured. By engaging students in hands-on STEM learning, they were becoming proficient in math and more interested in STEM-related careers. A task that would ordinarily be considered very boring was brought to life for them. During my time as an AmeriCorps Teaching Fellow, I witnessed the real impact that hands-on STEM learning has on kids. By getting the opportunity to work with real scientists, and get their hands dirty (literally and figuratively) the students didn't even realize they were learning math, and loving it too.
National Service programs like AmeriCorps allow for these STEM-based apprenticeships to happen. They give students, the chance to become more comfortable with math and science before they have the chance to become wary of the subject matter. Citizen Schools was recently chosen as a STEM partner in ServiceNation's Serve a Year campaign to inspire more young Americans to get involved in their community and the country for a year of service to create opportunities like Healthy Lungs, Healthy Living for more students.
Individuals interested in committing a year to service can find out more at serveayear.org. If you're interested in volunteering with Citizen Schools to help more students discover and achieve their dreams, sign up today to teach an apprenticeship.
Cisco employees are among Citizen Schools' largest contingent of "Citizen Teacher" volunteers. Since 2009 125 Cisco employees have led 10-week student apprenticeships to expand the learning day for children in low-income communities. For more information, visit: http://csr.cisco.com/casestudy/citizen-schools