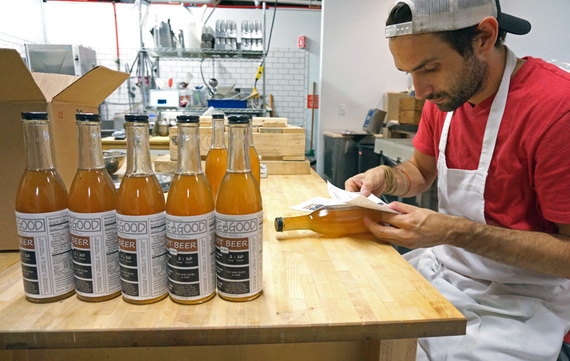 How's this for burning the midnight oil: Two nights a week at around nine in the evening, Jason Schuler heads over to the commercial kitchen in downtown Beacon, NY where he creates his Drink More Good line of artisanal soda syrups (and where he also runs an incubator for upstart food producers). Once there, he works through the night, mixing, boiling and bottling, finishing that night's syrups around 5am. As a small-batch producer, Jason takes the only time available in his busy schedule to get the product made, and that time happens to be in the middle of the night.
Schuler's path to Drink More Good ran through a longtime bartending gig, an enthusiastic regular, and his parents' garage. In 2012 he was working at Gleason's restaurant in Peekskill when he began tinkering with syrups to put in the cocktails there. That December, one of his regulars asked if Jason could make a few bottles for him to give out to friends for the holidays. Jason quickly produced his first nine bottles, and that was the lightbulb moment. Within the month, he'd secured an investor and started a company, turning his parents' garage into a production facility until he could manage something more official. Today, Drink More Good sells syrups that restore sodas like cola and ginger ale to their original, naturally derived flavors.
I recently spent some late-night hours myself in the kitchen with Jason as he took me through his process for producing Drink More Good's Root Beer Syrup. Head over to Strolby to see how he does it...