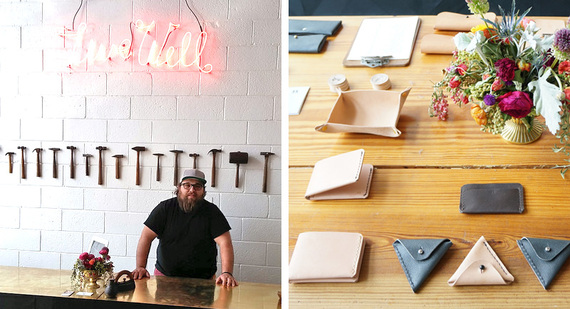 It makes for a dramatic entrance, stepping off Austin's South Lamar Boulevard into Noah Marion's combination shop, cafe and studio. To the left is a long counter, above which a neon sign beckons visitors to "Live Well." Marion himself is sure to be standing behind it, ready to make a coffee drink and answer questions about his leather work. In the center of the space, a long table showcases the gorgeous leather goods that Marion has become known for. And in the back is his workshop, where most days you can watch Marion at work.
Thanks to Marion's vision, it just so happens that living well comes easy here. He designed and built out the space itself, with its spare aesthetic and refined industrial vibe, and browsing the shop with a cup of coffee feels like time well spent. The highlight, of course, is the Noah Marion Quality Goods collection itself, which he launched four years ago with 30 leather items and today has grown to over 100.
In his own words, check out the story of Noah Marion Quality Goods on Strolby...