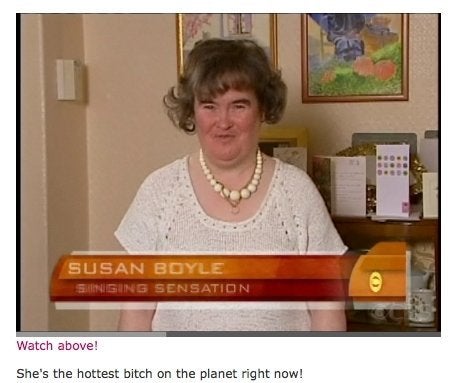 As Susan Boyle's stardom catapults to unknown and unimaginable heights, here is what I fear for the future:
The phrase, "He/She is no Susan Boyle" referring to the next unattractive person who competes on a reality show who doesn't have her talent.
Alternately, the phrase, "Pulling a Boyle" if someone is unattractive and surprises people by succeeding at something.
People yelling at me for calling Susan Boyle unattractive.
The Susan Boyle Movie (Working title: "I Dreamed a Dream") with Susan Boyle played by Hollywood Actress Anne Hathaway in heavy makeup.
The interviews with Anne Hathaway detailing her weight gain to play the role of Susan Boyle. (Anne Hathaway loves ice cream!)
The woman's magazine articles explaining Anne Hathaway's Ways To Lose Weight (And Fast!). (No more ice cream!)
Anne Hathaway's tearful Oscar speech when she wins Best Actress for her role as YouTube Singing Sensation Susan Boyle in "I Dreamed a Dream." (She could have never done it without Susan Boyle).
Anne Hathaway calling Susan Boyle on stage with her during her acceptance speech. (I do look forward to Susan Boyle saying something charming and Scottish).
Anne Hathaway/Susan Boyle duet at the Oscar ceremony with Sting as surprise guest.
The Susan Boyle Halloween costumes.