If the U.S. automotive industry hits popular forecasts of 16.4 million car and truck sales this year, it is likely that the number of vehicles built in North America will surpass 13 million in 2014 - for the first time in nearly a decade.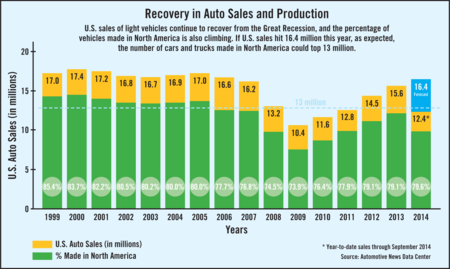 IHS Automotive, among others, estimates that US auto sales will hit a robust 16.4 million cars and trucks this year, up from the depressing low of 10.4 million in 2009 during the Great Recession.
But it's not just sales that have been gaining. The percentage of those vehicles that are also built in the US, Canada and Mexico has also been climbing since 2009, too, according to data from the Automotive News Data Center. The gain has been driven by the sales recovery of the Detroit Three automakers, as well as foreign car makers, who make many models in North America now.
In the decade between 1999 and 2009, the percentage of vehicles purchased in the US that were also made in North America had declined, from 85.4 percent to 73.9 percent of total sales, data from Automotive News shows. That 11.5 point drop represented a production loss of 6.8 million cars and trucks - and it forced automakers to shutter factories and lay off tens of thousands of workers.
By the end of 2009, just 7.7 million of the cars and trucks sold in the US were actually made in North America. That is about half of what it had been a decade earlier.
Since 2009, however, the needle has been moving in the other direction.
During the past four years, US auto sales have grown by 5.2 million cars and trucks, and the number of US-purchased vehicles that were also made in North America has grown by 4.6 million cars and trucks, Automotive News' data shows.
So far this year, 79.6 percent of the cars and trucks purchased in the US were made in North America.
Historically through 2012, most North American production, more than 85 percent, has remained in the United States, according to data from WardsAuto.com.
If the automotive industry hits IHS' forecast of 17.4 million car and truck sales in 2017, that could translate into more than 13.8 million cars and trucks manufactured in North America. And that's if the share of vehicles made in North America remains constant, when, in actuality, it's been increasing.
The increase in North American automotive manufacturing has strengthened the network of manufacturers -- many of whom are small machine shops that make tooling and other parts for larger suppliers and automakers -- all the way from Ontario and Detroit to Mexico City.
Foreign and domestic makers of machine tools and other manufacturing technology have been bullish about the recovery in the automotive sector, and it's not just the growing manufacturing volumes that are causing excitement either.
As you can see in Manufacturing Engineering's annual Motorized Vehicle Yearbook - which is released in November and available for free in our digital edition -- tougher federal regulations on fuel economy and emissions are driving a total rethinking about the way cars and trucks are designed and manufactured. Innovations in materials and new approaches to make lighter, more efficient engines just scratch the surface of the new high-tech approaches to designing and building the cars of the future.
The changes are driving new investments in manufacturing technologies at the same time volumes are climbing.
Recently, I was out at Heller Machine Tool's North American headquarters in Troy, MI, where I was taking a closer look at their innovative Cylinder Bore Coating (CBC) technology, which is a groundbreaking technique that can take weight out of automotive engines and make them more efficient by reducing friction in the cylinder.
Of all the markets in which the German company does business around the world, the American market is increasingly looking like the sweet spot these days, Keith Vandenkieboom, President and CEO of Heller Machine Tools told me. The US auto industry, he said, is a major reason for that.

This column originally appeared on www.AdvancedManufacturing.org.