July 4th has been an extraordinarily big party day in Philly, and this year was no exception. Still this year was different. Though celebrants tried not to focus on fear, recent horrors in Boston, compounded by the seemingly intractable divisions in our country, and growing mental health problems that are unaddressed, were surely on our minds.
Some background: As a Philadelphia transplant from Baltimore (over 30 years ago), I am especially proud of our beautiful, historic, culturally rich Benjamin Franklin Parkway, one of this country's first successful urban renewal projects. (While a student at Baltimore's Goucher College in the 1960s, I was fortunate to work on another early, successful urban renewal project, Mt. Vernon Place.)
Philly's mile long Parkway begins at our City Hall. Rich with extraordinary cultural institutions, it curves around Logan Circle, ending just before the Philadelphia Museum of Art. On July 4th all traffic is banned, and Philadelphia families and visitors are treated to entertainment for just about every taste, as well as a marvelous array of ethnic food delights, representing all parts of our multicultural city. The celebration, attracting thousands, culminates outside of our Philadelphia Museum of Art (yes, the very place where one finds the statue of Rocky) with powerful performances (this year John Mayer, The Roots, and others), followed by a fireworks display that can best be described as "over the moon." If I sound like a deeply proud Philadelphian, it is because I am!
But the horror occurring at the Boston Marathon, and more, seemed palpable this July 4th. Even as we tried to wave it way, anxiety was in the air. Police were everywhere, many disguised in plain clothes. Helicopters hovered above, seeming reminders of the dangers of intransient divisions in our country and the utter recklessness of a Congress that ignores the importance of mature communication and compromise for the greater good.
Good friends have a yearly holiday party in one of the buildings along this route, close to the museum; and everyone dresses in red, white and blue for the fun gathering, where we enjoy sangria, chili, hot dogs, and potato salad, listen to the concert, watch the fireworks -- and most importantly, catch up on each other's activities and families.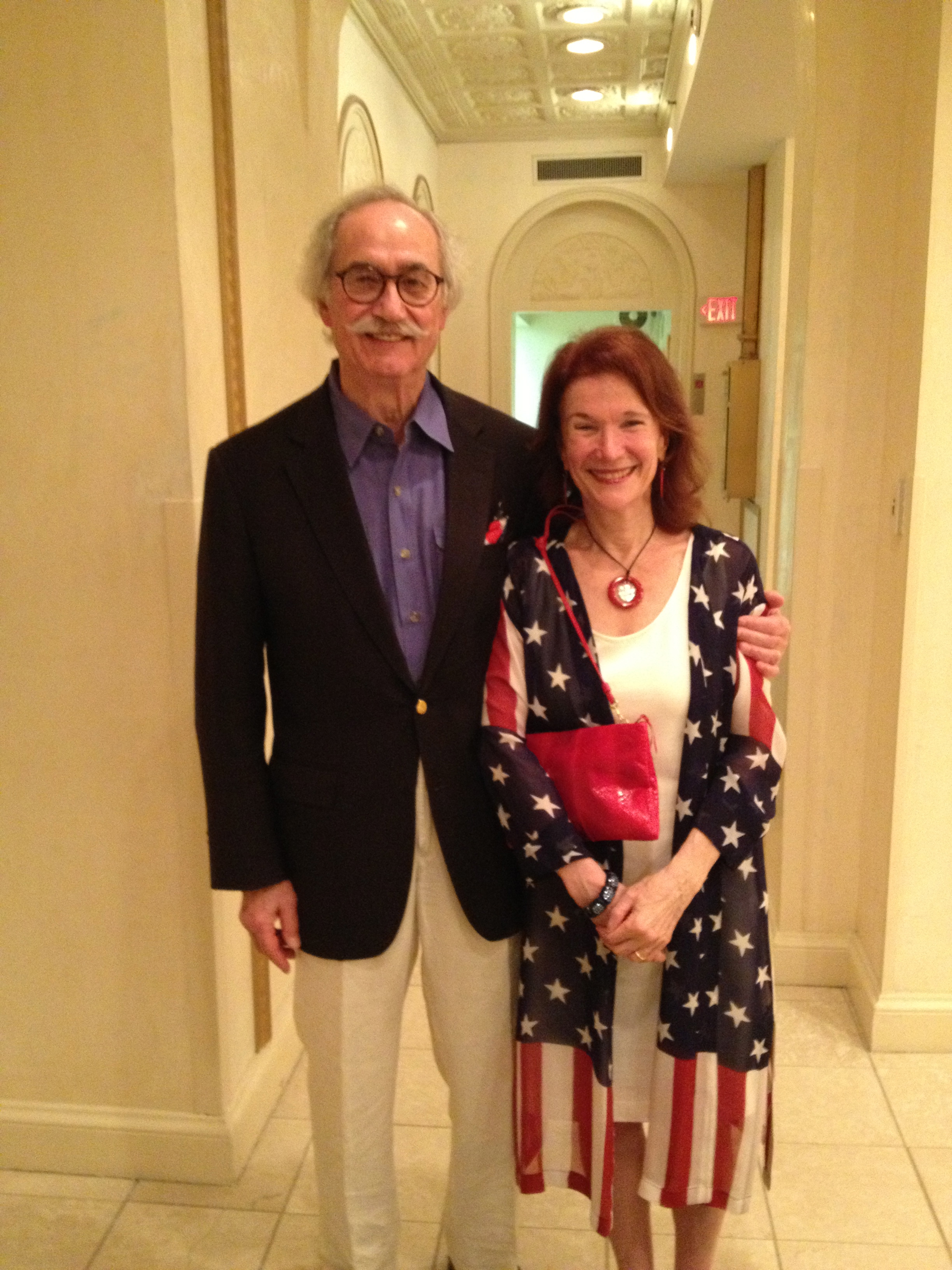 The party we attended was wonderful, as ever. At about 11 p.m., with the fireworks still going strong, we left to begin our journey home, moving backwards when we could, not wanting to let go of the ongoing celebration, as it moved toward finale, in all of its array of joy, hope, and promise.
Then, as we were passing the Rodin Museum (luckily no longer slowly walking backwards), chaos and confusion suddenly descended. Hundreds of people ran toward us in utter panic, some screaming, their terrified children, in their arms or clinging to their hands.
Had my husband and I not found the side of the Rodin building, we would have been toppled in the stampede-like scene. Everyone passing us who responded to our questions -- "What is happening? What are you running from?" -- said they did not know. Many beckoned us to follow them. Screams were everywhere. We stayed put, deciding, as runners thinned, to find a parallel path and keep on walking toward our home. When we felt it safe to walk toward the Parkway itself we saw discarded bags and shoes, and one trampled pair glasses.
Soon after, we found two police officers, who told us that absolutely nothing had happened. Downplaying fears, they explained that the crowd became hysterical without provocation -- one called it "mass hysterics" -- the other said this kind of thing was "not uncommon." Further along our walk, as helicopters swirled above, we heard a man with three young girls remind his charges that he had thrown himself on them "when guns were shot." The racial slurs that followed terrified the little girls; and I thought of the South Pacific lyrics, "You've Got to Be Taught." As he spoke loudly, one person nodded in agreement. Some glared -- others ignored him.
Just before 11:30 p.m. SEPTA Transit Police Chief Thomas Nestel III tweeted: "Stampede in the 1700 block of Parkway caused by nervous people hearing fireworks reverberate off buildings. No danger!"
The next day Philadelphia news outlets reported conflicting police explanations. AP reported Deputy Mayor for Public Safety Everett Gillison saying that running began when someone lit a firecracker and threw it to the ground. NBC TV News 10 reported that a BB gun was shot into the crowd. To date no suspect has been identified, and there has been no report of serious injuries or incidents.
Next July 4th my husband and I plan once again to be among thousands in celebration of the splendor of American and the city of its birth. Til then we will join the many, doing what we can to work toward a resolve of those dangers that are so terrifying and threaten all we hold dear.