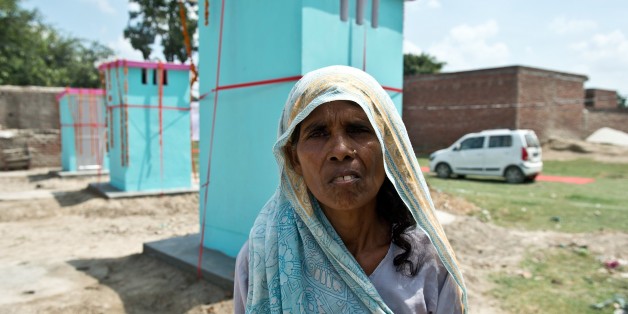 In October when Indian Prime Minister Narendra Modi, wielded a broom and passionately swore to clean up the streets of India and improve its sanitation within 5 years, he became somewhat of a demigod. Well, maybe not the sword-swishing, six-pack touting Hercules you are thinking of; but his cult status certainly shot through the roof capturing the attention of Indians who elected him to power earlier this year.
For several years now citizens across the country, grassroots movements and the media have been raising a stink over the appalling amount of waste that goes untreated. According to the Center for Science and Environment in New Delhi, less that 30 percent of sewage in India receives proper treatment and almost 80 percent of the wastewater ends up in rivers and lakes. What is even more frightening is the rapid rate of urbanization. The McKinsey Global Institute projects that India's population in urban areas will soar from 340 million in 2008 to 590 million by 2030. Imagine the amount of waste that will be produced. In fact just the city of Mumbai is today estimated to produce 12,600 metric tons of waste in one day. That's about 28 million pounds of waste from one city in just 24 hours.
Complicating matters is the lack of access to bathrooms. Recent census data shows that more than half of Indian households lack access to a loo. Juxtapose this information with a United Nations report that says more Indians now have access to cell phones than toilets.
Looking back I can now see how India has always a troubled relationship with its toilets.
Growing up in Chennai in the 80s and 90s, my neighborhood was a typical middle-class residential area. There were apartments and independent homes on either side of wide streets dotted by sweeping Gulmohar trees with their iridescent red blooms; tall coconut and mango trees laden with their fruits and the backs of random men standing against compound walls...err peeing.
As far as I can remember there were no public toilets in our neighborhood. There was a government bathroom that came up years later. But it came with a catch -- one had to pay to potty. So as you can imagine, people in nearby slums and commuters generally chose to skip the paying part and answered their call of nature out in the open. China might boast its Great Wall and Jerusalem its Western Wall. But our neighborhood's claim to fame was the "peeing wall."
And we were "privy" to this peeing wall 'round the clock. You see, this particular wall was across the street from our house. It was a tall compound wall for an apartment complex made of coarse black stones. I'm not really sure why this wall became the chosen one. Maybe because it was tall enough to shield miscreants from the residents inside or maybe the presence of a constantly overflowing dumpster next to it somehow legitimized its pee-ability factor. Whatever the reason, my childhood memories are unfortunately and inextricably interwoven with a parade of men who brazenly defecated out in the public.
To put an end to the "peeing wall" episode, our neighbors decided to take action. First they painted signs on the wall that banned any kind of littering. Then they even planted a row of bushes to disarm the would-be pee-er. While some of these interventions worked, hard-core nature embracers would not give up.
For the women in nearby slums, the issues were far more challenging. I remember our maid telling stories of waking up early to take care of her bathroom burden either out in the open or in the public toilet in shadowy hours of the dawn. In fact many women in India are estimated to hold their bladders for more than 13 hours because of lack of access to bathrooms. And there are varying statistics on the number of women and girls who could have escaped rape if they had toilets in their homes.
The first time I empathized with the plight of poor women and girls in such situations was when I met our maid's daughter. She was a young girl who was about my age. She often came to our house to help her mother with chores around the house. Murugamma was a dusky beauty. When she cleaned up -- which was once a week -- she had an impeccable sense of dressing. Her cheap plastic bangles and earrings would match her simple cotton half-sari.
When she casually mentioned fighting with the loo-keeper over the amount of rupees she had to pay to use the facilities, I remained a mute participant -- merely taking in the information without any teenage wisdom to spare. But the gravity and injustice of her situation hit me hard only when I visited a village in southern Tamil Nadu during a summer break. I was thirteen years old, and this was supposed to be a bucolic retreat right off the pages of Malgudi Days -- the perfect summer with cousins, and their cousins and whole lot of friends. We stayed at a sprawling old Agraharam house with large rooms, tall ceilings, teak wooden doors and banisters. The house even had a granary to store sacks of rice and legumes from the recent harvest. The only thing missing inside the house was a bathroom.
Getting to the toilet was an adventure on its own -- you had to crisscross several rooms and open verandahs until you came face-to-face with the only privy for this large household. There it stood, a small nondescript outhouse in the backyard near an expansive banana grove. I generally avoided going to this bathroom at night. The dim flickering bulb that lit the area did nothing to calm my fears.
As a child you learn to ignore these inconveniences -- that is until you fall sick. When fighting a painful bout of diarrhea, running to the outhouse in the middle of the night while imagining ghosts and thieves hiding in dark shadows is not part of a summer vacation. During those few days as I recovered far away from home and my parents, I thought of Murugamma and her everyday toilet travails.
Today there is a growing social justice movement that is gathering momentum across the country. In Mumbai 35 non-government organizations have come together to start what is being dubbed the "Right to Pee" movement that demands equality for women in accessing public toilets. Check out this social experiment on what happens when a woman tries to pee by the roadside.
Murugamma is now long gone. She died almost 20 years ago following complications from childbirth. But as the nation now starts talking about sanitation and the challenges women in particular face, I can't help but think of Murugamma and how her short life could have been different if only she had a toilet in her house.
This blog post is part of a series produced by The Huffington Post in conjunction with the launch of HuffPost India (December 8, 2014). To read all posts in the series, visit here.