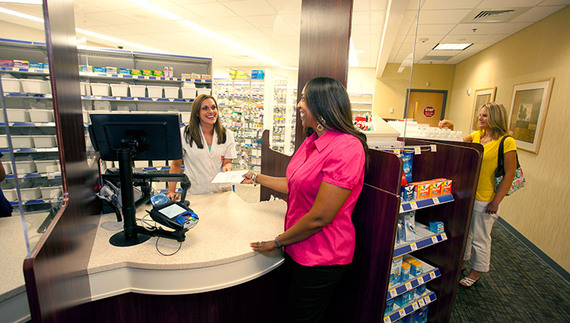 SAS Health Care Center Pharmacy, SAS World Headquarters (Cary, NC)

article by Gale Adcock RN, FNP -- SAS Chief Health Officer

On Tuesday, I parked my car in the SAS Health Care Center lot and before I even made it to my office door I already received three reminders of why it's so great to work at SAS.
Taking care of business

A mother carrying a squirming toddler called out to me from the sidewalk. "Thank goodness for the Health Care Center! My nurse practitioner just checked Charlie's rash and cleared him for child care. I can go to work!"
Parents want to make sound decisions about whether they should be at home or at work, and if their child should or shouldn't attend child care or school. SAS flexible work environment, including unlimited sick days, certainly supports employees being home with sick kids. And, our free onsite Health Care Center makes it quick and easy to find out how sick a child actually is. With onsite infant and toddler child care centers and a busy SAS preschool, what a relief to working parents to be able to get quick peace of mind!
No copays, coinsurance or other charges for HCC visits really add up, too. Last year, SAS employees saved $1.28 M in avoided co-pays and coinsurance by using the free on-site HCC. That's in addition to SAS' health plan savings of $3,946,684 for the 40,534 visits made by employees and family members. Good health is good business.
Balancing is not an act
I waved to a Work/Life staff member entering the department's front door on the other side of the Health Care Center complex. What would we do without our talented group of social workers? With easy access to experts on school issues and child development, college prep and entrance and--on the other end of the spectrum--long term care, home health and hospice, I know from personal experience that the comfort of Work/Life 'having your back' allows employees to concentrate at work and be as productive as possible.
Just add water

I decided to take a quick detour by the HCC Pharmacy on the way to my office. It was bustling as usual (although the wait continues to average less than 5 minutes!). Two employees seated side-by-side greeted me by name. One was obviously in distress, her forehead wrinkled, eyes squinting from the overhead lights.
"What can I do to help?" I asked.
"Oh, I'm just waiting to get my migraine medicine. I didn't realize I was out and this darn thing started this morning, so I came right over. They said they'd have it right out to me."
"How about a glass of water so she can take one as soon as she gets it?" asked her companion, who had obviously driven her over from another part of SAS campus.
I walked across the hall to an exam room for a plastic cup of water. And, in the 60 seconds it took me to return, she had her prescription in hand. The onsite HCC Pharmacy is almost three years old now, and we knew from the beginning it would add convenience and cost savings - and like today, another layer of compassion--to the average SAS work day.
I made it
Reaching my office door, it hit me (as it often does) even after 23 years at SAS, that we continually seek to do the right things. Onsite health care saves millions of dollars each year and makes a tremendous amount of sense each day. It may have been just a typical day at SAS, but I knew it was still special. Oh, and did I mention that it was only Tuesday?
By the way ...
Did you know that May is National Employee Health and Fitness Month? Studies show that healthy and happy employees are productive employees! How can you improve employee happiness and motivate them to stay healthy? Here are a few ways SAS is doing that this month!
National Employee Health and Fitness Month "POST TO WIN"
Each week a question will be posted on our internal National Employee Health and Fitness Month Hub Group. Employees can post their answer to be entered into a prize drawing for each post!
Know Your Numbers Clinic
Employees are invited to be measured for random glucose, waist circumference, BMI, blood pressure, resting metabolic rate, total daily energy expenditure, calculation of daily calorie needs for weight maintenance and weight loss, daily added sugar goal and daily water goal in ounces.
JAWsome Aquatics Day
Employees are invited to bring swimsuits and celebrate aquatics in the "Shark Tank" (aka the on-site Natatorium) by participating in a competitive or recreational swim meet, play Sharks and Minnows with the Recreation and Fitness Center (RFC) Staff, dive into Liquid Yoga Fusion or make a splash in Aqua Zumba.
Spectacular Sports Day
Game Day at the RFC! Employees are invited to take a break from their day to come and play a little, then return to their offices energized for the afternoon! Games include Disc Golf Singles Tournament, Basketball Free Throw Contest, Pickleball Instructional Clinic, Sports Injury Prevention Seminar, TRX Sports Training, Ultimate Frisbee Clinic, Yoga for all levels, Water Sports Spectacular and more!
Build Your Team. Rock the Rec and Leisure Day
Employees are invited to grab a co-worker and compete in an "Amazing Race" style event on SAS Campus. It's a chance to enjoy a little friendly competition or enjoy a sampling of the Recreation and Leisure Opportunities onsite at the RFC! Additional activities include ten-minute crafts, cookie decorating, nature hikes, ballet demos and more!
Fitness Fun Day
Employees are invited to participate in a 5K Fun Run on SAS Campus, enjoy the Food Truck Rodeo plus check out a few new RFC classes for 2015 (including outdoor meditation, sports conditioning and more)!
How is your company helping your employees stay happy and healthy?