Kickstart Comics has been putting out very cool, cutting edge comics for a few years now. The ready for prime time stories have been joined by the latest edition, Robot Clown Mob, set in an alternate universe whose hyper-real attention to detail makes it seem familiar and strange at the same time, an uncanny feeling the story shares with such recent hit TV shows like FX's The Strain. Conceived by Ray William Johnson and written by Johnson and Christopher Long with amazing artwork by Javi Fernandez, I spoke to Long about this, the coolest new entry into the world of comics.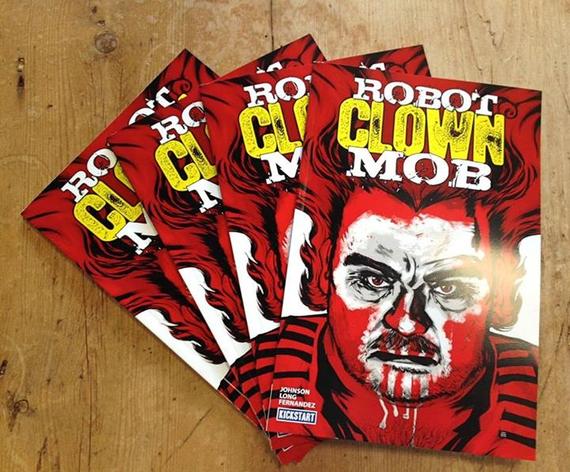 What was the genesis of this story?
I was brought on to this project by Samantha Olsson Shear, whom I've worked with on another graphic novel, Head Full of Noise. From what she told me, Ray pitched the idea for Robot Clown Mob, and Samantha wanted to find a comic book writer to collaborate with him. She realized early on that this was going to be a very disturbing and dark project, and apparently she immediately thought of me. This pleased me to no end.
What was your inspiration?
"Robot Clown Mob" is a classic gangster story--rival gangs, sibling rivalry, opportunistic lovers and betrayal ... all dressed up in clown makeup.
Do you guys realize how terrifying clowns are?

I had a friend who was deathly terrified of clowns, and I used to tell him that when he died, I was going to dress him up as a clown before the coffin was sealed and lowered into the ground. He told me that this was the worst thing that he could imagine. And now that I think about this, wow, I am a dick.
You guys torture a lot of mimes in the book, what have mimes ever done to you?
Yeah, mimes take a lot of grief. They seem to illicit strong negative reactions. I have never personally had any bad run-ins with a mime. Be that as it may, I loved the idea of a clown torturing a mime to see if he could get him to scream. And now that I think about this, wow, I am a dick.
What are you guys both working on now?

Earlier this year, I had my first young adult novel published, "Hero Worship," and my agent is currently shopping around my sophomore endeavor.
How much collaboration was there with you and the artist setting the world and tone?
Comic book scripts are like screenplays--the writer describes the settings, from which the artist interprets it, putting the images on paper. We passed the script on to the artist, Javi Fernandez, who hit it out of the park. It's a beautiful looking book.
Did you grow up reading comics?
I've been a life-long comic book reader. Reading Frank Miller's Dark Knight Returns and Brian Michael Bendis' Powers changed my life and are both responsible for making me embark on my journey in becoming a comic book writer.
What made you want to help adapt this story in particular?

Well, I knew this was going to a dark joyride, and I couldn't say no to being a part of this project.
Where is Robot Clown Mob available?

You friendly neighborhood comic book shop and Amazon.