Hailing from Camden in London, England, Wax on Water is Maya Fire - a songwriter, multi-instrumentalist and singer who describes her music as 'Electro-grunge meets Industrial'. The first single to be taken from the debut album is An Army. I spoke to her on the eve of the single's debut.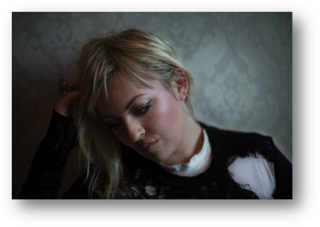 How'd you get your start?
Through the magic of the internet! I self funded my label through working different day jobs, set up a studio and recorded my album. While recording, I put out a couple of demo tracks through Facebook and bam! my Facebook page went from a few hundred likes to over 10,000 in a couple of months and that has just kept growing ever since.
Is it tough being a beautiful woman in the rock world?
Ha ha - if I ever take myself seriously enough to sit around pondering that question, please shoot me through the head! Right now I'm just really looking forward to releasing my album and my main issue is finding the time to start writing my second album amongst the madness (which is a good problem to have).
You've got a female Trent Reznor vibe, is that intentional?
Trent Reznor is one of the most inspiring and visceral musicians and when I was teaching myself to write, I was, (and still am) very influenced by him - but hopefully on the album I have also found the Wax on Water voice - I wanted to take the strength of industrial music but mix it with softer tones (vocally and with strings) to create something that is more representative of me. Certainly lyrically I feel that I've expressed the feelings that I wanted to convey.
Where does the title of the album come from?
I chose the word 'Procession' as it describes moving forwards but also metaphorically the coming into being of something, which felt appropriate to me while I was writing it. I was in a bad place with an ongoing depression - writing gave me a focus to take me out of that headspace and during that process I learnt to live with things differently...so the title is really a summation of that. It's a very personal album but I hope that it resonates with people, as learning to live with yourself is sometimes the only thing you can do to change things.
Wax on Water An Army is released 2nd February and the album 'Procession' is due for release in June 2015.
Check the video for An Army here: https://www.youtube.com/watch?v=uZIHFawswv8#t=41
www.facebook.com/waxonwater
www.twitter.com/maya_wow
www.instagram.com/mayafire101
www.youtube.com/waxonwater