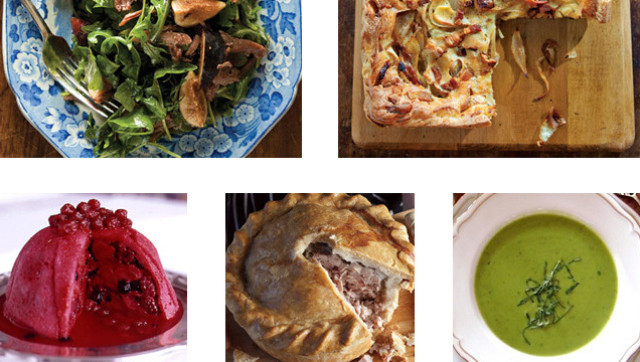 With the 2012 Summer Olympics in full swing, we've been giving some extra thought to the host country's cuisine. Little seems more emblematic of English food than traditional countryside fare. So while you may not have coveted tickets to the London games -- or a summer cottage in the hills of Britain -- you can still go on holiday with this menu for a pastoral English luncheon. These dishes are all best served cold, making them perfect for a garden buffet. A classic pork pie is great topped with a generous dollop of tangy mustard, while an onion and bacon tart compliments the earthy sweetness of chilled pea and basil soup. Poultry confit and figs tossed over peppery arugula round out the spread, best enjoyed with a cold English ale. And be sure to leave room for the summer pudding, studded with lush berries that lend the dessert a stunning red hue.
The Menu
More About This Menu
The traditional goose confit salad uses both whole goose legs as well as the rendered fat. See The Whole Goose for tips on cooking the bird-you'll want to start well ahead to have time to chill and then bake the meat. If you don't want the hassle of cooking with goose, chicken makes an excellent substitute.
For more about Lincolnshire, which was the inspiration for some of the recipes in this menu, see Beth Kracklauer's article Butchers' Banquet. For more traditional English recipes, see the gallery of Recipes from Lincolnshire.
Chilled soups like the Cold Pea and Basil Soup here are a great adaptation for warmer weather. For even more options, see our collection of Cold Soups.
We've got lots of other dessert and snack suggestions in our gallery of British Teatime Treats.
RELATED: Summer Cooking Tips »
RECIPE: Onion and Bacon Tart
The custardy batter for this dish, a cousin of Yorkshire pudding, puffs like an enormous popover in the oven. SERVES 6-8
INGREDIENTS
6 oz. slab bacon, cut into ¼″ matchsticks
4 tbsp. unsalted butter
2 medium yellow onions, thinly sliced lengthwise Kosher salt and freshly ground black pepper, to taste
1 ½ cups flour
2 tsp. dry mustard
1 ¼ cups milk
3 eggs, lightly beaten
RELATED: 15 Recipes for Ribs »
INSTRUCTIONS
1. Heat bacon in a 12″ skillet over medium-high heat, and cook, stirring occasionally, until fat renders and bacon is crisp, about 12 minutes. Using a slotted spoon, transfer bacon to paper towels to drain; pour bacon fat into a 9″ × 11″ baking dish and set aside. Return skillet to medium-high heat, and add butter; add onions, salt, and pepper, and cook, stirring, until lightly caramelized, about 10 minutes. Remove from heat and set aside.
2. Heat oven to 425°. In a large bowl, whisk together flour, mustard, and pepper; add milk and eggs, and stir until smooth. Let batter rest for 10 minutes. Meanwhile, place baking dish with bacon fat in oven and let heat for 10 minutes. Remove baking dish from oven, pour in batter, and spinkle with rendered bacon and caramelized onions; return to oven and bake until puffed and golden brown, about 30 minutes.
RELATED: Chicken Salad Recipes »
RECIPE: Goose Confit and Fig Salad
This salad is adorned with goose leg meat braised in goose fat to make a luscious confit. If you can't find goose, chicken thighs make an excellent substitutes. SERVES 8
INGREDIENTS
4 whole goose legs
3 tbsp. kosher salt
6 sprigs thyme, stems removed
4 cloves garlic, finely chopped
1 large shallot, thinly sliced
Ground black pepper, to taste
4 cups rendered goose fat (see The Whole Goose)
10 oz. arugula
¼ cup extra-virgin olive oil
3 tbsp. balsamic vinegar
8 black mission figs, quartered
RELATED: Simple, No-Cook Salads »
INSTRUCTIONS
Rub legs with salt, thyme, garlic, shallot, and pepper in a 6-qt. baking dish; cover and chill 12 hours. Heat oven to 225°. Rinse legs and dry; return to dish. Pour fat over legs; bake until very tender, about 5 hours; cool. Remove legs from fat; discard skin and bones from legs. Shred meat; toss with arugula, oil, vinegar, figs, and pepper.
RELATED: Crunchy Spring Salads »
RECIPE: Summer Pudding
This brightly colored dessert isn't just beautiful to behold -- the recipe concentrates the juicy, tart flavors of summer berries, making it a guaranteed crowd-pleaser.
INGREDIENTS
1¼ cups sugar
Juice and peel of 1 lemon
1 lb. strawberries, washed and hulled (if large, cut in half lengthwise)
½ lb. blackberries, washed
½ lb. blueberries, washed
¾ lb. raspberries
15-20 very thin slices white bread (such as Pepperidge Farm), crusts trimmed
2 cups freshly whipped cream
RELATED: Summer Fruit Desserts »
INSTRUCTIONS
1. Cook sugar, lemon juice, peel, and 2¼ cups water in a saucepan over medium-high heat until sugar dissolves, about 2 minutes.
2. Reduce heat to medium, add strawberries, and poach for 2 minutes. Using a slotted spoon, transfer strawberries to a bowl. Poach blackberries in the same syrup for 30 seconds, then add to strawberries. Repeat with blueberries, then with half the raspberries. Add remaining raspberries to syrup and cook, mashing with spoon, until very soft, about 10 minutes. Discard peel. Cool syrup.
3. Use a pastry brush to lightly coat a deep 1-quart bowl with syrup. Cut 1 slice of bread to fit the bottom, dip it into syrup, and place in bowl. Dip additional bread slices into syrup and line sides of bowl, overlapping slightly.
4. Spoon about a third of mixed berries into bowl. Cut several more bread slices to make an even layer of bread over berries, then dip into syrup, arrange, and press down lightly. Repeat process twice, ending with a double layer of bread. Refrigerate remaining syrup.
5. Cover pudding with plastic wrap, place a plate on top, and weigh it down with two large cans. Place bowl on a plate (juice may seep out) and refrigerate for at least 8 hours. Invert pudding onto a platter (if pudding sticks, slide a knife around the edge) and serve cold with reserved syrup and whipped cream.
RELATED: Summer Fruit Pies, Crisps, Cobblers, Tarts, and more »
MORE FROM SAVEUR.COM: