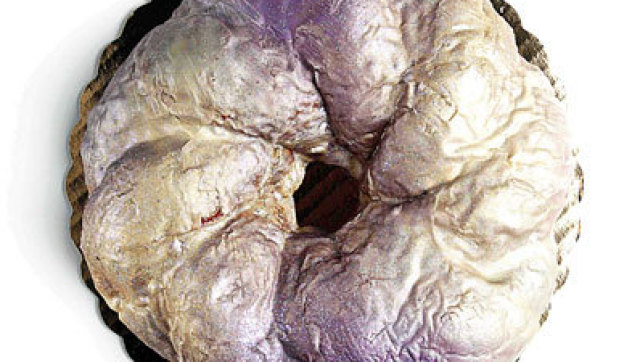 I first tasted king cake at a Mardi Gras party in my fifth-grade classroom in Mississippi. Striated with cinnamon-sugar and cream cheese, and glazed with a sticky icing, my slice included a surprise: a small plastic baby. King cakes, which commemorate the Epiphany--the wise men's discovery of the baby Jesus--are eaten the world over in various forms, but they're nowhere more beloved than in New Orleans, where the cake is associated with the festivities of Mardi Gras. Introduced by French settlers in the 1600s, New Orleans's traditional cake is sweetened, yeasted bread stuffed with a filling (cinnamon and cream cheese, say, or praline), shaped into an oval ring, topped with white icing, and garnished with purple, green, and gold sanding sugars. A figurine, which some say symbolizes the infant Jesus, is hidden inside; whoever gets the trinket is named king. The title comes with strings attached: it obligates its bearer to buy the cake for the next party.
—Ben Mims
RECIPE: King Cake
This traditional cake, made here with a rich brioche dough and stuffed with a decadent cream cheese filling, is drizzled with a buttermilk glaze and sprinkled with crunchy green, gold, and purple sanding sugars. If you prefer to order rather than bake this Mardi Gras staple, check out our
King Cake Guide »
INGREDIENTS
FOR THE DOUGH: 1 ¼-oz. package active dry yeast ¼ cup sugar ½ cup milk 2 tbsp. light brown sugar ½ tsp. vanilla extract 1 egg 1 egg yolk 2 ¾ cups flour ¾ tsp. kosher salt 8 tbsp. softened butter FOR THE FILLING: 1 lb. cream cheese ½ cup packed dark brown sugar ½ cup chopped pecans 2 tbsp. maple syrup 2 tsp. ground cinnamon ½ tsp. kosher salt Zest of ½ lemon FOR THE ICING: 2 cups confectioners' sugar ¼ cup buttermilk Green, purple, and yellow sanding sugars
RELATED: Classic Recipes for Mardi Gras, from Gumbo to Bread Pudding »
INSTRUCTIONS
1. Make the dough: In the bowl of a standing mixer fitted with a hook, combine yeast, ½ tsp. of the sugar, and ¼ cup water heated to 115°. Stir to combine and let sit until foamy, about 10 minutes. Add remaining sugar, milk, light brown sugar, vanilla, egg, and egg yolk. Beat on low speed until thoroughly combined, 1 minute. Turn mixer off and add flour and salt. Mix on medium speed until the dough just comes together. Turn mixer speed to high and knead dough for 4 minutes. Add the butter and continue kneading until dough is smooth and pulls away from the side of the bowl, about 6 minutes. Remove bowl from mixer, cover with plastic wrap, and let sit until doubled in size, 1 ½-2 hours. 2. Meanwhile, make the filling: Combine cream cheese, brown sugar, pecans, cinnamon, salt, and zest in a large bowl and beat on medium speed of a hand mixer until combined; set aside. 3. Punch down dough and turn it out onto a heavily floured surface. Using a floured rolling pin, roll the dough into a large circle, about ¼"-thick. Cut a hole in the center of the circle and pull with your fingers to widen. Place dollops of filling evenly around circle halfway between outer edge and inner hole. Drape outside edges over filling and continue rolling outside inward until filling is covered, widening inner hole as needed, until dough covers the seam. Transfer rolled dough circle to a parchment paper-lined baking sheet; cover with plastic wrap and let sit for 1 hour. Heat oven to 350°. Uncover cake and bake until golden brown, about 30 minutes. Let cool completely. 4. Make the icing: Whisk together the sugar and buttermilk in a small bowl until smooth. Transfer king cake to a cutting board or serving platter; spread icing evenly over top of cake and sprinkle evenly with sanding sugars.
MORE from Saveur Magazine: