Small bites, small plates and big taste, all in a creatively authentic Spanish style -- that in a nutshell is Bar Pintxo (peen-cho), owned by one of L.A.'s pioneering restaurateurs, Joe Miller (of Joe's restaurant in Venice). The tapas restaurant on Santa Monica Boulevard, a block from the ocean, has been recreating the Iberian Peninsula culinary experience for five years, and was recently named "Best Spanish Restaurant" by Los Angeles magazine.
Executive Chef David Plonowski's years in Spain are evident on the menu and in every bite. Inspired by his most recent trip, he included some discoveries as specials for the month of September, including Rabo de toro a la riojana -- braised ox-tail in red wine and Iberico stock, with braised heirloom potatoes and caramelized shallots. Plonowski has also added an incredible potato leek soup called porrusalda, featuring sablefish (a texture and flavor akin to Chilean sea bass). Also included on the "Back From Spain" menu is a plate of flash-dried Weiser Family Farms padron peppers with oil and salt. If that sounds simple, it's because it is: a quintessential example of the simplicity that Bar Pintxo has turned into an art.
The menu is simple, too, divided into the bite-sized pintxos, meats and cheeses, soups and salads, tapas plates, and desserts on one side, and the other is a dazzling collection of Spanish wines (there's also a full bar). Among the pintxos choices, highlights include a decadent beef liver pate, and manchego cheese and quince in rolled almonds, with arugula -- simple and delicious.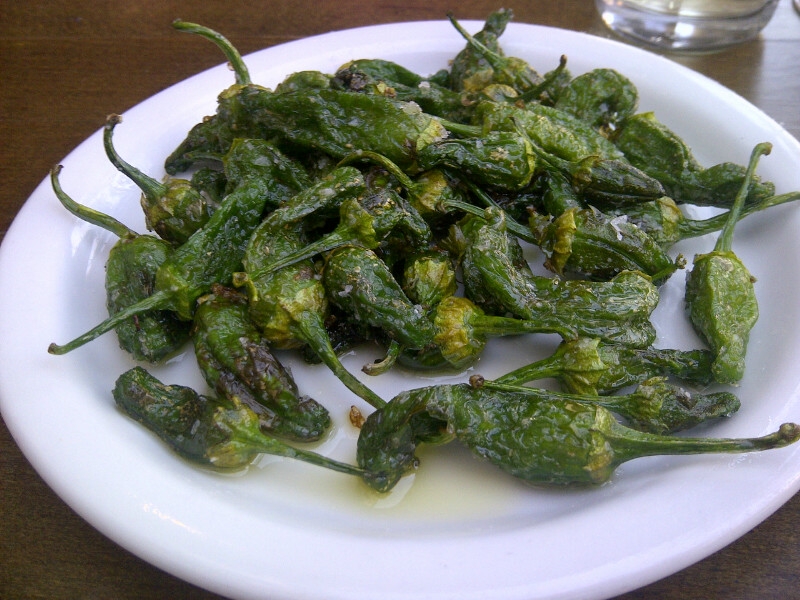 Simple and delicious: Padron peppers -- careful: some are sweet, some are hot. (Photo by Scott Bridges)
And for meat lovers, the jamon Iberico -- Fermin pata negra ham, aged two years -- is a very good place to start. Imagine something like a dried prosciutto carpaccio to get a sense of it.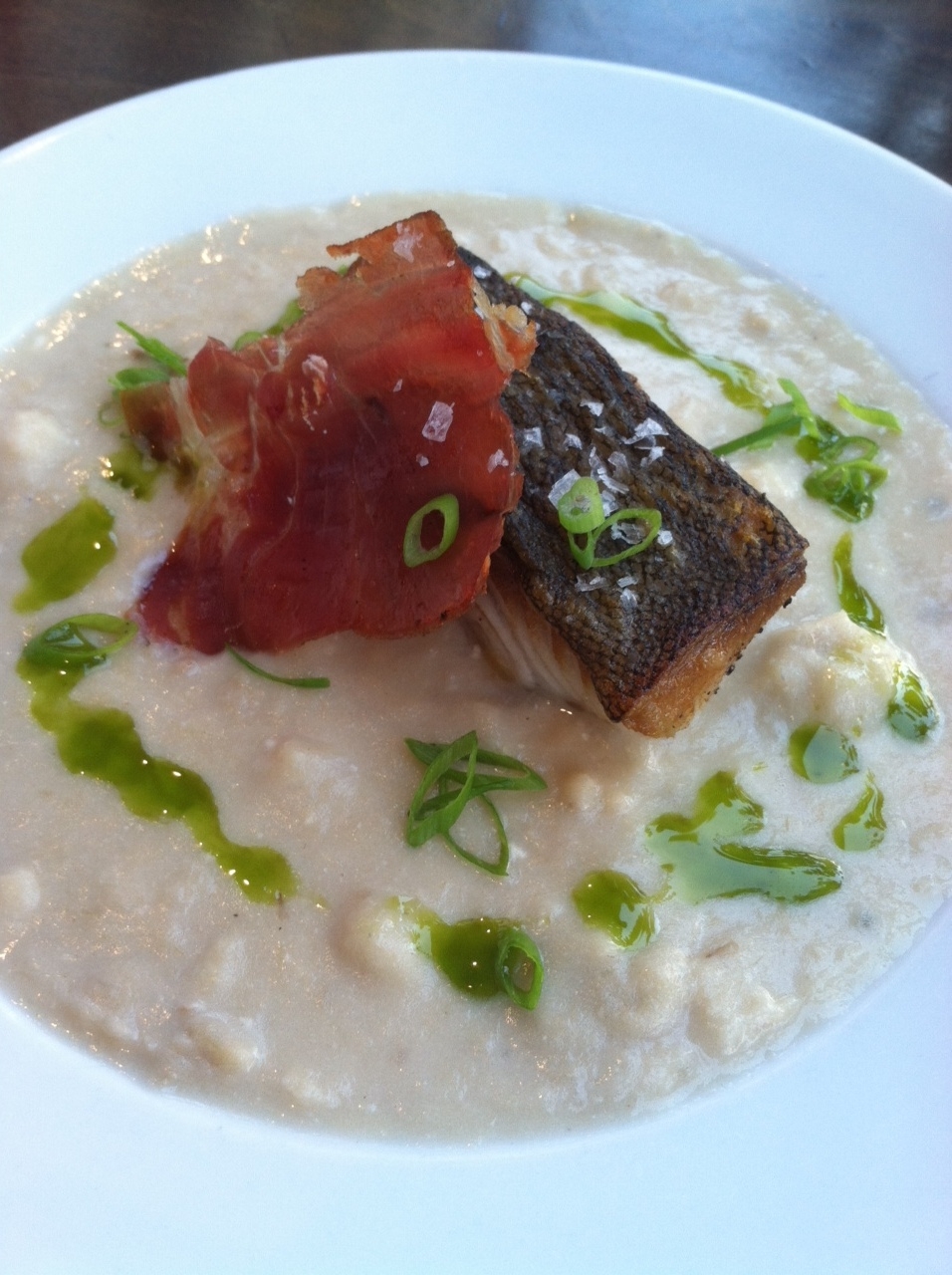 Sablefish highlights the porrusalda, a delicious potato leek soup. (Photo by Scott Bridges)
"The pig is a sacred animal," says Sous Chef Brad Mathews. And he means it. Mathews, the son of a butcher, will wax eloquently on the supremacy of swine. The pig is revered in Spain, and is showcased throughout the menu.
One other dish I'll mention is the gambas al ajillo -- maya head-on shrimp, in a garlicky sauce of lemon and parsley. Although there are only three to an order, they are delicious, and worth recommending.
Desserts are also authentic, with a touch of creativity -- the honey-lavender flan is a little piece of heaven, and even if you're not a big flan fan, this one will delight your taste buds.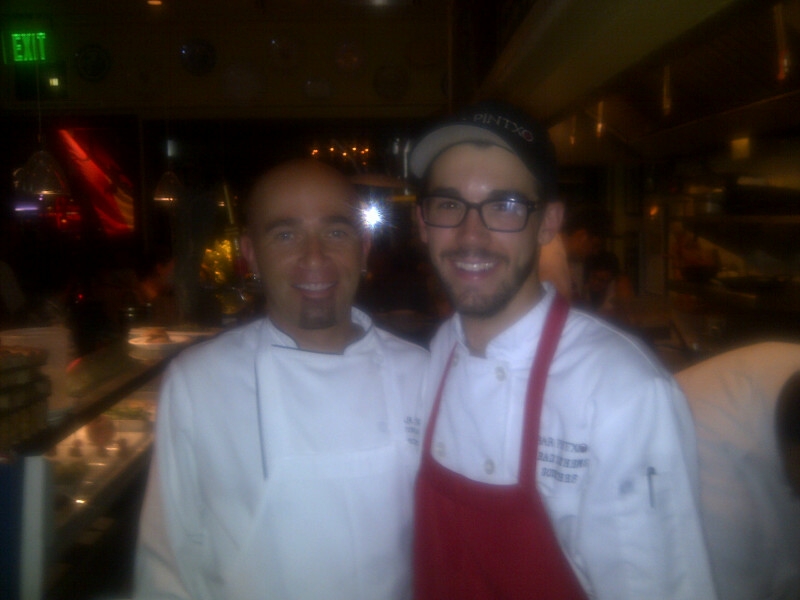 Executive Chef David Plonowski and Sous Chef Brad Mathews. (Photo by Scott Bridges)
The staff and service at Bar Pintxo are top-notch. Servers like Suzi Hofrichter are knowledgeable and friendly, creating a pleasant dining experience. The décor is understated and elegant, but the dining room and patio can both get really crowded, however, so be prepared. You might unwittingly even be privy to the conversations of others. It's also worth noting that the prices are reasonable, but by no means cheap, and enough bite-size pintxos can add up by the end of the night.
Also, if you like a glass of sherry after your meal, there is a fantastic Spanish sherry menu, with over a dozen varieties, and all but one under $10 (the other is a limited-production Oloroso aged more than 50 years and goes for a very reasonable $35). The house cocktails are also intriguing, and it's a great location to enjoy happy hour. Try the Naranja a la Menta, made with on-the-premises mint- and orange-infused gin, Lillet Blanc, lime and soda -- a perfect refreshment to beat this late summer heat.