Eleven stories above the jutting peninsula of arguably the finest neighborhood of "America's Finest City," there is a view unlike any other, and an ideal location to enjoy a weekend brunch. Atop the Hotel La Jolla, you'll find Cusp, an elegant and understated Mediterranean-inspired restaurant with a glass wall that looks out over seaside community and the surrounding Pacific Ocean. This is a date locale if ever there was one.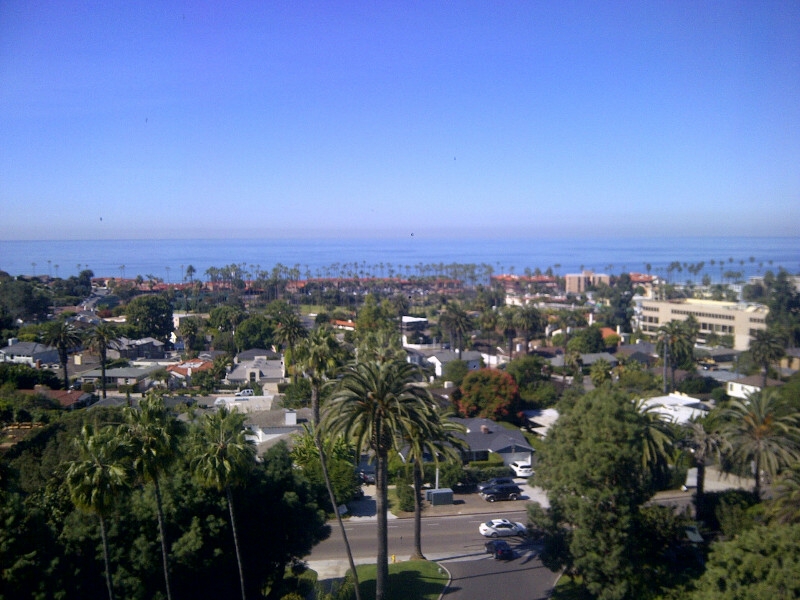 The view from atop the Hotel La Jolla. (Photo by Scott Bridges)
I visited for a Sunday brunch recently and was surprised to discover empty seats -- not a lot (there aren't a lot to begin with, for that matter) but enough to make me wonder. Digression: I really don't know what San Diegans do on Sundays -- they don't go en masse to Chargers football games, which are frequently blacked out, and they don't seem to brunch with the same fervor that other Southern Californians do. I figure they're either in church or out surfing.
The elegant dining room at Cusp. (Photo by Scott Bridges)
The menu is, for lack of a better word, safe. It's the kind of place you could take your parents to. In fact, I did. They had omelets. And they enjoyed their omelets. It's a you-pick-three-ingredients deal - you know the drill. There are few exotic items, and one of the more daring - the blueberry ricotta pancakes with caramelized bananas and maple syrup - was unavailable during my visit. The cinnamon-raisin French toast was available, however, and if you think French toast can't be exciting, think again. Four thick slices are served with rum-raisin butter (you'll want to eat with a spoon) and chopped pecans, with a side of maple syrup.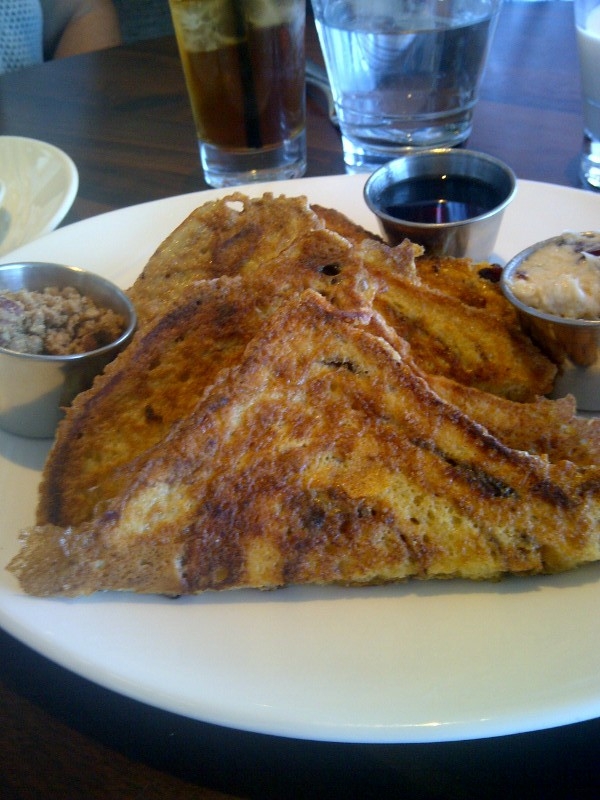 The cinnamon-raisin French Toast is served with an addictive rum-raisin butter and pecans. (Photo by Scott Bridges)
The open-faced pastrami and egg melt is a signature dish, and I'm delighted to recommend it. It's essentially eggs Benedict made with grilled pastrami, and features Swiss cheese and Dijon mustard on sourdough.
An exciting alternative to Eggs Benedict -- the open-faced pastrami and egg melt. (Photo by Scott Bridges)
There are a few salads. I sampled the candy cane beet salad, which could have been spruced up with pistachios, hazelnuts or some other textural element, and while there are more interesting recipes out there, it is worth noting that the menu draws heavily on quality farmers' market produce.
There's also the usual assortment of baked goods and continental breakfast fare that strikes one as comforting for the La Jolla-age demographic. But there are also some surprisingly interesting flat breads, which will light up any palate.
There are three desserts to choose from, the most tempting being the chocolate peanut butter cake with pecan brittle and toasted marshmallow.
The cocktail scene is less inspired. First of all, there was no bartender on scene at 11 a.m. Fortunately, my server, the lovely Brenda, was masterful at whipping up a mimosa, and also informed me that she made a mean Manhattan if I so desired. Being that it was not yet noon, I wavered before taking a rain check. But also disconcerting was that the trio of specialty cocktails, which looked whistle-wetting, but were available as punch bowls intended for four. (And knowing that I would get no help from my folks in putting a dent in a punchbowl of tequila-and-whatever, it seemed impractical.)
The service was very good, particularly the aforementioned Brenda, and manager/Browns fan, Ray, who politely listened even as my father compared Cleveland's under-gifted backup quarterback to Joe Montana.
San Diegans, get busy brunching, you've got a wonderful location atop the Hotel La Jolla in Cusp. While you're at it, bring some friends -- and be so kind as to report back to me on those punch bowls.