For all the talk that Southern California is home to a laid-back lifestyle, anyone who lives here knows that despite our easy-going attitudes, the pace of life is increasingly hectic. And when it becomes too much to bear, we get away. And I know of no people who get away more frequently than Southern Californians -- and Angelenos in particular.
But go very far and it's easy to miss our metropolis. How, then, to get away and simultaneously stay? I recently gave it a shot at the Luxe Center City Hotel. For anyone who's stayed at the Luxe Sunset Boulevard or Rodeo Drive locations, you've already had a taste of the grandeur the hotel has built a reputation upon. But if you haven't stayed at the City Center, you're missing out on a sanctuary within the heart of downtown.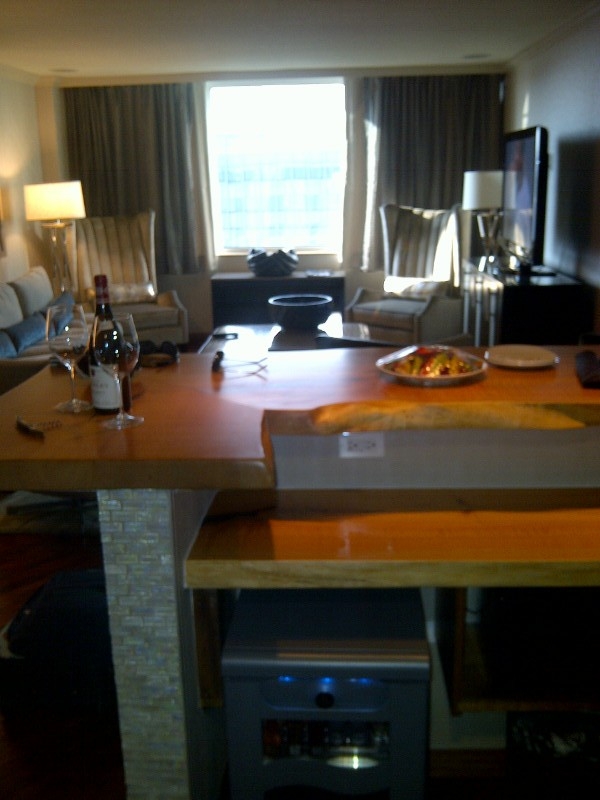 A view from the kitchen into the living room at Luxe City Center Hotel. (Photo by Scott Bridges)
Located at Figueroa and Olympic, the boutique hotel is directly across the street from L.A. Live and the Staples Center, and surrounded by myriad restaurants, bars and several cultural landmarks. It's an ideal spot to stay to cap off an evening at a ballgame, concert or other downtown event, and f you don't want to deal with the ensuing traffic nightmare.
The rooms are a tribute to modern luxury, featuring incredible views, big-screen HDTVs and posh furnishings. And nowhere is that luxuriousness embodied more than in the Platinum Suite, with its kitchenette, separate living room, penthouse-view of the Hollywood sign, and Mitt Romney-sized bathroom with tub and six-head shower. It will really make you feel like a cigar-smoking Wall Street fat cat. And if you're a cigar-smoking Wall Street fat cat, then you'll feel right at home.
The hotel also features a decadent spa, offering massages, waxing, hair and makeup, facials, even pilates and tai chi, and private yoga sessions.
And whether a hotel guest or a just a hungry foodie, the hotel is home to one of the hot new restaurants in town: FigOly. The second-floor restaurant overlooks one of the most exciting intersections of the gentrified downtown nightlife scene. The dining room was being renovated on my visit, but it worked out fortuitously, giving me an opportunity to enjoy the warm night air at a patio cabana.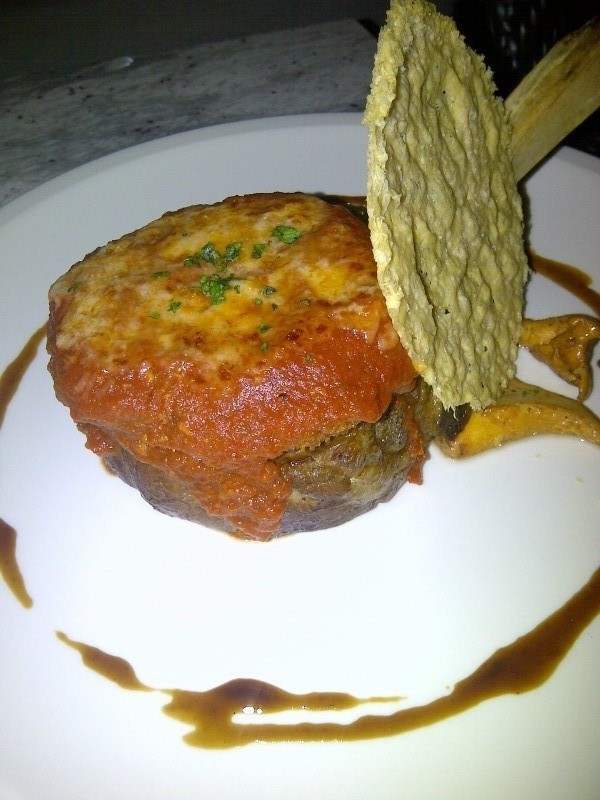 The veal chop at FigOly. (Photo by Scott Bridges)
Top Chef Alex Reznik consulted on the newly opened restaurant, which offers breakfast, lunch and dinner. The restaurant is now planning on revamping its modern Italian menu. Hopefully, it will continue to showcase some of its signature dishes like the hearty veal chop, and the tender, juicy scallops in a fava bean puree. Likewise the yellowtail carpaccio, bursting with flavors and textures, and importantly, the restaurant's incredible noodles -- the tagarin and the fedelini, in particular. FigOly is, without a doubt, one of the finest pasta restaurants in the city. (Note: They were out of the gnocchi during my visit, but told me so immediately, which is always appreciated.)
Despite its quality dining experience, I've heard complaints about prices and long waits. As for prices, check the menu before go and you'll never be surprised; as for the waits, maybe don't go right after a Lakers game gets out. Just some helpful advice from a frequent diner.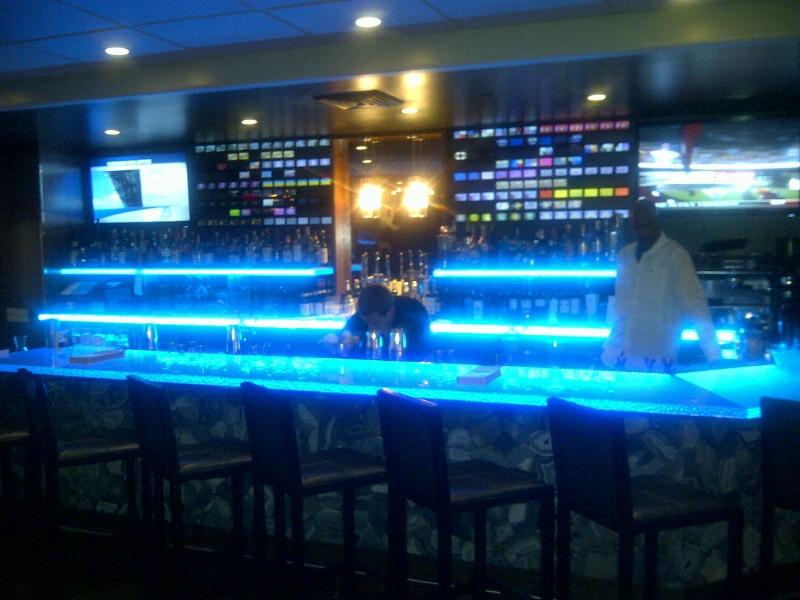 The well-lit bar at FigOly is a great place to get, well, lit. (Photo by Scott Bridges)
And I'd be remiss if I didn't talk about the cocktails. Mixology is taken very seriously at FigOly, and their signature cocktails are representative of that. The Pimm's Cup #10 is a case in point. The Last Tango is another good concoction. The wine list is good, but also of note is the list of liquors and liquers -- an incredible selection, some of which I'd be willing to guarantee you haven't tried.
Overall, I was very impressed with the Luxe City Center Hotel and while I'm still waiting to see a more finalized vision of FigOly, I like what I've seen so far and look forward to returning.