After 40 years in this town, even the sexiest can use a facelift. And that's exactly what Mirabelle Restaurant on the Sunset Strip in West Hollywood has received. George Germanides brought in famed restaurant designer Thomas Schoos to update the restaurant, and Executive Chef Drew Ison to update the menu. The result? A sexy new classic.
George has helped make the area famous as a celebrity dining locale. Halle Berry is one of his most loyal patrons, and Motley Crue even thanked him on an album. He's a charming host, and knows how to make everyone feel welcome. And that's one of the features that has kept him in business as a variety of other establishments have come and gone.
"Change is inevitable, and we have to keep up with the times," says George.
With that in mind, the restaurant is modernizing. Schoos has customized the space with his whimsical flair, using oversized chairs, postmodern art, including paintings, sculptures and a palette heavy with bold reds. The effect is that Schoos has turned dining into a quasi-religious experience. As it should be.
The upstairs bar -- an ideal place for a small gathering of friends and colleagues. (Photo by Scott Bridges)
Adding synergistically to that effect is Ison's California bistro cuisine. The chef has more than a decade of experience, most recently in The Ronald Reagan Presidential Library.
"Chef Ison created a diverse menu that speaks to the younger generation of diners," George says.
And that menu is highlighted by a majority of items under $30.
The new Mirabelle is proof that good restaurants adapt to changing times -- just as Spago recently did.
The ideal way to start the meal is with the flaming Saganaki with peppers and tomatoes. If you you like your cheese set on fire and served with roasted tomatoes, peppers and pita bread, here you go.
The pan-seared jumbo scallops with smoked beluga lentils, tomato butter emulsion and baby market vegetables is just one of the great seafood items on the menu. And for carnivores, the filet mignon is superbly prepared.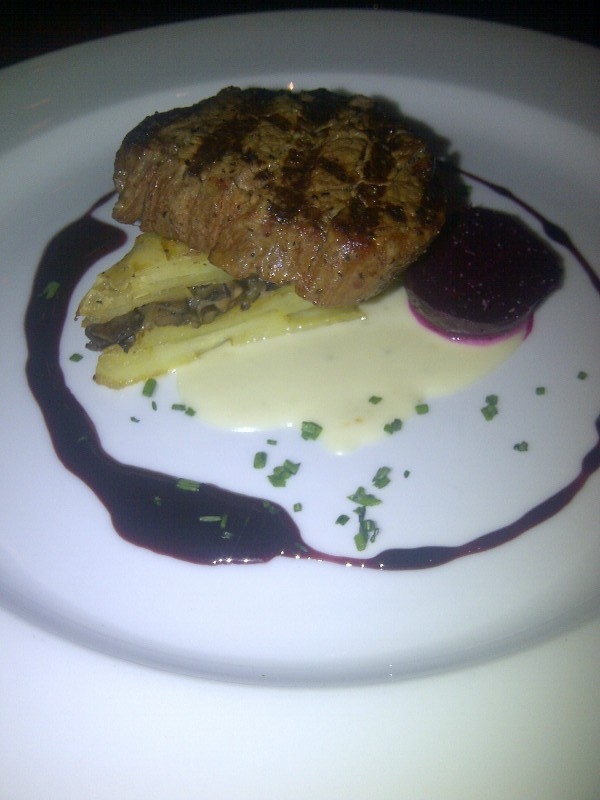 Executive Chef Drew Ison adds creativity to the classics. (Photo by Scott Bridges)
One downside is the lack of variety in the dessert department, although the chocolate pot de crème nearly atones for that. Also, keep in mind that Ison will likely tweak the menu over time.
The bar is casual enough for business, and romantic enough for a date. And the salmon sliders are good enough for either one. The upstairs lounge and patio, with its own bar, is a great spot to hold a small party.
Keeping with the theme of younger, hipper and more modern, the bar program features about 10 specialty cocktails employing the best mixology ingredients and techniques. I'm partial to the El Arsenal, which marries tequila with chipotle peppers. Classic drinks are also taken seriously, so martini drinkers, fear not.
I've heard complaints that the restaurant is too dark with just the candlelight. I suppose it depends on your own lighting preferences, but I'm partial to a darkened atmosphere, and will be the first in line for cave-dining, so take that for what it's worth.
The service is good, and the staff is friendly and knowledgeable -- just like its owner.
With its adaptation to trends in dining, it's clear why Mirabelle Restaurant has survived so many decades. And with George Germanides keeping his pulse on the needs of his patrons, it's not the least bit surprising.