If an elegant Parisian-style bistro on Rodeo Drive sounds like your idea of heaven, then congratulations on living a good life. For some of us, this may be as close as we ever get. But it's pretty darn close. On Rodeo is the reimagined new restaurant tucked within the renowned Luxe Rodeo Drive.
While there are a glut of Italian restaurants in the vicinity, Executive Chef Olivier Rousselle (Luxe Sunset Boulevard) is quick to point out, "There are not a lot of French restaurants in Beverly Hills."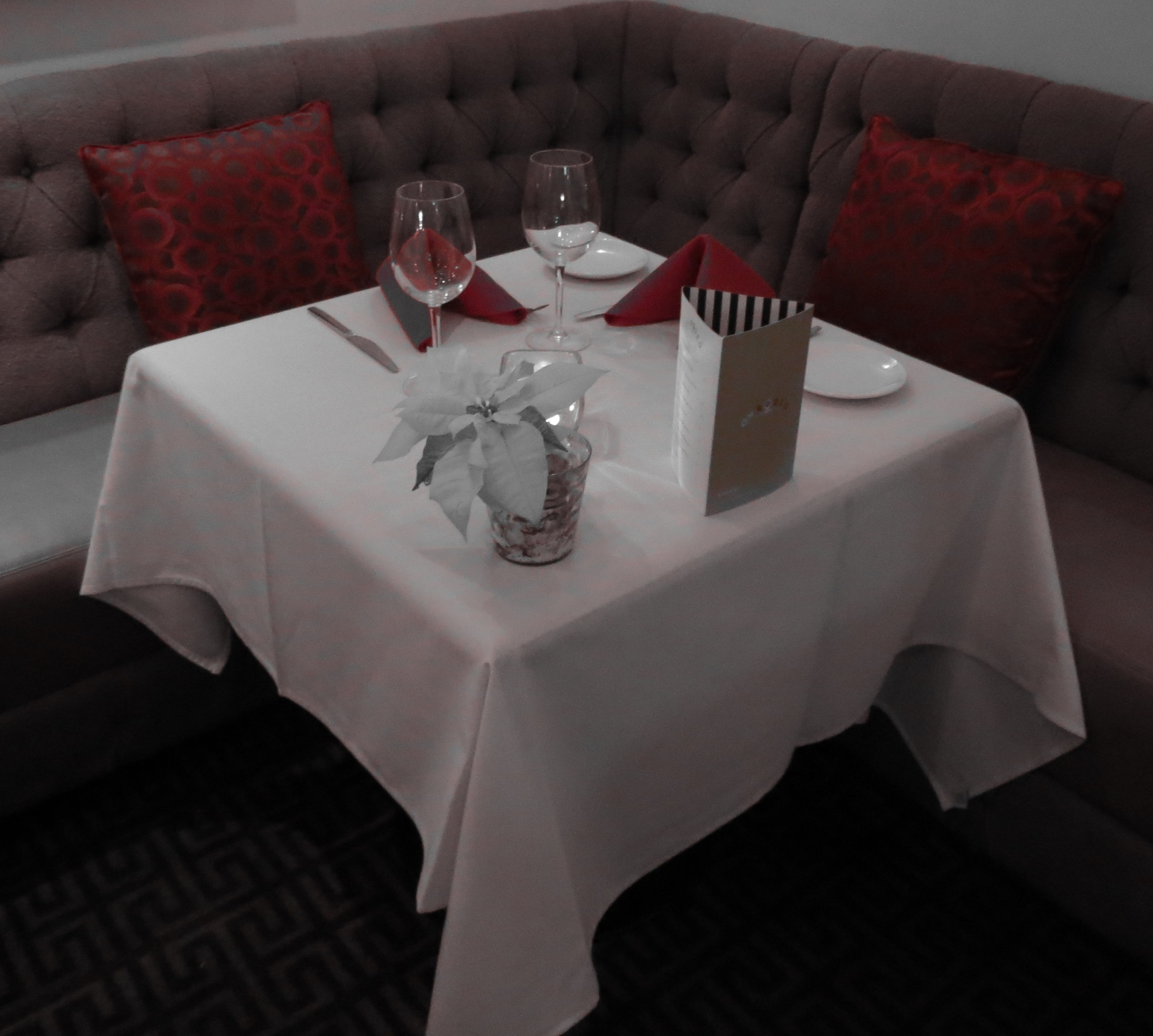 Cozy yet sophisticated. (Photo by Lynne Tucker)
The restaurant combines L.A. casual with a dash of French formality. For instance, the dining room is adorned with mirrors and white linens, while a chalkboard announces daily specials a la a sidewalk café. The menu is short and to the point and requires no French-to-English dictionary.
The restaurant is brimming with style, but there's more to it than just flash. Rousselle says he wants to "make things of substance," and with On Rodeo, he has succeeded.
One area in which that substance becomes clear is in the service. Restaurant manager Chrissa Loukadakis is akin to the perfect dinner hostess, and ensures that everyone -- not just the frequent celebrities and big-spenders -- feels right at home. The servers are hospitable and have a thorough knowledge of the menu, and are fine ambassadors of the Luxe brand.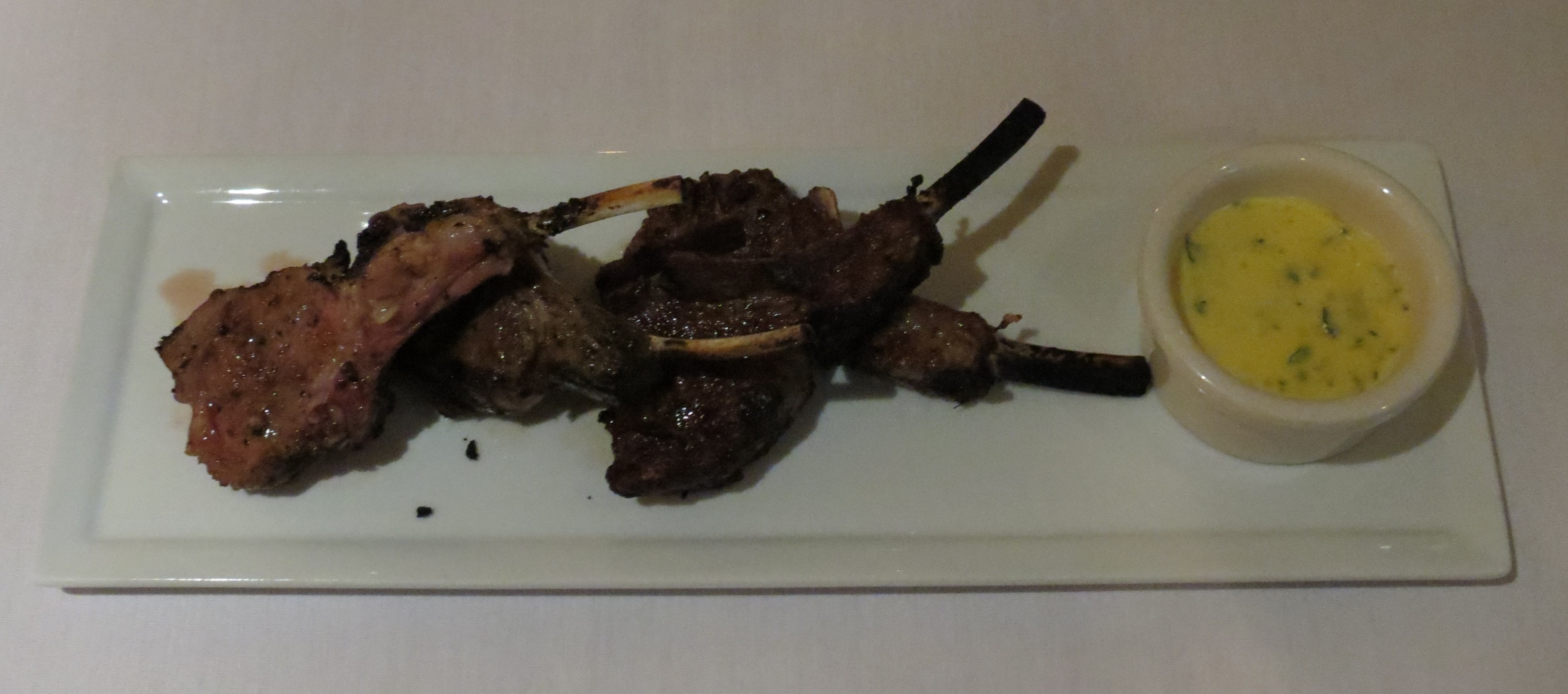 Carnivore heaven: lamb lollipops with a homemade mint jelly. (Photo by Lynne Tucker)
As for the cuisine, it's yet another example of style and substance, featuring seasonal foods (and at reasonable prices, in a part of town not known for reasonable anything). I highly recommend the crab cakes -- Rousselle's are maybe as good as any in town. Another starter worthy of consideration is the grilled lamb lollipops, which are served with a homemade mint jelly.
The French onion soup is out of this world, and the lobster bisque is somewhere in the stratosphere.
As for entrées, you can't go wrong with the roasted Jidori chicken or the seared Pacific Sea Bass. Both are testament to Rousselle's talent.
And for the carnivore, try the steak frites. The marinated flat-iron steak worth writing home about, and while the fries are good, they might be safely omitted from the letter.

Adding to the substance of On Rodeo is its bar program, courtesy of celebrity mixologist Matthew Biancaniello (formerly of the Library Bar, and also of FigOly -- at the Luxe City Center).
The bar seats a small half-circle of drinkers, and features Biancaniello's signature magic -- the highlight in my mind being the Scottish Beekeeper. It's a short and sweet recipe centered around Laphroaig Scotch whisky, but mild enough for any palate.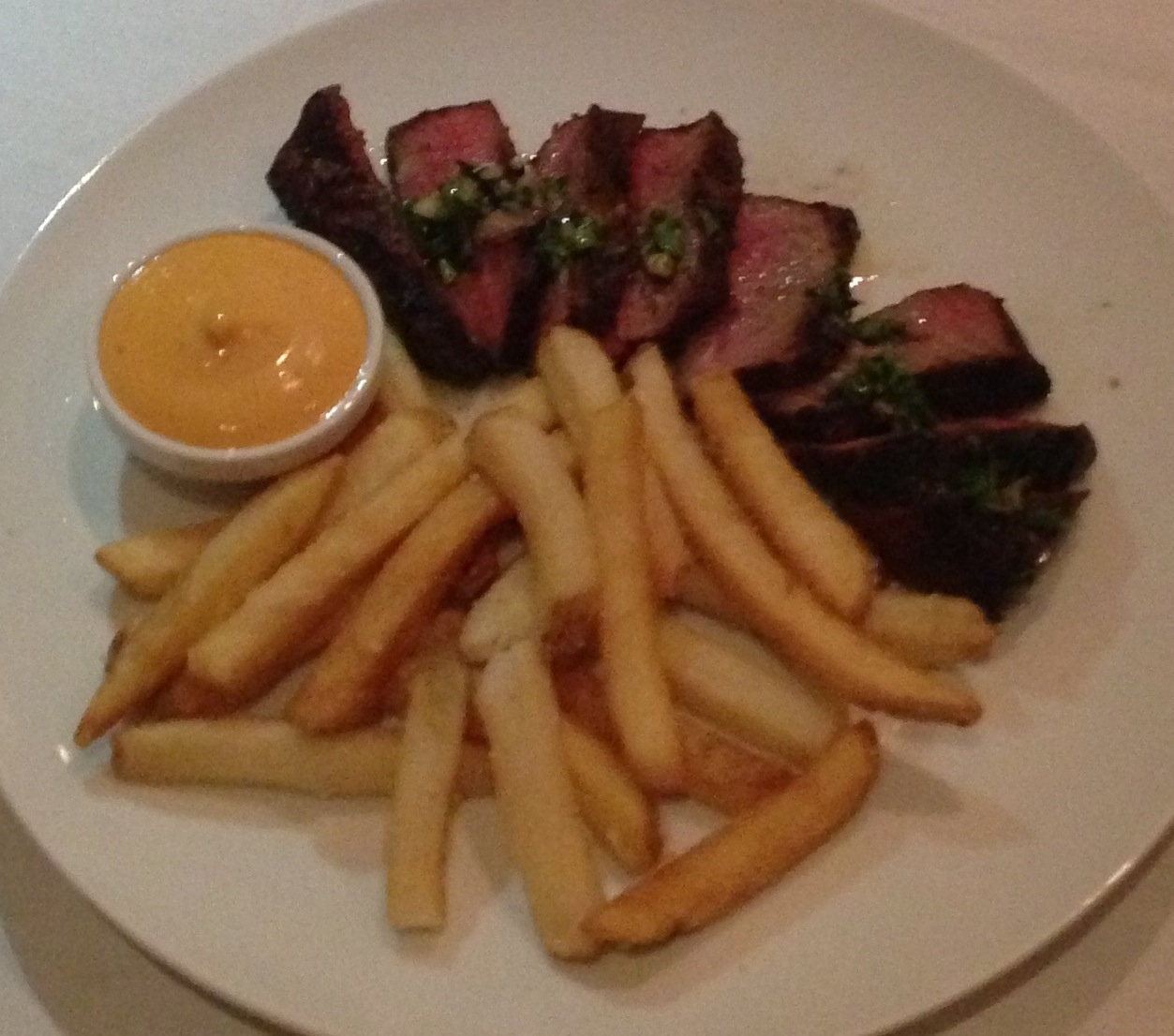 Chef Rousselle's Steak Frites. (Photo by Lynne Tucker)
On Rodeo is an ideal restaurant/bar to entertain friends -- especially from out of town; the type who are overwhelmed by the excess vanity of Rodeo Drive and who get starry-eyed around movie stars. But it's also just a great place to enjoy a nice dinner -- or breakfast or lunch, for that matter.
For the serious foodie in L.A., On Rodeo really needs to be on your radar.