Located a block south of the Beverly Center and many miles from ordinary, the SLS Hotel provides multiple options for diners, drinkers and anyone in need of a luxurious escape from the mundane realities of daily life. Whether enjoying the cityscape over brunch at the rooftop pool, sampling new and exciting cocktails at the bar, dining in a private booth by a fireplace at Tres or taking the taste adventure that is The Bazaar -- both the creations of world-renowned chef Jose Andres, you'll feel transported out of time and L.A. (Well, not at the rooftop pool -- more like you'll feel transported above L.A.)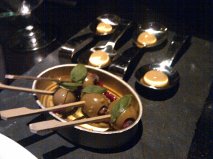 The olives, traditional and modern, at The Bazaar.
Tres by Jose Andres serves breakfast, lunch and dinner. There is also an incredible weekend brunch and afternoon tea. It is particularly one of the ideal spots in the city to meet for a casual lunch (and "casual" includes drinks, which you don't want to miss here). The Phillippe-Starck-designed lounge is an elegant modern update of Old World style, and provides comfort and privacy: multiple rooms, loveseats, high and low tables, fireplaces, separating curtains.
The menu provides Chef Andres' distinctive modern take on comfort food. Breakfast leans Eurocentric, with a wide assortment of pastries, cheese and charcuturie plates, teas, etc. Lunch offerings include appetizers like the must-try watermelon & tomato skewers and jumbo lump crab cakes, and the shrimp & grapefruit cocktail. The patatas bravas chips make a great starter. The soups and salads looked good and although I did not get around to trying it, I've heard the onion soup is a house specialty, The sandwiches are good, too. In particular, the Beverly Hills "Bikini," a grilled cheese with mozzarella, sharp cheddar and truffles.
Unfortunately, the dinner menu doesn't vary all that much from lunch. If you have to choose between Tres and Jose Andres' other restaurant in the hotel, you're going to want to visit The Bazaar. The Starck design provides an intimate experience in a one-of-a-kind environment.
Andres is a god in the pantheon of chefs (the James Beard Chef of the Year, 2011), and The Bazaar is a master work of creation. It's hard to put into words how exhilarating this experience is. It's tapas-style dining, so you will try several dishes, many only bite-sized. It is a journey your taste buds will never forget (try the foie gras cotton candy before it's gone!).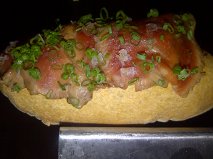 Deconstructed: The Philly Cheesesteak.
The Philly cheesesteak is so far removed from everything you thought a Philly cheesesteak could be. It is a deconstructed version that showcases the best features of the sandwich in a novel way. You'll try olives both traditional and modern -- this is molecular gastronomy at its finest. The braised Wagyu beef cheeks are worthy of a last meal, same with the sea scallops.
In fact, no one has ever complained about the meal at The Bazaar. However, horror stories have circulated regarding long waits and expensive parking (what's "long" and what's "expensive," of course, are relative terms). There's also the matter of price. It can get expensive. Be prepared. Make reservations. Carpool. Take out a loan -- seriously, it's worth it.
And if you do have to -- God forbid -- wait, you're in luck. Bar Centro is one of the best places in town to get a drink. Lead bartender and mixologist extraordinaire Rob Floyd will mix you a cocktail that will blow your mind. Whether it's liquid nitrogen or some exotic fresh herbs or the liquid cherry in your Manhattan, this is where I imagine God would take a date. It's classy, but not pretentious. The drinks are made with the utmost care and precision, and worth the price. It's a small bar, but there's a long community table in the vicinity. It's dimly lit and I've never noticed it to be too loud.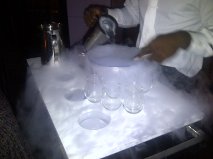 The experience at Bar Centro is visually stunning.
The fact that this great bar and both of these great restaurants exist under one roof would be reason enough to visit the SLS. But wait, there's more. The rooftop pool is now open to the public during the week for breakfast and lunch. That's worth taking a day off for. As a matter of fact, that's probably a good idea because you're going to want to follow that up with a trip to Ciel. Pamper yourself in a world of white hues and soft touches (another Starck creation). [Blushington Make-up and Beauty Lounge recently joined forces with Ciel.]
As you can see, a whole day can be spent at the SLS Hotel just enjoying the finer things of life. And, of course, when the day is done you've got a place to crash. That's my attempt at understatement, thanks. The SLS is where you'd put your parents up if your parents were foreign diplomats. Despite its luxury, the rates aren't outrageous and they have summer specials worth checking out.
So there you have it, a vast experience all housed under one roof. And if that's not enough, there's a hell of a pool on that roof.