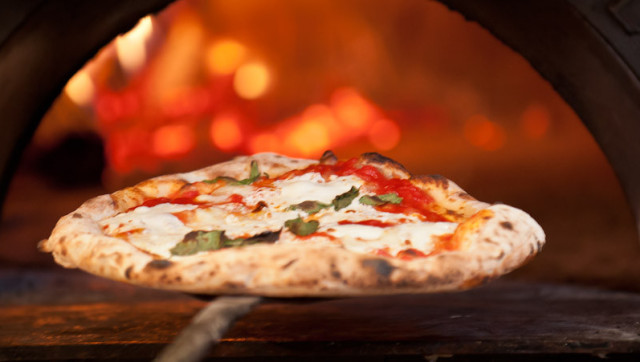 Traditional wisdom says, "If it's not broken, don't fix it." Innovators, fortunately, don't follow such stodgy advice. Take pizza. There was nothing wrong with it, right? But time-machine visitors from the 1980s probably wouldn't recognize it today. And over the last decade, chefs have grown increasingly creative with a dish that many thought perfected. The latest restaurant to trample that notion is Soleto Trattoria and Pizza Bar.
The gas-assisted, wood-burning oven creates the 800-degree heat to perfectly crisp a pizza crust. Some of the creations include the traditional tomato pie with herbed goat cheese and wild arugula; the potato and bacon with fontina cheese, scallions and thyme (which, on the off chance you have leftovers, makes a great breakfast); and the spicy smoked speck with Fresno and Anaheim peppers, and onion.
Pizza is just one traditional dish that is being reimagined at Soleto, the latest creation from Innovative Dining Group (IDG), and the company's first concept in downtown Los Angeles. The menu emphasizes Southern Italian cooking, and was designed by Executive Chef Sascha Lyon, a native Angeleno with grade-A credentials. Chef de Cuisine Omar Bernal has been part of the downtown culinary renaissance since the beginning, and provides creative touches, including family recipes, like his meatballs marinara, a signature dish at the restaurant.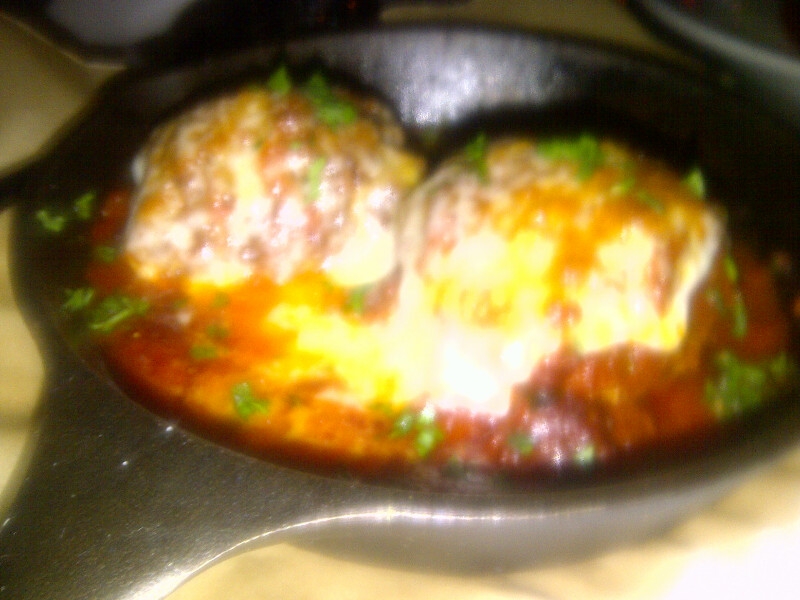 Chef de Cuisine Omar Bernal's family-recipe meatballs. (Photo by Scott Bridges)
Highlights of the menu include crispy mozzarella with spicy marinara sauce and basil pesto; grilled oyster mushrooms with grana padano and white truffle vinaigrette; and pastas like rigatoni ragù with house-made sweet sausage. Entrees include paninis, like the grilled portabello. The salads are tremendous; I highly recommend the chopt' Italian, which is a great combination of textures, and is chock-full of protein, making it a meal in itself; and the seared yellowfin tuna salad is another winner.
The wine list is moderately priced and thorough, and includes a variety of Italian wines. The specialty cocktails are worth a trip downtown, themselves. Their version of the Godfather is a must-try, as well as creative takes on other classics -- the "Grapefruitcello" and the "Milano Mule."
The 360-degree bar at Soleto Trattoria. (Photo by Scott Bridges)
In addition, the bar is gorgeous. It's a central 360-degree bar with a fireplace, and TVs playing sports. It feels distinct from the outdoor garden patio, which is as cozy as they come. The designers -- Studio Collective -- kept the best of the original building, retaining much of the original tile, as well as the wood floors. Furthermore, there is a breeze that cuts through the skyscrapers, which provides a nice touch of coolness on a Summer evening, but bear in mind, it can occasionally get chilly, so bring a sweater.
Look for Soleto to expand to include a lunch express option in the building in the very near future. But don't plan on getting much work done after one of their meatball sandwiches. A nap maybe.
"We envisioned a restaurant where you can walk in day or night, from the busy streets of downtown, into a relaxed place with the warmth and hospitality that exemplifies the spirit of Italy," says IDG co-founder Lee Maen.
Soleto is just that. It's also easy to find, accessible by public transportation and valet parking is available on 8th Street.