I'm happy to report that the Aperitivo Italiano experience is alive and well in the cozy community of Brentwood. The traditional pre-dinner gathering, constructed around complimentary appetizers, pizzas, crostinis and, of course, classic cocktails, is happening every day in the bar and lounge at Toscana.
That cocktail menu, inspired by mixologist extraordinaire Francesco Lafranconi and assembled by William Perbellini (of Venice's famed Hotel Cipriani), features the finest ingredients, including fresh fruit and herbs, in an attempt to craft an experience unlike any in town.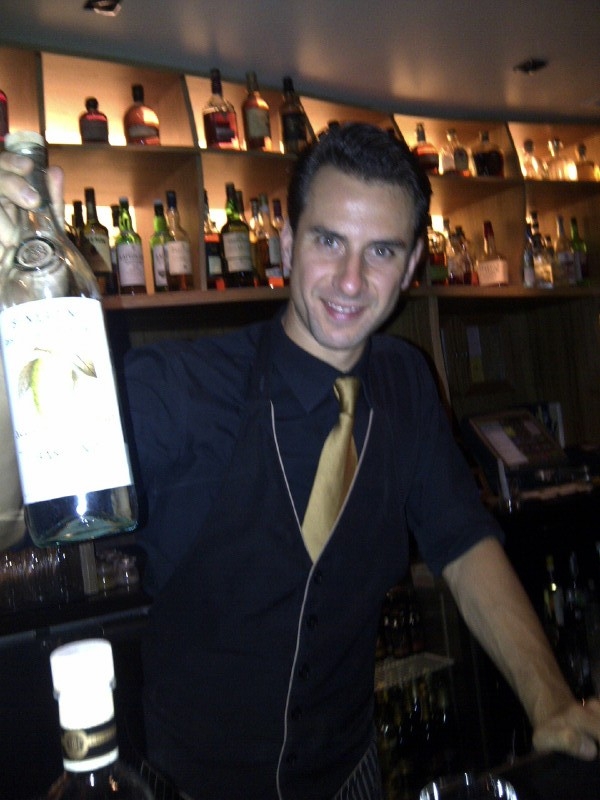 William Perbillini tending the bar at Toscana. (Photo by Scott Bridges)
Among the Italian-inspired cocktails you'll find are the Italian Sazerac, composed of an aromatic blend of Amaro Nonino, rye and peach bitters; the Pearbellini, a fresh pear and vodka martini; the classic Negroni, gin, campari and sweet vermouth; and an Old Fashioned with homemade maraschino cherry/bitter syrup and Templeton rye.
When Perbellini left Italy for L.A., he started taking English classes at UCLA, and visited some of the city's hot spots, like The Varnish and The Library Bar. He worked the bar at Comme Ca to "learn what people drink, what kind of ice they use, what garnish - and how to do it better," he says.
Although it's been a fixture in the Brentwood restaurant scene for three decades, it was less than three years ago that Toscana re-launched with a casual new bar and lounge next door, specializing in stuzzichini - small bites. The entire menu, however, is still available.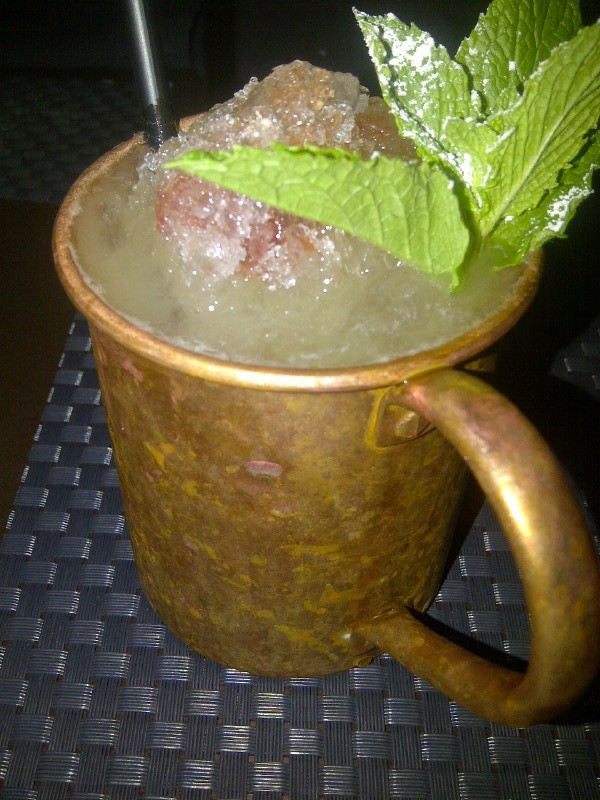 Classic drinks include the Moscow Mule. (Photo by Scott Bridges)
Chef Luca Crestanelli's Tuscan-style pizzas, cooked over a maple wood fire, are a tribute to simplicity, requiring few ingredients. The Margherita, a test of any chefs' skill, is made the traditional way, with just tomato, mozzarella and basil.
The antipasti e insalate portion of the menu, meanwhile, offers traditional favorites like Burrata with Bibb lettuce and tomato; Prosciutto di Parma with cantaloupe; and Insalata Carciofi (baby artichokes, thinly sliced Pecorino cheese, lemon, walnuts, fennel and fava beans).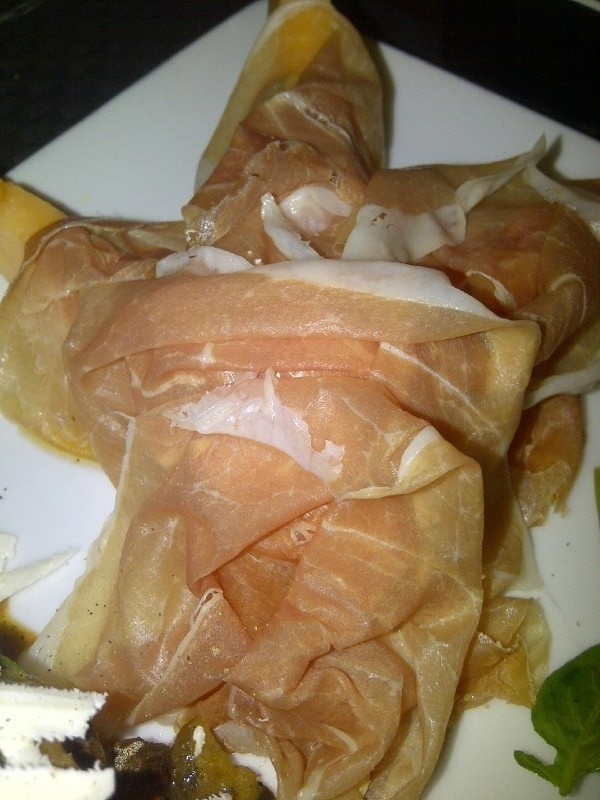 Prosciutto di Parma and melon. (Photo by Scott Bridges)
And although the main dining room of the restaurant limits its offerings to beer and wine, it has been the recipient of Wine Spectator's Excellence award every year since 2004 thanks to Wine Director Roberto Facciolla, who has compiled a list of more than 300 wines, with a solid selection of Italian varietals, including bottles from the regions of Piedmont and Tuscany. About 30 wines are available by the glass.