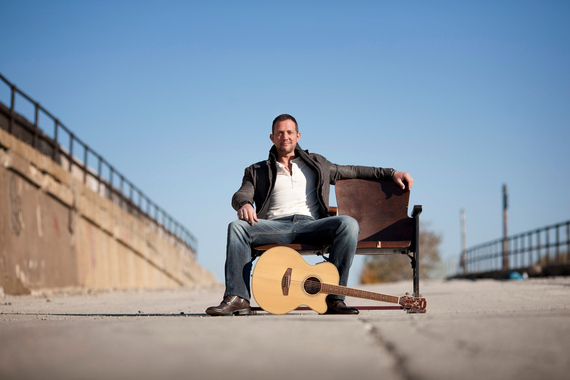 Meeting Justin Utley is like catching up with one of your closest friends, as his calm-but-confident energy puts you instantly at ease. I met him in Dublin, a day after his flight from New York to start off his Irish and UK tour. His musical beginnings are not like most other touring Americans who travel abroad, however. While he started writing his own music when he was still in junior high school, Justin's religious upbringing would come to have a significant impact on his development.
As a child, Justin taught himself the guitar when his mother sent one to him while on his Mormon mission. "We'll talk about that a little bit later I guess", he jokes, aware that being gay and Mormon isn't the easiest of combinations.
"[Playing the guitar] was against the rules," Justin explains, "because my Mormon mission president at the time only wanted us to play the organ or the piano and play hymns only, maybe because the guitar lent itself to playing rock music."
In spite of breaking the rules, the gift Justin's mother sent him would set the Utah native on a path few could imagine. After releasing a few "religiously-based" albums, Justin was asked to perform at the opening and closing ceremonies of the 2002 Winter Olympics in Salt Lake City, where he grew up.
Shortly afterwards, however, he enrolled into an "ex-gay therapy" program, having been advised to do so by a Mormon bishop. Justin explains to me that he didn't identify with the term "gay" at that time, which was something of a vulnerability with the ex-gay 'therapists': "[They] call it 'same-gender attraction,'" Justin adds, "like you have it, [like] it's an illness."
"I felt like I could talk openly about what I was feeling and going through" Justin recalls "but a couple of years into it, I started asking around some of the people in the group therapy; 'so when does this change? I mean, I'm doing all these listed, prescribed things to do to help me 'change' this, and it's not working'. One [guy] was like, 'I've been coming here for eight years, or 10 years.' Slowly but surely, people started going on medication because [they thought being gay] was a mental disorder ... A couple of years into it, I was like; "I can't do this, this clearly isn't working".
Ex-gay therapy has been outlawed in some states in the U.S. as well as internationally, "and rightfully so," Justin adds. It was during that undoubtedly turmoiled time, however, that Justin's songwriting reached a phase that he describes as "more honest." Music clearly became the catalyst in Justin's journey to discovering who he was, both as a man, and also in terms of accepting his sexuality.
"I don't want to say 'honest,'" he explains about his songwriting, "but [it was more] honest with myself, and my experiences were reflecting in my music, so I started writing rock music. And then, I released a couple of albums. Since then, I moved to New York City."
It's been a hell of a journey, he recalls, recognizing that his songs became to a young man what journal entries are to most teenagers: "I was listening to some of the music that I wrote during those points in my life, and I can absolutely, to the week, know where I was and when I wrote that specific song, or that specific line; where it came from, but at the time I was just expressing how I was feeling. I didn't even know that sometimes, even the answers to what [questions] I was having were in my own songs."
One of his (church-sponsored) therapists had Justin believe, horrifically, that he had been molested as a child, but that that had been a repressed memory because it was so terrible.
"I actually came out to my family that that happened, not that I was gay ... My father went on this pseudo-witchhunt to try to figure out who it could've been that did this to [his] son, when in reality ... y'know, I had to own up to it and go, y'know, that never happened, I was just grasping for straws to try to find an explanation for what I was going through."
As he left that darker period of his life, however, Justin flourished through his music, and by venturing down the path his talents would lead him. Having a stint in a regional run of Joseph and the Amazing Technicolor Dreamcoat, he went on to do shows in Los Angeles and Nashville, but it was in New York City that Justin found a refreshing attitude that he appreciated.
"In New York," he explains jokingly, "they tell you: 'yeah, you can give it a shot, and we can tell you if you suck!"
While his talent certainly shone through, Justin's experience of homophobia wasn't entirely over. He recalls a music agent in New York, warning him against discussing being gay, in fear that he would become pidgeon-holed as a gay artist.
"I kinda took that to heart," Justin laments, "and I was like, now I'm just like the other five million people with a guitar in this city, trying to play in Central Park and catch someone's attention... It wasn't working."
The agent's concerns were exactly what were keeping Justin from being discovered, though, and it wasn't until Justin decided to explain the backstory behind his song, Goodbye Goodbye, that he really grabbbed the audience's attention. After he performed the song at a gig in The Village in New York City, Justin mentioned his experience of ex-gay therapy, which the crowd thought at first was a joke. Once they realized he was telling the truth, something clicked. The venue's owner approached Justin after that fateful gig, giving him advice that would be much more valuable than that of Justin's agent. "Your music's great" Justin remembers hearing from the venue-owner, "but you just connected with every single person in that crowd".
Since then, Justin hasn't looked back, although he's so busy that he wouldn't have a chance to, even if he tried. He has played for Icona Pop in Washington, D.C. and Margaret Cho in Los Angeles, as well as at the launch of Stockholm Pride and more recently, the launch of this year's Dublin Pride.
"I've been tying it with some activism" Justin replies, when I ask him where the music has led him "because I feel like the music is part of my journey, and I'm very passionate about what I went through, and some of that, no-one should have to go through."
Indeed, Justin practices what he preaches. His activism has led him to appear on CNN's Faces of Faith show, while Equality Utah invited him to speak about LGBT discrimination, on the Senate floor of the Utah State Capital, as currently, people can still be fired or evicted for being gay.
"I experienced some of that while I was in Utah, it's actually one of the reasons I moved -- I just couldn't be part of it anymore ... It just reaffirms; it's not just about the music, it's about the message. At one point I wanted to win a Grammy, now I just wanna change the world!"
He may well have already started his new mission.
Justin Utley's music and upcoming concert dates are available at justinutley.com. This interview was first published in the June issue of EILE Magazine, an Irish LGBT publication.
Photography: Ryan Bakerink
Listen to Scott De Buitléir's interview with Justin Utley on RTÉ Radio in Ireland: