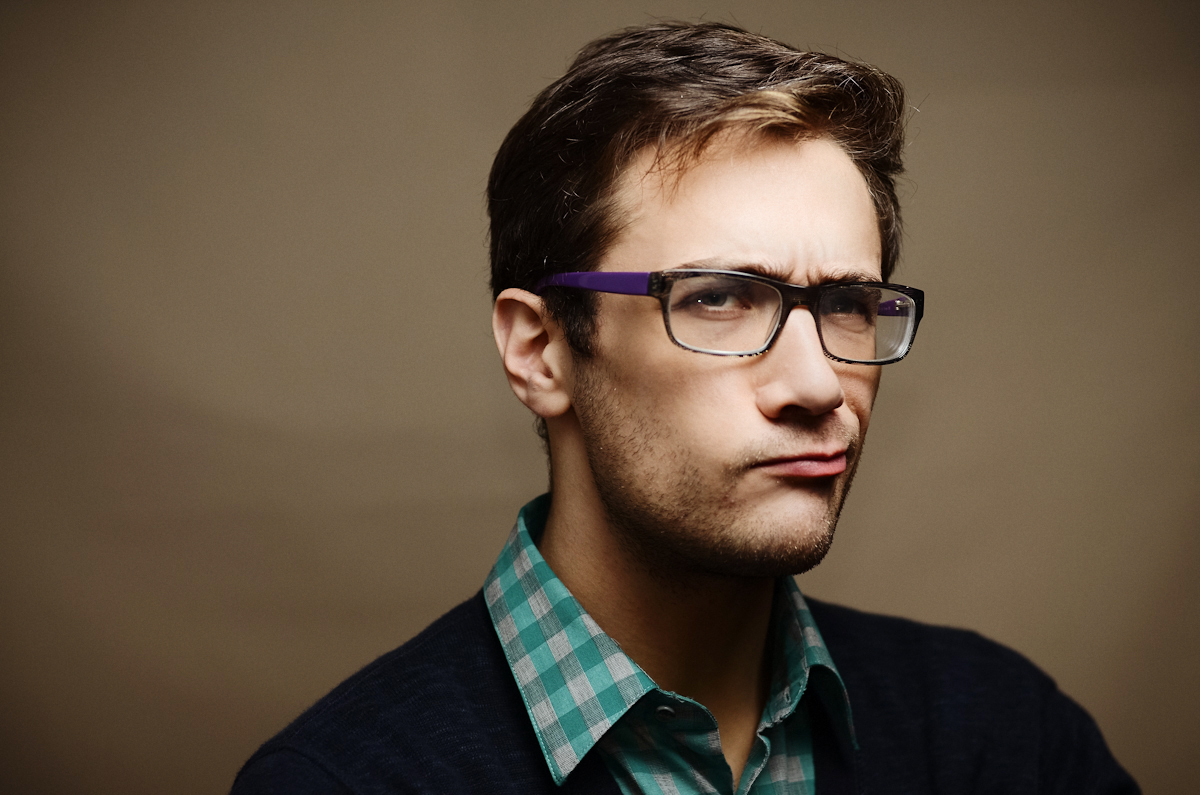 Finding the time to catch Adam Goldman for a chat is not an easy task. When he's not writing, directing or acting in one of his own projects, he's impressing The New York Times, The Wall Street Journal and countless others in the media -- and that's before I even mention the fans. When he finishes any of that, does he hang up his hat and cross it all off the bucket list? Oh no, he simply dives into an even bigger project. As you do.
Despite what can only be a ridiculously busy schedule, when I manage to get the 20-something Massachusetts native on the phone, he's relaxed, upbeat and friendly -- just as if he were ready for a catch-up with his best friend. He had spent the previous day filming some scenes for his latest Web series, Whatever this is., with Scottish actor Alan Cumming having a cameo role. With actors of such a high caliber taking part in his work, does Goldman realize just how talented he and his team are? It seems not; instead, he is refreshingly humble about the reaction that his first series, The Outs, has received.
"That's the power of the internet," he explains. "How could I have known that a kid in China would be sending me these very sweet emails in broken English? That's incredible. That's more of a reach than I had ever hoped."
To call Goldman's The Outs a success would be a severe understatement. The story, told in seven episodes, was based on two young men who adjust to life after they had ended their relationship ("the half-life of love," as Goldman himself poetically describes it). The show contained some brilliant writing and impressive acting, and that's before you mention a cameo role for Cumming, who had become a fan of the show by the time the team were about to shoot their final episode. It appeared that Goldman had discovered something of a Midas touch.
Adam continues to tell me the story of a fan who grew up in a conservative, Mormon household in Salt Lake City and was coming to grips with being gay. Having watched Goldman's début series, the fan wrote to him and explained how glad he was to have found gay characters that he could relate to. "If I know that there's one person out there," Goldman explains, "whose day-to-day [life] is changed because of the work that we're doing, that's what I want."
While The Outs ran the risk of falling into a gay niche audience, the quality of its production made sure that it wasn't just gay men who were flocking to Goldman's Vimeo channel. "It just started to be a thing where people were saying, 'No, it's just good,'" he recalls, relieved and reassured at the same time. "'It's not a good gay Web series. It's not good gay media. It's simply good.' That, for me, was the most rewarding thing of all, because I love these stories, I love structuring them, and I really love these characters."
In comparison, however, Whatever this is. doesn't exclusively revolve around gay characters; instead, the lineup is more mixed. Goldman describes the show as "taking place in the same world, but it's a totally different story." It focuses on the lives of two film production assistants, Ari (Dylan Marron) and Sam (Hunter Canning), as they work themselves to the bone to try to establish a career for themselves in their chosen industry. Many of The Outs' cast return for Goldman's latest baby, which includes the highly talented Sasha Winters as well as Tommy Heleringer, who still seems unaware of his comedic abilities. Canning, who also acquired a decent-sized fan base from Goldman's first project, plays a straight role as boyfriend to Lisa, played by new addition to the team, Madeline Wise.
Goldman explains that part of the inspiration for Whatever this is. is the falsehood behind many so-called "reality" shows and the actual reality for those working behind such shows. For example, Goldman recalls watching a scene from a reality show that clearly wasn't realistic. "There's a moment where one of the characters is gonna write for a blog," he explains, "and the person who works at the blog says that they'll pay $200 a post for the blog. And we said, 'Well, that's a lie.' Who does that comfort to think that you can get $200 to write a blog, when in reality, blogging is more or less free?" It's that exact attitude that Goldman has toward reality, in the sense that he isn't afraid of dealing with it, that makes his fiction all the more powerful.
"I can't wait to share it with everyone," Adam says about his latest show, his voice booming with excitement. While he and his team haven't finished filming just yet, with his Kickstarter campaign to fund the new show well underway with thanks to the shows' thousands of fans, it seems that nothing is able to stop Goldman. Whatever this is, you can be sure that we're seeing the start of a new generation of talent coming together in New York.
Find out more about Adam Goldman's latest Web series at whateverthisis.com.