Which do you prefer? Pets or babies? They're everywhere in social media. Pulling views. Sparking massive followings. Rising to the top of every hit list. It's a massive love fest.
Huh? What's going on? Have we gone cute crazy? Why do these characters work so well?
There's been a lot of buzz lately about cats and dogs in viral films. You can't seem to open a social media page without seeing a dog in the shower or a cat playing a piano. And these pet videos rack up millions and millions of views and likes. But the truth is, babies attract the biggest share of social media coverage.
Some of the best baby vids in social media are the Evian babies, which have achieved a whopping 78 million hits on one of their vids and counting.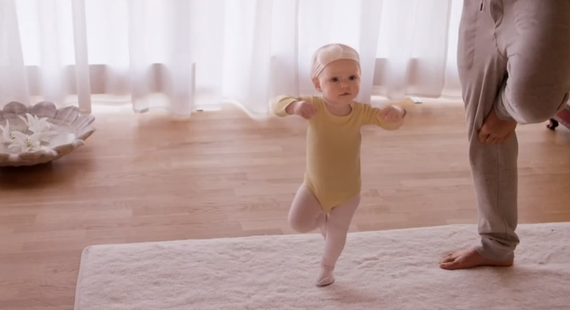 Sweden is hot these days. There's a new sitcom on NBC called Welcome to Sweden. There is the Swedish hit Crimes of Passion. And now in a new campaign for Sweden's WASA Crisp Bread, created by StrawberryFrog, the agency where I work, there are babies doing yoga with daddies while moms are at work. You'll be amazed what these yoga babies can do in this viral from Swedish brand WASA Crispbread. In "Staying Fit the Swedish Way" these babies do yoga feats that tickle the senses for US consumers.
Recently Nestle launched rapping cartoon babies. Fun, but perhaps not as inspiring as the real thing. But hey you can't argue with the numbers. This film has surpassed 1.5 million views.
Spider babies are worth a mention. The follow up to the roller babies.
The history of the viral baby dates back to the dancing baby meme -- the super strange Internet baby doing the cha cha, which made world history way back in 1996. Since then there have been a number of huge viral hits like the roller babies above.
MTS Telecom delivered a powerful performance in an ad produced by Smuggler in London that achieved a whopping 25million views on YouTube.
Libero, a brand of Diapers from SCA, a Swedish Multinational, produced this baby film by Anders Skoog and Swedish agency Forsman Bodenfors
Even crying babies seem to catch the viral wave, as this film from Thailand's mobile phone company demonstrated achieving a healthy 14 million views.
In this new media economy, where giving the crowds what they want, I suppose we'll see more babies in scripts moving forward. Or perhaps babies riding fat cats and bug-eyed dogs.