"Hello Tomorrow" reads the global ads for Emirates, the commercial airline of the future. Like Google, the company is growing exponentially - and in the process hiring a new generation of talent. According to an article by Mark Seal in Departures Magazine, employees joining the company, aren't getting a job, they're joining a movement, to become an ambassador of what has developed into an iconic brand, the top global brand uniting people and places around the world. A brand that is changing the face of global travel and the world.
What's amazing is the fact that Emirates only started in 1985. And for much of their growing years, used inventiveness and creative thinking to outsmart the established airlines, because they didn't have the size or resources of the conventional airlines.
As the person who wrote the idea for the Emirates Cultural Movement and the motto 'Hello Tomorrow', I identify with the passion and vision of an altogether different company in the travel sector. This one is significantly smaller.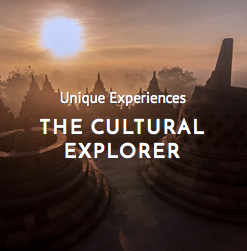 It's called Black Tomato, but don't let the name fool you. It's a potent challenger brand gaining uplift. Black Tomato are experts in a fast growing segment of the travel industry: the creation of tailor-made holidays and honeymoons around the world. Self described as a creative, cutting-edge luxury tour operator, they are on hand to create and book your ultimate trip whatever your dream or desire.
According to Adam Morgan, author of the book 'A Beautiful Constraint', and consultant to the group, so much of Black Tomato's innovation in travel also comes from a fundamental belief in the culture of inventiveness from very little resource.
As an avid traveler and a marketer, and movement spotter, I wanted to learn more about the brand, the company and the minds behind it. What follows is an interview with co-founder Tom Marchant. Curiosity, culture, passion, and creativity are plentiful, exactly the kind of stuff that strikes a chord with me.
Scott Goodson: I absolutely love the fact that you embrace creativity and use it as a key element in your business. How do you use creativity to enhance your brand experience?
Tom Marchant: We're very creative in our service offering. The likes of our Art of Travel and Back to Reality packs show that we are always thinking about our consumers' overall experience. We believe that part of the fun about travel is anticipating that next trip. We like to get people excited before they go and we're also aware of the 'back to reality' feeling that comes when you get back from vacation and try to soften that blow. We also use our creativity strongly in terms of our methods of engagement. Every aspect of engagement with Black Tomato is carefully thought through. From our web platforms to conversations with our travel experts and the travel documents people receive from us - we make sure that all of our touch points are beautifully presented, efficient in their execution and compelling in terms of its engagement with the consumer.
SG: Were you an aspiring entrepreneur as a child?
TM: My father was an entrepreneur so growing up I lived in an environment that had been created and shaped by entrepreneurial ambitions and motivations. I saw on a daily basis what it meant to be an entrepreneur, both the highs and the lows, but the high points far outweighed the challenges and it certainly planted a seed in me and my aspirations for the future.
SG: What motivated you to start Black Tomato?
TM: There were a number of things. I always knew I wanted to work for myself. I'd been bitten by the entrepreneurial bug and that certainly drove me forward. The next key motivator was that I wanted to work on something I was passionate about. I don't subscribe to the adage that you should never turn a passion into a job because you'll fall out of love with it. For me, it's more that you'll never think of it as a job in the first place. Everyday you'll be doing something you love so the 'work' aspect fades into the background and travel was an industry that both myself and co-founders Matt Smith and James Merrett were all incredibly passionate about. However, the main reason to start Black Tomato when we did was that we saw an opportunity to do something different.
SG: Were you in leadership roles in school?
TM: Yes, just the normal things really so sports teams and various other bits and pieces. But while those were all enjoyable and gave me some experience of leadership, they were not as informative as you might think. For me it was the leadership opportunities that presented themselves through entrepreneurial study during my economics A Level and then at university that really motivated me.
SG: Where does your drive to challenge the status quo drive renewed interest in travel come from?
TM: It starts with curiosity. I've always had an inquisitive mind, something that I share with Black Tomato's co-founders. We just bonded over a love of questioning things - why were things done in a certain way, why they worked like that and why couldn't they be done differently or better? We all have an inner appetite to challenge anything, and that's driven by curiosity. I think when you then harness that curiosity within a business context, that's where you start to challenge the status-quo. Curiosity becomes even more compelling when it's something you're truly passionate about, and our shared passion was travel. We found that, as travelers ourselves, there wasn't a travel company that was meeting our needs or emotional wants. So those two facets combined is where our drive came from - an inherent curiosity and a recognition that we weren't being catered for for the kind of travel experiences we were seeking.
SG: What sparked the idea for the company?
TM: It's something that formulated between the three of us, aptly, while we were traveling. Two of us who co-founded the company were at college together and we met the third co-founder while touring Australia. We're all the sons of entrepreneurs and we bonded over that determination to work for ourselves and our love of travel. We met doing something we loved and it was really over that initial meeting that we had the first sparks of the idea. What we came to realize on those travels is that we couldn't think of a company that really got us, that really understood us. When we then came back to London and started looking into the travel sector more closely, the sparks really grew in our minds and the idea gathered pace. We saw that no one in the industry was doing travel in this way and we really indulged our curiosity and came to the decision that we could do it better.
SG: Who are you serving?
TM: Curious, discerning, mobile consumers. We often say that our aim is to encourage and indulge people's curiosity. So people who are in pursuit of new experiences, who are willing to look beyond the tried and tested and get off the beaten path. We find that our customers are often in demanding jobs, based around the world from Europe and the US to Asia, and they really value that time off. Whether that time is spent relaxing or exploring or challenging themselves, time away from the constancy of daily life is very important to them.
SG: How important is fun and quirkiness?
TM: It's important if it adds value. There's no point being fun and quirky for the sake of it and that's a big thing for us. There's got to be a reason behind it and for us it's bringing personality into our communications, products and our services. I always want to work with a company that really understands and gets how I feel and you can create those feelings through quirkiness because with those fun bits there's often an aside where someone can think 'Me too, I like this' and suddenly there's a shared connection. It's about showing people we get them. Building that empathy so that the person looking at us can say "Yes, they understand me and I understand them". So yes it's important, but only if you recognize why - to build a connection and drive ultimate value in what you're doing. In my eyes, being wacky for wacky's sake just ends up annoying people.
SG: What is your competitive edge? Why are you succeeding? What do you offer that's different? And how do people experience it differently?
TM: It's a combination of a host of things. Firstly, it's the way we see travel. We look at it from emotional needs and categorize trips according to experiences that meet these needs. We also like to produce trips that really wow and engage people. We pioneered in producing travel experiences that few other people can and do and have an incredible network of contacts around the world who really can enable access and a level of immersive experience that precious few can make possible.
We're also really focused on every bit of the customer journey. We have a view on the world that is very connected to people's lifestyles, so that people traveling with us feel as if they are traveling with a friend and not dealing with a big faceless corporation. For us, that customer journey doesn't start when they arrive at the destination; it begins as soon as they get in touch with us. The range of services we offer - before they go away, while they're away and, importantly, when they get back - I think are without parallel in terms of the travel industry and that continues to stand us apart.
SG: Who did you start your company with? Did you have early discussions about the culture you wanted?
TM: Before we founded Black Tomato, myself James and Matt had all worked in corporate jobs to gain experience not specifically in travel but just in general commerce. One thing we took away from those experiences was that internal company culture is key. Sometimes in these big companies you really do feel just like that cog in a big machine so what we wanted to do was focus on building a culture that people would really want to work in. To drive them to really want to work for the brand and more significantly feel part of the brand, as if they too own the brand and are guardians of it.
Culture was also vital from the start because we began on a shoestring budget. To get people to commit to working for us and make them passionate about the brand we had to create an environment that people looked forward to everyday. If we couldn't pay huge salaries or offer plenty of perks and benefits, we had to focus on the culture to show and prove to people that they really mattered. It is something that we worked very closely on and we still do, in fact it's more important today than it has ever been.
SG: What role does culture have in your business? What are some things you do in terms of culture now?
TM: Put simply, it's everything. We want to create a familiar environment, one that fosters innovation. An environment where people aren't afraid to have a go, are happy to speak up and feel that they have a voice. Where people know they're recognized in terms of what they're doing for the company and that everything they do counts. We have a number of reward programs and a methodology that we employ regularly to get our people engaged and bought into what the company believes in. Our big belief is that a brand is only as good as the people behind it. Too many companies only take it skin deep. They make sure everything outside on the surface looks great but inside there's no real passion and very quickly that can undo a brand and the foundation that's made it stand.
SG: Who are your competitors? Why should people choose you over American Express, Travelocity or Expedia?
TM: There's certainly a broad list of competitors out there. When we started the company we discovered that people would come to us from two channels. One was those who planned trips themselves, people who had never used a travel company like us before because they didn't think there was anyone around that provided such dynamically packaged trips. They didn't realize that they could have that best friend on the end of the phone or in the office that they could talk to, that could really bring a place to life and be there 24/7 to give them the best experience.
Then there were people coming to us from more established travel companies, some from many of the bigger names in luxury travel, who had been using them essentially because they didn't have anyone else to go to. They approached us to try something different. Today, we pride ourselves on our level of insight and our personalization of the travel experience to keep people coming back. We take our understanding of the consumer beyond just their travel needs, we also consider their lifestyle needs. This combined with 24/7 service and hassle-free planning allows us to create the perfect travel experience for them.
Ultimately however, it's our ability to get people into spaces and places that not many others can or have even heard of - our ability to ignite and indulge that curiosity - which I think remains our greatest asset in today's well-traveled world.