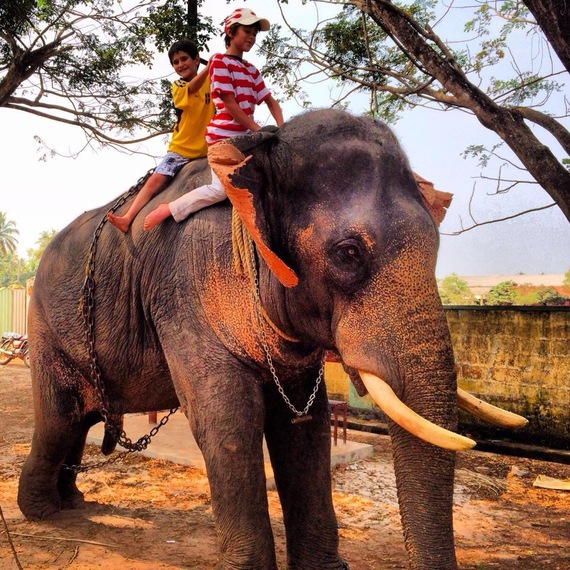 Earlier this month, my wife and two young sons -- 12 and 9 years old -- returned from a mind-blowing Indian travel experience. It was the best family vacation we have had. For your next midyear holiday, why don't you take your money and make a family investment. Imagine a real adventure. Then look at your children and imagine how that adventure would change their lives and bring your whole family together -- and off the iPads, iPhones, Androids and the internet.
If all of this appeals to you then you are probably one of the few but growing people who are looking for more exciting vacation destinations that get you out of your comfort zone.
India, for those of you who've never tried it, is an extremely inexpensive way of combining culturally rich experiences with an acute culinary delight, mind-blowing destinations and accommodations and a light dusting of fear you get in your stomach when you are outside of your comfort zone. Plus there's a better than even chance that at least one member of your family will come home changed.
The first thing you must understand is the best experience will happen only if you have an incredible travel agent. I asked several of my Indian friends and did a lot of homework. In the end we put our trust in the hands of small and very creative domestic Indian travel agency called Broken Compass, a firm run by a wonderful and inspired authority named Manjari. She designed our trip to ensure that we got off the beaten track while staying snug and invigorated.
These holidays are called winter "breaks" because at some point you will find yourself in the middle of winter transported then transformed. The transportation was care of Air India, which we flew from New York direct to Mumbai. It was a delightful experience and passed rather quickly. Upon arrival in Mumbai, we set out to follow the advice of Anand Giridharadas, in his New York Times article 36 Hours in Mumbai.

My first couple of days had me in business meetings in Mumbai. I also had an interview on national Indian television about my best selling book "Uprising" with Anant Rangaswami, the host of a CNBC show. After a lovely evening, it was the start of our adventure.
Early the next day we met the man who would drive us around the city of 18 million people. Satish is a recent arrival to the city having moved to Mumbai from Goa. But he knew the city well, and all the important back allies to escape the cities crushing traffic jams. Our first stop, the next day, was at the incredible Dhobi Ghat -- recommended by our friend Lisa Bodell. This is the massive public laundry where over 10,000 people work every day doing the city's laundry. Our driver Satish drove us through the crowds, through the goats, through everything to the inner center of this public works where people mill around a twirling spectrum of color drying in the wind and the Maharashtra sun. Upon arrival, we were all set and jumped out of our car cameras in hand, except for our younger son Ellis who was a little overwhelmed with the scene, even though Dad told him it was a lot of fun and worth seeing. It took, however, the calming voice and grey haired Satish with the smile and big billowing moustache and a warm hand to help him out into the melee. And of course once inside of it, he was hooked and gobsmacked.
The next adventure was a visit to Bombay Electric, a small but super eclectic store behind the famous Taj Mahal Hotel on three terraced levels that embodies the new Indian cool. If you order Jodhpur riding pants (7,500 rupees), they will be stitched by the Maharajah of Jaipur's tailor, according to the store. My sons opted for multicolored rubber bracelets, which have become the talk of their classmates. And opposite this is the Causeway Market where you can buy every imaginable brass item from clocks to compasses to sextants. Of course you might think it is possible to avoid the heat and the throngs of people going very slowly along the sidewalk packed with sellers.
When the sun becomes too overpowering you let go, and suddenly you are at the Leopold Café, named after the Belgium King. This is the place where we enjoyed a few midday Kingfishers and lunch. This is also the location that was the first place hit by the terrorists during the attacks on Mumbai in 2008. So it is both a memorial as well as a fully functioning restaurant in the middle of all the hustle and bustle. The restaurant boasts a lovely menu and about 100 bullet holes, which continues to attract patrons wishing to pay their respects and dine on its delicious food.
After an afternoon tea at the Taj, our next stop was a dinner at the delicious Indigo Café in Colaba district with Sheetal Metha the head of Nanhi Kali, the organization that educates girl children in India. This was especially inspiring for my young sons who read the book "I Am Malala," and have developed a keen interest in this cause. They've been keen sponsors of the education of girl children ever since they came across the website www.the-girl-store.org . After a few days exploring Mumbai cuisine and curries, Indigo was the perfect culinary break for the kids to enjoy ribs and fries. And they were some memorable fries. Indigo is famous for their fries which I dare say are among the best French fries in the world.
Fed and rested we were ready for something big. The next day came the game changer. We had scheduled something that we thought we all needed to see. Something that had us all a little intimidated but also intrigued. At sunrise, we toured the world's biggest slum, called Dharavi (Hindi and Marathi: धारावी; also spelled Daravi, Darravy, Dorrovy). It is situated in the middle of Mumbai. They say that 1 million people live and work there. Not knowing what to expect beforehand, the tour was, after the fact, mind blowing to say the least. We had all watched the motion picture Slum Dog Millionaire before we left. This was the place it was filmed. Once there, walking through the tiny narrow passageways that connect this massive city, felt more like walking through a European city during the middle ages, except the people were incredibly friendly and impressively busy. They say that 85 percent of the population are either working full time jobs in the slum or going to school. Or both. The industry focuses on recycling (yes they recycle plastic bottles from the USA so your kids can see first hand what happens after they out the little blue recycling boxes); they make cardboard (mostly out of elephant dung), they have a wonderful section of this city that makes pottery, and then they make leather goods. The overall impression of Dharavi changed all of us, and made us more humble and thankful for the opportunity to meet people who are happy in their lives and entrepreneurial, driving their own businesses and putting their children through school. A large number of the inhabitants are migrant workers but many are also second and third generation residents.
The next day we visit Mahatma Gandhi's house called Mani Bhavan. My sons were deeply affected by the exhibit, as were my wife and I. The house itself feels as though the great one is still living there. It feels like a home, and you can see where Gandhi sat spinning cotton overlooking the balcony to the street. As Gandhi said: "Truth alone will endure, all the rest will swept always in the tide of Time." One memorable part of the exhibit was a hand written letter from Gandhi to Adolf Hitler in 1939 pleading with him to stop Nazi aggression and stop WWII from happening.
That brought us to the end of our days in Mumbai. Before the trip back in New York, Anand had suggested to Karin and I that we focus the rest of our trip around Kerala. He said it offered the lush green tropics of south India, but also many of the attractions that you would find across the wider country. Keep in mind that India is like Europe. It's a huge country and getting from one destination -- like Mumbai to Agra (to see the Taj Mahal) requires an airplane ride and then a car for a few hours to reach it. When you're in India for winter break between December and January, the last thing we wanted to do was spend half our vacation in planes, trains and automobiles. So the suggestion of Kerala was intriguing. After seeing the Life of Pi, which was filed there, we were convinced.
We started our Kerala adventure at Kovalam in the very south of India. We stayed at the delightfully Malayalam Leela hotel. There is nothing quite like sitting on the balcony overlooking the Arabian Sea. The Hotel Leela, (a few kilometers away from Trivandrum, the capital city of Kerala) has the Maldives directly in front of the hotel, and just around the corner is Sri Lanka. Of course you can't see them, but it's nice to know they're there. It's exciting to know that the hotel sits on a cliff. The first stop was a visit to Divya, an authentic Ayurveda Wellness Spa located within the hotel. Ayurvedic massage is unique to the area and a traditional Kerala massage. If you like oil you'll enjoy this experience. We had access to a beach that was frequented by virtually no foreigners, and where the local families engaged us for photo sessions continuously down the beach. If you've ever wanted to be a movie star, this is the closest you'll come. We can now brag that our images, mostly our kids, adorn the household frames of many Kovalam families. The Kovalam sun is hot and our oldest son was in and out of the pool so much that his sun block wore off and ended up with a heat rash. This kept him in bed for a couple of days.
From here we drove to Alleppey, an enormous region in the center of Kerala filled with fresh water and rice fields, which feed a large portion of the Indian population. The area with enormous natural lakes and man made channels, fed by 38 rivers, and extending virtually half the length of Kerala state. These Backwaters (as they're called) are a network of interconnected canals, rivers, lakes and inlets, a labyrinthine system formed by more than 900 km of waterways. We hired our own air-conditioned houseboat that had the most outstanding and energetic chef I've ever met. He cooked up a creative storm from the very first moment we came aboard his vessel, and enjoyed his delicious seafood late into the evening. The sunset was life-giving and my little son marveled at the different hues of the great fireball as is slowly dipped into the water silhouetting geckos, frogs, mudskippers, kingfishers, darters and cormorants, and animals such as otters and turtles that live in and alongside the backwaters. We tied up along one canal for the evening and awoke to another thunderstorm of food and sunshine. Rumor had it that this part of the trip would bring us face to face with the dreaded Kerala mosquito. But fortunately for all of us we never met any and we slept like babies. There are many websites that recommend different advice about malaria and solutions for India. We went with the British National Health Service website which features a global map of hot malaria zones and based on this site which said that south India has virtually no malaria, especially in the December-January season, we decided to not take the very powerful anti malaria pills. BTW the last time we took malaria pills for a trip to Thailand my wife's hair came out in clumps, so we wanted to make sure we did our homework and made thoughtful decisions based on all the recent reading out there. This may not be right for everyone, and you should consult your own physician to determine what is right for you and your family.
Next up was a magnificent little gem called Coconut Lagoon, which is only reachable, by boat. Coconut Lagoon is located in the Kerala district of Kuttanad, or the land of the short people. The local folklore has it that this name came about because the folks here are always knee deep in paddy fields. There are so many facets to the Coconut Lagoon experience. The heritage of the old feudal villages of Malabar. The vast frolic of the Vembanad Lake. The shimmering waters of the canals that crisscross the property. The flavor bursts of Kerala home-style cooking. But for me it was the old British hut we lived in which was dressed in a modern rendition of the British Raj, all teak and porcelain. The room made me feel like Rudyard Kipling, and in all my excitement was able to inspire my sons to read Kim. Imagine that! And this was after inspiring my son Jacoby to read, "I am Malala." But the real attraction to this eco resort is the yoga, which was relaxing to say the least. In fact that was the word that dominated my yoga experience. Instead of 'OM" the key word from the yoga leader every few minutes was 'relax' and that I did most comfortably.
From here, we headed north to Periyar Tiger Reserve in Thekkady, where we went for a daylong trek among the mountains and saw monkeys, mongooses, elephants but unfortunately no traces of tigers. It turns out that sadly, south India has only 40 tigers left alive in this reserve. In January, it was estimated by the BBC that there are less than 1,700 tigers left in the wild in India. We stayed in a hilltop hotel called the Shalimar Spice Garden, which was the perfect place to be if you want to get closer to nature -- and coincidentally French people. It turns out that the hotel was featured in a famous French magazine. So apart from the Indians who managed the accommodations and my family (who are Canadian-Swedish), everyone else was from France. Which made for an interesting yoga session where our yogi's rather strong local accent had to be translated into French by yours truly. Language didn't matter; as the pace of life was so easy and peaceful that even the birds and the butterflies do not seem to be in a hurry. The lush foliage of the coffee, cardamom and other spices plants surrounding the cottages made me hungry most of the time, and perhaps that's why my sons really dug into the buffet of curries and chutneys.
From here we left for the largest tea producing area in south India in an incredibly green hilled region called Munnar. It was green like you've never imaged it. We ate lunch at the wonderful Club Mahindra Munnar, which is right in the middle of the tea plantations and was getting ready for a huge New Year's Eve party. We continued on our journey on nerve wrecking winding roads that make the drive between Nice and Monaco seem like a kiddies ride. Once in Munnar, we visited the Munnar Tea Museum and gulped liters of green tea, which, they say, is the healthiest tea to drink that was according to the local tour-guide. New Years was spent in the luscious and coolish Blackberry Hills hotel where people escaped the heat of the valley below. This mountain hotel, literally built into the rocks is dry. So we had a wonderful local cultural dance show for New Years but not a drop of wine or Champagne to be had anywhere. Thankfully we came across a hilarious Norwegian family who had kids about the same age as us. We spent the evening together. Luckily they had stopped to buy fireworks that day and we blew them off at midnight and then fell asleep in our deliciously comfy beds.
Then we were in the home stretch, off to Cochin the largest city in Kerala. This is the city famous for its Chinese fishing nets which function along the city walls along the sea. There is monumental amounts of seafood in this city, and an abundance of fruit and vegetables, which make Cochin a lush and delicious place to visit. The surrounding mountains are also home to the world famous spice plantations of pepper, cinnamon, cardamom, vanilla, pineapple, and much more. So Cochin cuisine is unique and extraordinarily delicious. Our best meal was at the Malabar. In Cochin, there are hundreds of stores selling everything from antiques to modern sculptures -- and many different scenes featuring of our favorite Ganesh. In Cochin, we visited the oldest synagogue in the commonwealth. Sailors of merchant fleet of King Solomon laid the first foundation while some of the artifacts date back to 1344. In addition to the Jewish community, Cochin has a wonderful Hindu, Muslim and Christian community -- all living like together in the most beautiful harmony -- as they have been doing for centuries. If ever there was a place worthy of a visit for anyone living in our modern world it is Cochin. It is inspiration for us all.
The return back to New York was relatively easy, except for an incredibly long process to get through the airport onto the aircraft, which was especially difficult at 1:30 am for our two young kids. But once on the plane, we all fell asleep in each other's arms, with full tummies and large smiles on our faces.
The result? My youngest son held a presentation for his class about India, and made a special point to mention the face that there were more cats in his hometown then there were living tigers in the wild in Thekkady, India. The following week, he had to write a paper about someone he admired. He wrote about Gandhi. Amazingly he has absorbed all the information on display in the Gandhi. My older son has become an expert on the Hindu gods and goddesses, and on Kerala cultural dance. Not too shabby. Oh, and they both have developed a passion for the spice food.