Thirty years ago this month, YOGACHARYA SRI BKS IYENGAR came to Los Angeles after presiding over the First International Iyengar Yoga Convention held in San Francisco.

The Los Angeles Iyengar Yoga community was not as large as the one in San Francisco, but what we lacked in size we made up with enthusiasm. A small group of us joyfully met Mr. Iyengar's arrival at LAX.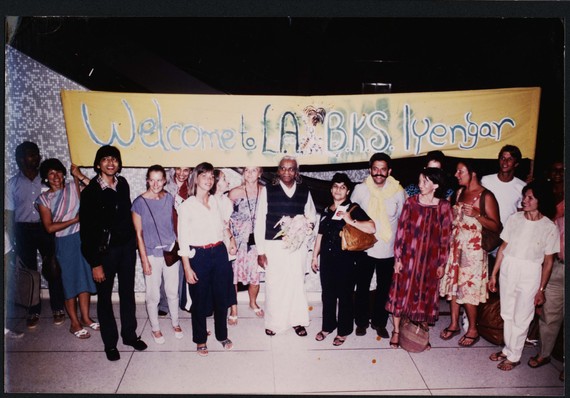 He came to Los Angeles to observe and offer guidance to the local Iyengar teachers. Earlier in 1984 he had given teaching certificates and wanted to see how we were doing.

The next day classes were set up so he could see firsthand our progress. I was fortunate to be included in that group of teachers. He patiently went from class to class offering advice on how we could improve our teaching skills. "Speak slower, let the student absorb what was said before moving on... look at your students."

There was no Iyengar Yoga center in Los Angeles at that time, we were renting spaces as needed, and longed for the day that we would have our own space. After I finished teaching my class that day, a surprise offer was made to take over a struggling yoga studio in Los Angeles.
The next day we took Guruji to Disneyland. No child has ever enjoyed Disneyland more than BKS Iyengar, he had a ball! He walked so fast, going from ride to ride, that he left us all trailing behind him. The scarier the ride the better; the roller coaster ride was his favorite. Hungry and tired we looked for dinner. Disneyland in 1984 was not at all vegetarian friendly so we all dinned on potato chips!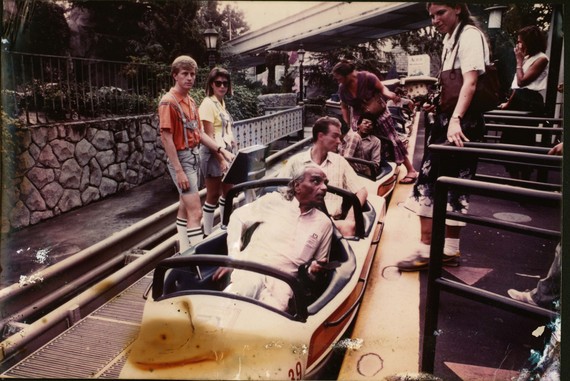 Returning to Los Angles we looked at the struggling yoga studio, it was a disappointment, and needed lots of work. After careful consideration, our small community decided to give it a go. With Guruji's consent and blessing, I had the honor of teaching the first class at the newly renamed Iyengar Yoga Center of Los Angeles, September 20, 1984, twelve days after Guruji's visit. He made it happen, I don't know how, but I know he did.
Through the following years he was a constant source of inspiration and guidance. "First people come for the amenities, then for the yoga" was the call to continue and to improve the facility. When he first visited the Institute in 1990 he admonished us to "stick to the physical practice at first, then the spiritual practice would follow". In his last visit in 2005 so many came to see him, a tent was set up in the parking lot with a TV monitor for the overflowing crowd. When he spoke he said, "Some of my children are outside, please have them come in" and space was found for all.
When he left his physical body on August 20th his daughter Geeta Iyengar said "Like rain, he touched all of us equally. "
Ten days after his passing we held a Memorial Service for Guruji at the Institute that he inspired. In his heart felt eulogy, Mark Harelik said:
"None of us here tonight has an impersonal relationship with Mr. Iyengar. We all have an active relationship with him that is unique and intensely personal. Sitting, lying down, standing, walking, he is there in our fibers, in our minds and our hearts. And it should be noted that one need not have met Mr. Iyengar to have a deeply personal relationship with him."
I am forever grateful for the time spent with Guruji and will always remember with great fondness the delight of spending a day with BKS Iyengar at Disneyland.
On Saturday September 20th at 5:30 PM I will be teaching a free class at the Iyengar Yoga Institute of Los Angles, exactly thirty years after that first class. All are welcome.