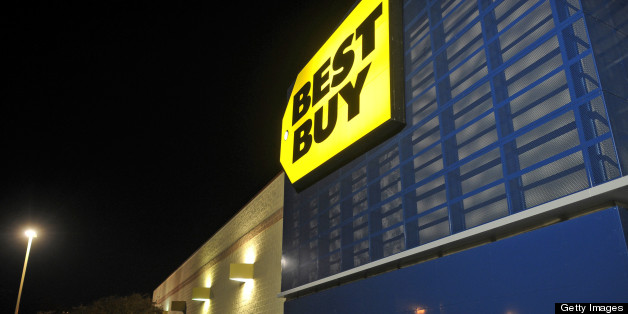 The Thanksgiving dishes were in the dishwasher. It was 11 p.m. and Black Friday was just an hour away. I was standing in front of the Best Buy in Wilton, New York. I had come to witness the sport of shopping.

By the time I showed up, Andrea Barnard had been waiting in line for 26 hours.

In this sport, Andrea, a mother of four from nearby Saratoga Springs, was the night's frontrunner. You might call her MDP -- Most Dedicated Player. Fully prepared, she had managed to cook and serve her family a Thanksgiving meal one day early, on Wednesday afternoon. By 9 p.m. that night, she had set up two tents and arranged the supplies, which included space heaters, DVDs and snacks ("mostly bagels"). She had a "battery bank," a power source to charge cell phones and other electronics. Just two weeks ago, when I had to evacuate my lower Manhattan apartment during Hurricane Sandy, I'd used the same item.

The whole family was there, except for Andrea's husband, a fireman who was working nights, and her eldest son, who at that moment was working the gun counter at Dick's Sporting Goods, across the street.

So what does it feel like to be the first person in line for a Black Friday sale?

"You're king," Andrea says.

At the top of her shopping list was a 40" Toshiba flat-screen TV ($179.99). She planned to buy four: one for a friend, one for her son's room, one for her mother -- and one for herself. "Finally, something for me."
By 11:45 p.m. -- 15 minutes before the doors were set to open -- my toes are already feeling numb.

I look at the barriers cordoning off the waiting shoppers. The line is beginning to swell. Nick Miszko, the Best Buy store manager, eyes the crowds, estimating that more than a thousand people were already in line. I look at my iPhone. The temperature is holding at 34 degrees.
What about the stories of stampeding and trampling and vengeful shoppers?

"People [at our store] appreciate control, so they don't get hurt," Nick says, as he advises Vince Lavazzo, one of two security guards on duty. For the last 22 years, Vince has been a police officer in Mechanicville, NY. This was his fourth year doing security work on Black Friday. He's a friendly guy, but it's hard to miss the 9mm pistol on his hip.

Do people act differently because you have a gun? I ask him.
"I don't think I'll have to use it," he says lightheartedly. "But I guess it's a deterrent."

Overhearing our conversation, a man in line named Jay tells me about a Black Friday incident at a nearby Circuit City a few years ago. People trampled each other. It sounds like urban legend. None of that here, Vince says authoritatively.

Just before midnight, Vince allows the first 100 excited people into the store. After about five minutes, 50 more. The store calls this "sectioning," an improvement instituted in the last few years. "We've also added garbage cans," Nick says proudly.

I overhear two men speaking in Chinese in front of an iPad display case in the back of the store. It turns out they're engineers at the nearby microchip plant, which makes components for cell phones and other electronics. They arrived in the U.S. last January. I haven't had much of a chance to speak Chinese since I worked in Beijing a few years ago, so I jump into the conversation. The men say they're here for the discounts, like everyone else.
What do you make of the shopping chaos?
"In China, this is normal," one of the men, Guo Liang, says.

His coworker, Hongliang Shen, taps on an iPad, and our conversation steers to Apple.
"Most of the profit is earned by the company," Hongliang says, as opposed to the workers. "It doesn't stay in China."

The men are impressed by the discounts. When I leave them, they're still standing front of the iPad display.

On the way out of the store, I see Vince talking to another security guard through an earpiece.

Planning to buy anything for yourself? I ask. He tells me he only buys his electronics from his cousin, who owns a small store nearby. His recent purchase: a 47" Bravia flat-screen TV. But he's not one to shop on Black Friday. "There's nothing worth waiting this long for."

Now it's 1:45 a.m. Andrea is heading to her car in the parking lot.

She has the four Toshiba TVs she was hoping for -- along with a full shopping cart, including three electric toothbrushes, on sale for $39 each, down from $100.

Everyone looks tired. I ask her if this is the best way to spend Thanksgiving.

Andrea is undeterred, indicating that camping at Best Buy was a family affair. "We had our togetherness," she says.

"I'm happy as hell," she adds. "I could sleep for a day, or I could go to the new sales at 6 a.m."