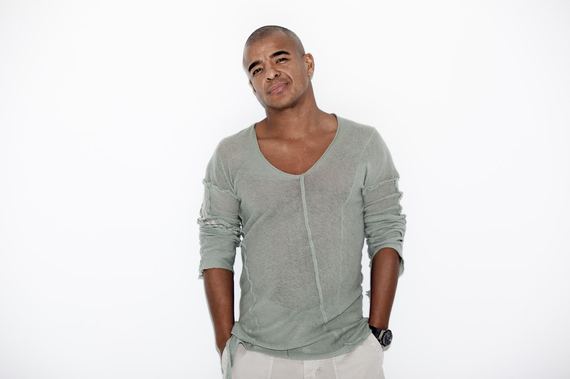 Erick Morillo speaks with the kind of energy and passion that immediately gets other people excited. This has no doubt served him very well over his lengthy international career, from his beginnings producing and playing in New York and New Jersey, to the commercial success of "I Like to Move It," to the recent revival of his Subliminal Records imprint (you can get a full career update here). Following a break from music and a move to Los Angeles, Erick is back in the studio working on tracks to sex up the dance floor, most recently collaborating with Eddie Thoneick and Angel Taylor on the underground meets mainstream "Lost in You."
Is there anything you want to say?
I'm really excited about how things are going, and this relaunch of Subliminal Records. I feel like I've been humbled in life, and now I see things in a different way.
Why did you revive the Subliminal Records label? And what is the signature style you are trying to bring with this?
I went through some personal struggles a few years back and I wasn't in the right head space. Once I got my passion back, about two years ago, I decided to move to LA. I felt that I was ready mentally and spiritually to come back into the scene.
The scene had sort of split into two ways, one very commercial, and the other very underground with no vocals. Two scenes that were thriving, but nothing in the middle. I thought there was a niche we could fill. Underground music with sexy vocals, nothing cheesy about it. I go out a lot, and a lot of times in these places there is no vocals, and I know why. A lot of people making underground tracks don't have the education or knowledge to work with vocals.
You have been credited with helping to rebuild the NYC scene. Can you explain what was going on at the time and how you were able to accomplish that?
We're going back to the early 2000's when all the big clubs like The Tunnel had closed down and places like Crobar were closing. There was nothing. So Robert Fernandez (who is the only person I ever did any parties with in NYC), he suggested we do an after hours once a month. It started at 5 in the morning on Sunday and would go until like 9/10pm.
It turned into one of the sickest parties because there was nothing going on in NYC. One of my favorite memories was one night when the track "Let No Man Put Asunder" by Loleatta Halloway (First Choice) was playing. It was just that spirit, that everyone is included, this sort of "come to dance."
And then Centro-Fly opened up and we started during our Subliminal Thursdays and things started picking up. It was a great time, especially Save the Robots (a club on the L.E.S.), and having seen that kind of experience, it's important to try and have still. And how could we not?
But now it's just Disney World, I hate to say it. Yes there is Output and Flash Factory which have gone in that direction. It's great to see that people are committed, even if it doesn't mean making the big bucks. It's difficult to make money. Flash Factory was not opened with the intent to sell tables, their intent was to create a great musical experience.
Have you seen "The Get Down?" What do you think and is it true to the time?
What a great show. And yes, disco was massive, but it became a bad word because it became synonymous with being gay, and there was just a lot of it. Some was good, some was not so good. Sort of what happened with EDM. That show is definitely accurate to the early B-boy thing. It was hard for these guys to make any money out of it, they were doing it out of pure love.
I used to play all three, disco, hip hop and the house thing was just emerging. The guy that was making music that first made me go like, what the fuck is this, was Todd Terry's "Party People," that then became The Jungle Brothers "I'll House You."
How does the closing of Fabric affect the global dance scene, if at all?
It affects it for the reasons that they say it's closing it down. Places like Fabric have been a pillar. They pioneered the underground sound before the underground sound was cool. It's absolutely ludicrous, people do drugs all over the world they don't have to be in a club. Should we close all of Wall Street, because all the bankers are doing coke? It's also a fact that dance music doesn't really have a voice, as far as people with a lot of money that can lobby for a place like Fabric.
One by one they are taking everything away, places (like Fabric) for people to go and lose themselves on the weekend. It's a little upsetting. In NYC I owned Pacha, and the police used to try and entire the club with drugs, so the could say they got them in the club.
You've worked on so many remixes. How do you approach a remix project?
For me I listen to a record when they send it to me and if I get a good vibe from the record then I just sit in the studio and I just vibe. One of my favorite remixes is Whitney Houston -"I'm Your Baby Tonight." We did this Latin piano thing and it's just nasty as fuck.
I'm always trying to make whatever record it is sound like the original so when you hear it on the dance floor, people who may not be into dance love the dance elements and people who may not be into the pop elements love the vocal. But there are certain records that I will just not touch.
Talking remixes, what was the collaboration like on "Beautiful Life" by Lost Frequencies feat. Sandra Cavazza. Why did you decide to approach the track this way?
Right away, the original was such a beautiful record, in the middle it had that beauty, it just needed the balls. So I cleaned it up on the sides.
Is there a song that you are excited to play out this summer, or that you think is one of the best tracks this summer?
Most of the great records that I loved, I'm still looking for. You know I listen to Solomun, Marco Carola. There is a great record that used a sample of 50 Cent. Most of the music I do hear when I go out is mostly underground. And to be honest, I've been living in a bubble this summer. This year was all about setting up everything I'm doing. I'm on a U.S. tour since mid-August. This weekend I'm doing Reno, Sacramento, Huntington Beach. I'm doing the closing party at Ocean in Marbella, and the last ever closing party of Space in Ibiza. This week alone, we finished about 10 songs. Right now we have releases with Armada until November 4th. I'm excited about owning my lane.
Is there a track you find consistently works on the dance floor?
There's a classic - If I'm playing a house venue or a deep house venue, I still love to drop Donna Summer - "I Feel Love",, especially if I'm playing a tough tech record. I call myself a mixologist, you know I'm having a great time if I start looping a vocal on one of the decks.
Do you have any advice for artist or producers?
My advice, there are going to be ups and downs. Don't let your ego command what you want to do. Do what you love to do, and don't let the stresses in life guide you. We make the stresses in life, we set the benchmark. And don't let using alcohol and drugs be a way to deal with that.
For the the guys trying to get a break, stop trying to be like everybody else. Stop trying to make what's hot right now. Take your experience, whatever it is, however you were raised, take that all, put it in a ball and start making music that you love. Because it's the only way you'll stay passionate enough to keep doing it.
For more on Erick Morillo visit his website.