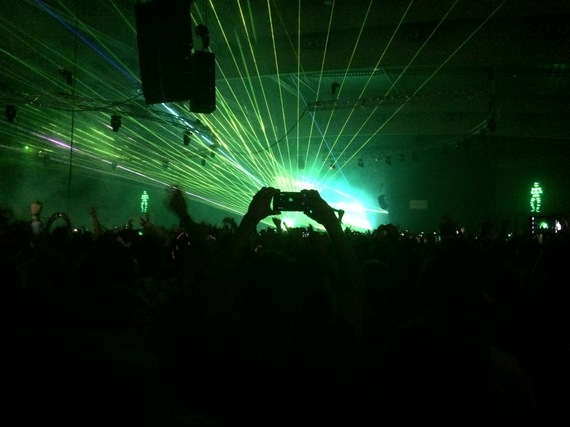 Summer is officially here and that means more festivals than you can count and live music almost everywhere you turn. Growing up in Texas, Lollapalooza was the only festival I ever attended. Sure, we had a ton of live outdoor concerts, but "the festival" is a completely different beast here in Europe. And with Fusion in Germany and Roskilde in Denmark approaching this weekend, I wanted to give a shout out to two June standouts for me, the Small Day Festival outside of Hamburg and Sonar Barcelona.
The invite only Small Day Festival was curated and organized by Small Sessions , a really cool YouTube channel that has also started producing their own events. Based out of Berlin they have an eye for talent, having shot videos with two of my favorite acoustic artists at the moment, Rhodes and Years & Years right at the cusp of their breakthroughs. A day festival featuring mostly acoustic acts, this was a special one because it was clear that vibe is more important than anything. Assembling the right group of people together coupled with top notch music, including the indie band Pool can make for a magical evening.
And from small to massive...the every growing Sonar Festival in Barcelona. I only attended the last evening, but Sonar by Night carried long into the morning, finishing with the now staple set by Laurent Garnier (who left the crowd wanting more as the festival, sadly and officially ended).
For me the highlight of the night was The Chemical Brothers who proved their timelessness as the crowd screamed ¨Hey Boy, Hey Girl,¨ into the beyond packed Sonar Club. A truly top notch visual show helped breathed even more energy into their set, though the crowd quickly scattered as DJ and producer Scuba took the stage in front of a sole plain black curtain. The minimal space was fitting for a heavy techno set (which accurately represents his last album) though I do miss the groove and upbeat energy of his Berlin sets a few years ago.
The most unexpected surprise was a tie between the Siriusmodeselektor trio and the Sonar Car floor. Equipped with neon colored bumper cars, this floor seemed to have the most relaxed energy, playing host to mostly local Spanish DJs and a bit of a more mainstream electronic vibe.
Next year I hope to attend the entire festival as I missed some truly amazing performers, but this is only the start of the festival season, and so many more great performances, live acts and DJs sets are to come. Who are you excited to see play this summer and what festivals are you attending?