San Francisco Opera closes its fall season with a new production of Rossini's Barber of Seville. The four principal roles -- Figaro, Rosina, Almaviva, and Bartolo -- are double cast in alternating performances running through December 1. Conducted by Giuseppe Finzi and directed by Emilio Sagi, the production is a fine blend of Commedia dell'Arte Lite and drawing room humor played outside. Along with a jigger of midsummer madness from choreographer Nuria Castejón, the atmosphere in this sunny corner of Seville -- including a drenching by the special effects rain in Spain -- is totally madcap.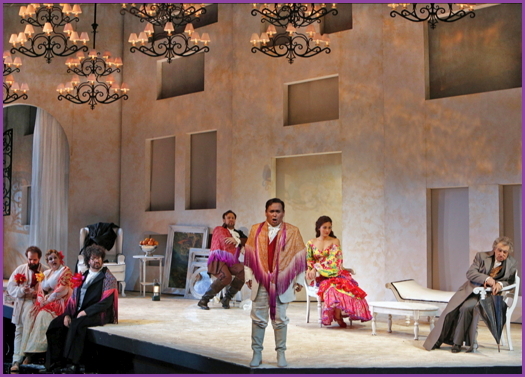 The Barber of Seville. Photo, Cory Weaver/SFOpera
Baritone Lucas Meachem sang the title role at the opening night performance. I met with him earlier that day at the War Memorial Opera House and admitted my introduction to Figaro's aria, "Largo al factotum" happened when I was a kid and from the classic cartoon character "Michigan J. Frog" in One Froggy Evening. He laughed, "So is most everybody's." But many Barbers later -- and from the most popular baritones of their time -- it wasn't until Lucas Meachem's rendition that I heard any of them throw in an extended High A during the phrase, "Ah, che bel vivere, che bel piacere!" (Ah, what a fine life, what fine pleasure!). It is a dazzling display of vocal fireworks that shoots to the last row in the top balcony.
"When I'm warming up," he said, "a lot more effort goes into that note. But when I sing the High A in Largo al factotum, it's no problem. I've sung it more than a hundred times. It's all a sort-of mindset about where it is and how I place it. It's the muscle memory of where that particular High A sits that enables me to sing it. Sherrill Milnes went above to B-flat. I hear Thomas Allen had a High A, also Richard Stilwell and probably Thomas Hampson in his heyday. It's different for everyone. Every voice is almost like a thumb print. Mine just kind-of turns over in the right spot."
Every working baritone must own a solid High G. Those singing Tonio's "Prologue" in Pagliacci must go a half-step higher and nail a climactic High A-flat. But Meachem's savvy barber knows how to catapult a clarion High A up and over the rainbow -- and his fans have come to expect it. I asked Lucas how that special agility informs his vocal fach (vocal category) and if it opens the door to repertoire that other baritones might not consider.
"I think it does," he said. "And this is where I have a bit of a calling. You can be a baritone and sing bass-baritone stuff, a bass-baritone can sing bass stuff, basses can even sing some baritone stuff, and some tenors can sing baritone stuff. For whatever reason there is no sufficient fach between the baritone and tenor rep, specifically the heldentenor rep -- such as Parsifal and Siegmunde. These roles are lower in pitch and/or as high as Rigoletto. I think we miss out on a lot of incredible opportunities to hire those singers who can sustain the tessitura of the heldentenor repertoire. But as soon as a baritone makes that switch people will say, 'Oh, that's what he is' and then pigeon-hole you into this other fach."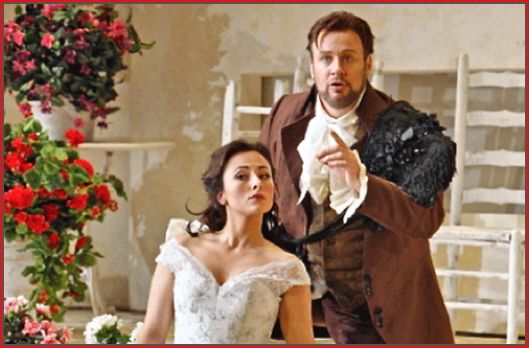 Isabel Leonard (Rosina) and Lucas Meachem (Figaro). Photo, Cory Weaver/SFOpera
"I think there needs to be a little more play for high baritones who can go into the lower tenor rep. I also understand that the companies take a high risk with that. Like, how do they know the baritone can sustain it? Here's the thing - I don't know how many of these voices are out there right now, maybe two or three. I happen to be one who could do it. That's not to say I'm going to be doing it anytime soon, because I feel like the melding of opportunity and the moment is not yet rife for it. The opera culture is not ready for it. By that, I mean the general directors. It's not anyone's fault. It's just never been done. But now we have tenor Placido Domingo singing my repertoire and it doesn't work symbiotically the other way! I have great colleagues. But I think there is a sound that's missing from the world right now. Honestly, I don't think it will do any harm to at least let people know it's a bit of a double standard. When you get right down to it, that's what it really is."
Since his time in San Francisco as an Adler Fellow, Lucas Meachem has accumulated a diverse list of roles. Last season he did a European tour with Anna Netrebko in Tchaikovsky's Iolanta, followed by Bohème in Chicago and Don Giovanni in Cincinnati. Come January he will be at Opéra national de Montpellier in a new production of Eugene Onegin and then off to Wichita for his first William Tell. He made his Metropolitan Opera debut as Rayevsky in Prokofiev's War & Peace and in the title role of Billy Budd at Opéra National de Paris. His debut with the Royal Opera House, Covent Garden in Purcell's Dido and Aeneas was filmed and is available as a DVD. At San Francisco Opera he has appeared in Die tote Stadt as Fritz/Frank, Almaviva in Le nozze di Figaro, Papageno in The Magic Flute, and the title role in Eugene Onegin. Turns out, Lucas has a special gift for memorization -- and it's not about a photographic memory.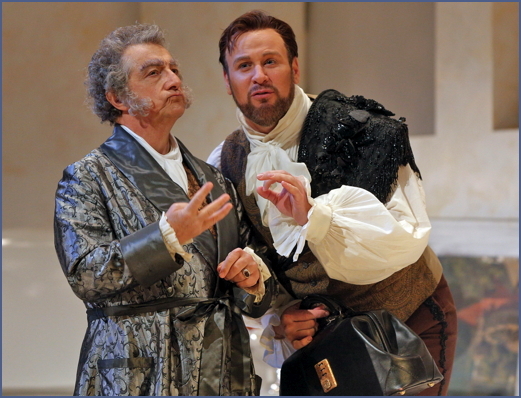 Alessandro Corbelli (Bartolo) and Lucas Meachem (Figaro). Photo, Cory Weaver/SFOpera
"I have this unique ability to memorize basically any piece of music I've ever heard. I have friends with photographic memories. That's not at all how I do it. I'm so forgetful about things. I'm more like a sponge, but only with music. It goes in and it doesn't leave. I just soak it up. It's some sort of natural thing that I can just do. I listen to music and then can spit it back out to you. It's very odd, but it's very helpful. I've used it as though it were a party trick. It got me through music academia. I memorized my music in a tenth of the time that it took everyone else. 'Lucas never practices!' It was a bit of a blessing and a curse at the same time. You can't just have a good memory, it has to be a mix of everything."
"Are you looking more at the Verdi repertoire as time goes by?"
"Absolutely!" he responded. "My agent and I are working towards moving into that rep by baby steps. We've had a few Verdi roles sort-of fly by the radar, but it's been about the time or the place. I want to start with Ford in Falstaff, Posa in Don Carlos, and Germont in Traviata. I've seen a lot of careers around me -- that of friends and colleagues -- who win a vocal competition or do a big role somewhere and then they just shoot to the moon. But for me, I think it has to do with my voice type. I think baritones don't naturally go as far as fast. So, I've had a bit of a marathon career where I slowly go up, but there hasn't been a change in the uphill gradient. I think that's a nice way to be doing things. I'm running a marathon, not a sprint."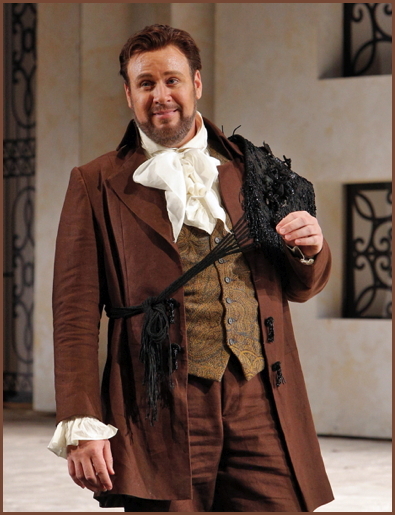 LUCAS MEACHEM (Figaro). Photo, Cory Weaver/SFOpera
Lucas was contracted for this current production of The Barber of Seville three years ago. During that interval he accumulated and repeated a bevy of tasty roles, major roles that are likely to follow him throughout his career. I wanted to press the point about his physical strength and vibrant vocal capacity which could take him to a particular niche of the tenor repertoire. When I asked him about his "dream roles", he named Rigoletto and Siegmunde. So, what if the right offer did come in? All the ducks are in a row and the production happens three years from now. Which role would he choose?
"Siegmunde. If I were asked, I would have to make a lot of phone calls. I would have to make sure that people didn't scare off the roles such as Don Giovanni or Figaro because 'Lucas is changing fach!' It would be incredibly difficult. But, if there was a way, I would do it. You can't dip your toe in that pool, you have to jump in. That pool may have steep sides and no ladders. It makes me very scared to do that, but I'm not afraid to say so. The thing is -- I know I could do it. I just want to get big enough that I can do whatever I want. You know? I'll just go out and do whatever it is and people will say, 'Wow, this is incredible! He can do both!' And I can.
Ah, che bel piacere!
Click here to stay in touch and watch it happen.