Principal Dancer Luke Ingham delivered a spectacular performance in San Francisco Ballet's opening night presentation of Liam Scarlett's Hummingbird. Part of Program 4, it shares a double-bill with Jerome Robbins' 1969 classic, Dances at a Gathering and runs through March 8. Luke is teamed with Principal Dancer Yuan Yuan Tan in a formidable pas de deux set on the second movement of The Tirol Concerto for Piano and Orchestra by Philip Glass. As the title suggests, the composer's signature patterns and driving rhythms mean to illuminate deep roots and far-away points. Scarlett's choreography moves the couple between certainty and the ambiguous, from faith to misgiving and then dissolves into an icy split. Around seventeen minutes in length, the sequence offers the most arresting view of Australian-born Luke Ingham and his easy compatibility with contemporary abstractions.
Luke appeared as the Nutcracker Prince in this season's opening night performance of the Tchaikovsky favorite. Yuan Yuan Tan joined him in the brilliant Grand Pas de Deux of Act II. The duo proved dynamic. "I'm at the stage where I still really enjoy doing Nutcracker," he said.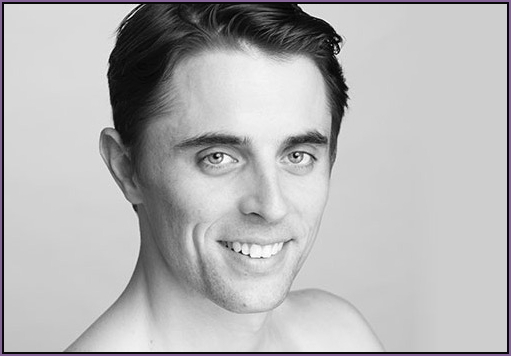 LUKE INGHAM. Photo, Chris Hardy
It's my third Nutcracker here, but it's still very new. The first year, I did King of the Snow. Last year, I did both Snow and the Grand Pas. I had some things in mind that I really wanted to work on and that I was aiming to show. In my variation, for example -- just that little bit of dancing on my own. I mean, I wasn't going to be just standing behind YY. She's a great partner. But I wanted to show that I can do stuff on my own as well.
Mission accomplished. Case in point -- during his variation, the fiery energy of his circling leaps around the stage (the Jetés en manège) drew a huge response from the viewers. In the Company's ultimately glamorous Opening Night Gala on January 22 (its theme, "Infinite Romance"), Luke was shown to his complete advantage with Sofiane Sylve in a pas de deux from Christopher Wheeldon's There Where She Loved, and later with Mathilde Froustey, Carlo Di Lanno and Sarah Van Patten in the U.S. premiere of Souvenir d'un lieu cher choreographed by Alexei Ratmansky. In Program 2: Giselle -- Luke was paired with Sarah Van Patten. We talked about the challenging dramatic aspects in his role as the appealing but unfaithful Prince Albrecht. "When did you get it that you have all the equipment of a romantic lead?", I asked. He laughed.
I don't know if I've gotten that yet! I think with ballet it can be very difficult. There are a lot of physical attributes that go along with dance -- and there are so many different parts for people with different qualities. That is what I find really appealing. I think these different qualities have always been in me.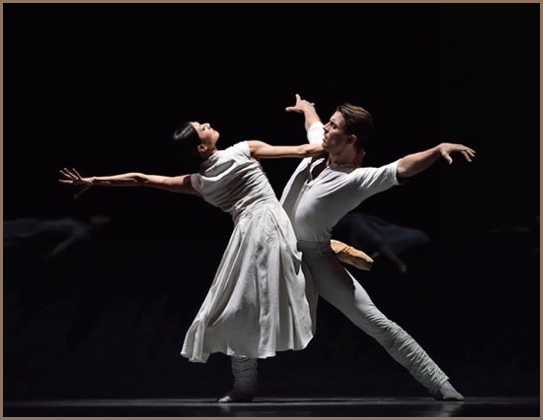 Yuan Yuan Tan and Luke Ingham in Liam Scarlett's Hummingbird. Photo, Erik Tomasson
Luke has been in dance class since he was five. It all started where he was born -- Mount Gambier, a town of about 28,000 people in South Australia. Luke pointed out that Sir Robert Helpmann was from there. Remembered for his performance as Ivan Boleslawsky in the 1948 film classic, The Red Shoes, Helpmann went on to become the favorite partner of Dame Margot Fonteyn and director of The Australian Ballet. Luke eventually joined the company and stayed for eight years.
My mom was a dancer when she was young. She went to a ballet school and also did tap. She never did it professionally, it was more of a hobby. Like me, going surfing on the weekends. It was sort of the same thing for her. She never pushed me into it. When I was about three, I found a pair of shoes and a leotard she had. I wanted to know what it was. She said that when I turned five I could go to class. I think she was hoping I would kind-of forget about it -- you know, being in a country town. When I turned five, she said I asked about it again and then took me along. She and the teacher grew up dancing together. I didn't see my first ballet until we moved to Adelaide, the capitol city. It's about four hours away from where we lived. I was eleven. I was a very hyperactive kid. I played cricket at lunch time and football-Australian football. But I never stopped going to class. Once we moved to Adelaide, I was introduced to this other teacher who really pushed me a lot. Around thirteen, I was swimming. Every night I had something going -- sports or swimming or ballet. On the weekend, I did this thing called Surf Lifesaving. I would come home and fall asleep on the couch. Eventually my mom said, 'You can't keep doing all this, it's too hard.'
Prior to coming to San Francisco Ballet, Luke's dramatic roles included Lescaut in Kenneth MacMillan's Manon which is set to music from the opera score by Jules Massenet; Franz in the Coppélia choreographed by Peggy van Praagh; and Jerome Robbins' 1953 hit, Afternoon of a Faun.
When I first joined the Company, I knew they were doing Onegin the following season and I really want to do the role. When I got the opportunity, I was so excited. Jane Bourne was here to put the ballet on, so I spent a lot of time with her. She has so much insight into the characters, plus everyone I worked with had done it the previous year. Onegin has made a choice. He has experienced so much of the world and has lost touch with the people that were around him. He thinks he is better than everyone else and laments being there. I think the ballet says a lot about Cranko as well. The third act pas de deux [Onegin and Tatyana] is amazing and so technically challenging. You can see how tortured he is about all the mistakes he made. The choreography is all laid-out for you. With Albrecht, it's kind-of the opposite. He wants to have an experience outside of the palace, something different. It's all new and exciting and he's not thinking of the consequences.
The second act of Giselle offers the wayward Albrecht a wide variety of dance opportunities and dramatic expression. The dictates of tradition have him approach Giselle's gravesite wearing an extra-long cape while carrying a bouquet of white lilies. He is filled with anguish and grief such as he has never known. His movements are slow, deliberate and highly stylized. The overall tone and look -- easily described as "histrionic" -- is the stuff of purist poetry to great Russian dancers such as Rudolf Nureyev, Mikhail Baryshnikov and San Francisco's own Yuri Possokhov. This is Luke's second season of dancing Albrecht with SF Ballet. I asked him what he noticed in coming back to the role.
I feel more secure with everything -- with the mime, the partnering, the acting, the story. I'm able to relax a lot more. That's when I get the most out of it. I really want to try to create a mood, especially in that first scene. I used certain events I've had in my life to focus-in on how I felt in those moments. I try to bring that to the character -- for instance, when Giselle dies -- to put myself back in that moment I'm drawing from. Maybe that's not a conventional way, but it's what feels comfortable. I have to feel really comfortable before I'm able to express that. I still find it very difficult to do in the studio.
Luke actually performed in San Francisco in 2010. He was traveling as a guest artist with Morphoses/The Wheeldon Company and one of the stops was the Yerba Buena Centre. Helgi Tomasson saw the performance. Luke came back in 2012 for an audition.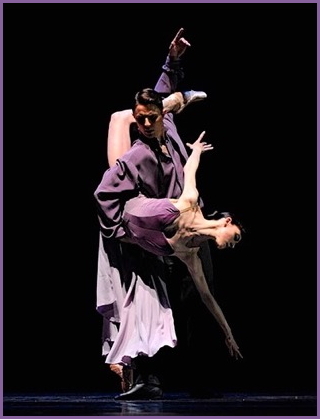 Sofiane Sylve and Luke Ingham in Wheeldon's There Where She Loved. Photo, Erik Tomasson
I had met one of the Ballet Masters here a couple of times and so I e-mailed him and said I was coming to San Francisco and wanted to audition. I did a couple of classes and Helgi offered me a Soloist contract. I was really happy about that. I started here in July 2013, my first show was in London. I can't remember all the pieces, but I performed in Christopher Wheeldon's Within the Golden Hour. I went on with Sarah Van Patten. She had been dancing with Pierre Vilanoba, but he hurt his foot in the first ballet. It was lucky I was actually in the theatre because I wasn't supposed to be on. It was one of those situations where I had thought -- 'Oh, I can just go out and enjoy London, it will be fine. Or go to the theatre like I'm supposed to.' The guilt got the better of me and I went. I ended up going on without any rehearsal. Chris was there and was a bit worried. But the show went really well.
I was really happy to get the opportunity for that to be my first show. Within the Golden Hour is definitely very unique. Since then, it's been pretty much the same. I've been thrown into a lot and have just really embraced all the opportunities I've been given. You have to look at the positive side. And make the most of it!