The morning after the marriage of the Dauphin of France to 14-and-a-half-year-old Marie Antoinette, the tongues began wagging about the sex life of the future Queen of France. Her job was to provide France with an heir. The topmost attendant to the Royal Sheets was the first to lay eyes on -- a lack of evidence. The news filtered through the corridors of Versailles, wending its way down an amazing chain of rank and station until the word got blasted far beyond the gates of Versailles, past the borders of France, over to Austria and to the attention of Empress Maria Theresa -- mother of the bride. Around eight years later, "Breaking news" could have preceded the morning alerts that Their Majesties had finally and fully consummated the politically arranged marriage. But during those in-between years, speculation was rife among many, near and far, that since there had been no pregnancies, the King was impotent or the Queen must be a lesbian. What else? Underground pamphleteers and illustrators were grinding out a flood of porn that couldn't move fast enough. Among the suggested paramours of the Queen was the very lovely and violet eyed Gabrielle de Polignac. True, the Queen had appointed her as governess to her children, which meant an attractive salary. She had also gained the title of Duchesse and was ensconced into a 13-room apartment within the palace. Thus, a veritable unknown had sailed into the highest position of the Queen's inner circle. She was hated.
The image war waged on and Marie Antoinette was losing it in spades. Louis was unable to stop the publications and neither the Queen or her trusted confidante could estimate the fuel behind the campaign. That is, until the wake-up call on Tuesday, the 14th of July 1789. Word eventually reached the Palace that the starving citizens of Paris had taken control of the Bastille and cut off the head of its governor with a fruit knife. The mob was heading for the Royal household. Gabrielle de Polignac would be easy to spot. How to get her out of France and safely across the border is the primary subject of Les Adieux a la Reine (Farewell, My Queen) now showing at Landmark's Embarcadero Center Cinema in San Francisco and Shattuck Cinemas in Berkeley.
During a recent conversation with the film's director, Benoit Jacquot, I said that I had never been persuaded by the smear campaign of the Queen's enemies. I do not believe that the relationship between Marie Antoinette and Gabrielle de Polignac was sexual. "Neither do I," he responded. "Maybe some can think that, if they want. But the film doesn't show anything which can make you believe that they had an affair together. It was the kind of feminine friendship in vogue in the 18th Century. We know it by letters, by testimonies, by archives -- that women together had very strong and exalted links. It can seem ambiguous today. But, it's not."
Les Adieux a la Reine begins as a novel by Chantal Thomas. It is a re-imagination of a four day period between July 14-17, 1789, at Versailles. The progression of events is seen through the eyes of Marie Antoinette's personal reader, the keeper of the Queen's Library. The novel is an extremely clever and insightful blend of personalities and known data. It is a bird's eye view into the inner sanctum of the last Queen of France. The story explores the terrors and actions - known and reasonably presumed -- that would have engulfed the royal family and the staggering number of courtiers and servants in residence at that time.
The central character, "Sidonie Laborde" (Léa Seydoux), the Queen's reader, is fictional. There was such a position at the court, but the lady who held it has been reinvented as a vibrant young woman who is not only extremely efficient in her obligations, but is totally loyal to Her Majesty.'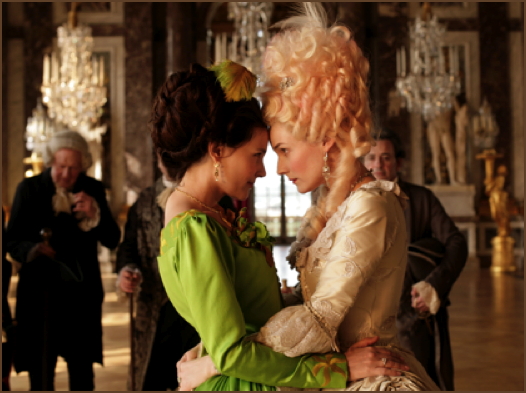 VIRGINIE LEDOYEN and DIANE KRUGER
Photo, Carole Bethuel
Diane Kruger (Troy, Inglorious Basterds, Inhale) was the perfect choice to play Marie Antoinette. Decades ago in cinematic history, a shot at doing the role was regarded as an ultimate conquest by many a beautiful actress. So was Cleopatra, Joan of Arc, and eventually Scarlett O'Hara. In 1938, Norma Shearer received an Oscar nomination for her sensitive portrayal of Marie Antoinette. Since then, there have been seventy films spotlighting the Queen of France. Diane Kruger may be the next to be nominated for her beautiful interpretation. I asked Monsieur Jacquot how he chose her.
"She, in fact, chose me! She knew I was in France, looking for an actress to be Marie Antoinette. She also knew that I was thinking of three or four actresses, and knew she was one of them. She came back from the United States just to meet me. She gave me a rendezvous in a bar. I saw her coming in, coming towards me saying, "If it's not me as Marie Antoinette, your film will be nothing! I'm German, my mother's name is Marie Thérèse -- like Marie Antoinette's mother, and I'm born the 14th of July!" Many things like that. Then she says, "I want to do it. I'm the one. So, stop everything. Do it with me." I was very calm. I looked at her and said, "OK. If you want to do it -- you do it." Suddenly, she couldn't believe it. She said, "Huh? No task? Nothing? You're sure? It's true?" I said, "You do it." I was sure. Doing it like that? She had to be very good."
Unlike the 1938 screenplay which also takes much license with history and is pushed through the format of melodrama, Jacqout's treatment has the elements of a documentary, a sort-of 48 Hours times two. The camera follows Sidonie Laborde through the four days that will test her passionate commitment to Marie Antoinette and reveal the nature and truth of her devotion. Was it likewise sexual and self-serving, as the rumor mongers would have us believe about Gabrielle de Polignac?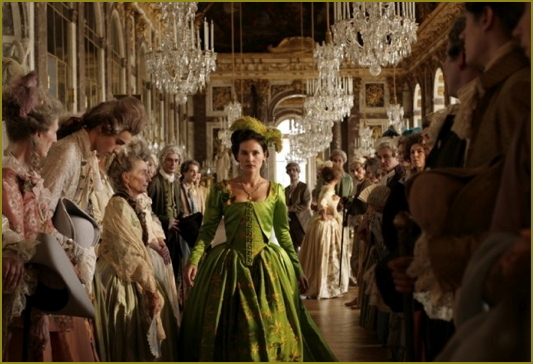 VIRGINIE LEDOYEN -- as Gabrielle de Polignac
Photo, Carole Bethuel
Sidonie understands completely the privilege of proximity she enjoys with the Queen - the invited familiarities, a morning coffee, a bit of face-to-face as they read through an amorous scene from the Queen's favorite play. Madame Campan, her lady-in-waiting and Sidonie's immediate superior, is somewhat shocked and disturbed as she sees Marie Antoinette massage Sidonie's arm with her personal rose water. The swampland around the palace is infested. "To think," says the Queen, "it's with that stagnant water that we wash ourselves. I hear there are even rats. It's all so repulsive. If it keeps up, we'll soon live in a sewer." Sidonie cherishes the Queen's spontaneous concern and gentle touch. This morning, as she headed towards the Queen's bedchamber in the Petit Trianon, Madame de Polignac was on her way out. The Queen's most intimate companion. Everyone knows it, and steps aside as she passes on by. Sidonie has contemplated her own position in comparison to the super-elite entourage known as, "The ladies who accompany Madame." How would that level of familiarity be different? What else might it include? This morning seemed the right opportunity to express to the Queen her fervent respect and affection. "For Her Majesty," says Sidonie, "I'd take longer journeys, if she so desired." Marie Antoinette acknowledges her devotion. How she will take utmost advantage of that declaration of loyalty will unfold in the next 36 hours.
"What interests me very much," says the director, "and what fascinates me in Queen Marie Antoinette is that her life is divided exactly in two parts and two characters. The first which, in a way, is the theme of Sofia Coppola's film. She's a little princess, alone in Versailles, very spoiled, and at the same time very bored by everything. She tries to live as a young girl in that situation. Suddenly, in the days where my film begins, she becomes another woman. She becomes a queen -- a queen of tragedy, a kind of martyr. Those two characters devour each other. That is what my film tries to evoke. She is divided into two characters."
"I know your fervor for Marie Antoinette," says the elderly records keeper at Versailles to Sidonie.
"Not at all," she responds. "I'm just her servant. What am I saying? The servant of the books of Her Majesty's Library. No fervor in that."
"So young and already so blind. Your love for the Queen makes you too indulgent as to her caprices. Gabrielle de Polignac is a folly which cost her dearly. She's yet to finish paying for it."
Virginie Ledoyen is exquisite as Gabrielle. She radiates all the energy that is said to have captured the heart of Marie Antoinette. Out of her presence, she is totally aloof, confident, wanting for nothing -- except perhaps an occasional flirtatious ride with "Paolo" (Vladimir Consigny), the court gondolier, who brags of flashing his cazzo at the Duchesse. Ledoyen is the perfect compliment to Diane Kruger. The rhythm of their major scene together is sweetly nuanced, utterly tender, and ultimately heartbreaking. "Burning our effigies is no longer enough," she says to Gabrielle. "They want us in flesh and blood." The Queen tells Gabrielle she must leave France in order to save her life. Gabrielle agrees, but adds, "Don't let me abandon you."
"You already have."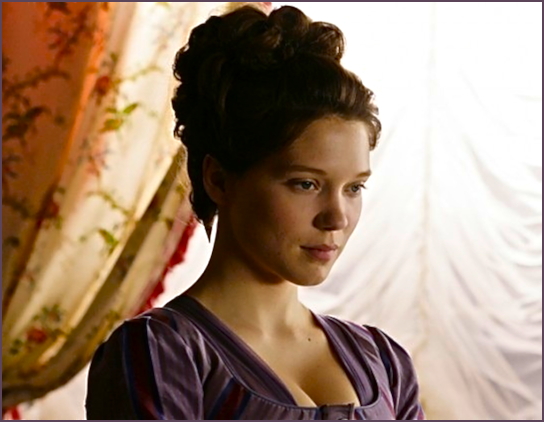 LÉA SEYDOUX - as Sidonie Leboard
Photo, Carole Bethuel
Day Four. Sidonie has been summoned by the Queen. As Sidonie waits outside her door, she observes Gabrielle and her husband disguising themselves as a pair of servants. She overhears something about getting to Switzerland and that, nowadays, "coachmen keep their necks longer than noblemen." Before admitting her into the Queen's chamber, Madame Campan has some advice for Sidonie. "Refuse what she asks you." She replies, "I cannot refuse her anything."
The Queen tells Sidonie that a carriage is leaving for Switzerland and that she will be in it. She reminds Sidonie of her willingness to travel for her. The plan is that she will accompany the Polignacs in their escape. Sidonie is to wear one of Gabrielle's gowns. Sidonie understands that she is to be used as bait. The Queen tells her to strip as the dressmaker is summoned. She obeys.
The scene is fraught with all manner of tension. Sidonie has seen the Duchesse completely naked. How will she compare in the eyes of the Queen? Is comparison the issue? Is Sidonie's own beauty enough to satisfy the Queen - enough to be mistaken for Gabrielle should the carriage be stopped? "I want her spared," says the Queen. Is Sidonie's love for the Queen so great that she will concede to sacrificing her life for the sake of Gabrielle de Polignac?
Léa Seydoux breathes life and dignity into "Sidonie," a role that is a combination of characters and ideas, a reflection on manners and morals, the face of contradiction, virtue, and supreme honor. As she starts to leave, perfectly dressed and coiffed as the Duchesse, Marie Antoinette stops her and embraces her. She looks deep into her eyes and says, "Tell Gabrielle that I'll never forget her." And kisses her.
The Queen's reader fades into history.
FOOTNOTE:
Gabrielle de Polignac made it to Switzerland. She died in Vienna in 1793, less than two months following the execution of Marie Antoinette. Her family said she died of a broken heart. She is the great-great-great-great grandmother of the children of Prince Rainier and Princess Grace of Monaco.