It's one of those "only in San Francisco" things -- The Fashion World of Jean Paul Gaultier: From the Sidewalk to the Catwalk. All of a sudden, the de Young Museum in Golden Gate Park has become the place to be seen. "For me, there is no one type of beauty," said Gaultier at the preview. "There are many types of beauty. You can find beauty everywhere because beauty exists everywhere." Gaultier is as big as it gets on the high end of Haute Couture and the de Young Museum is responding to this major artist -- whose personal themes are "equality, diversity and perversity" -- with a glamorous showing like never before. The Gaultier collection is being given the Star Treatment.
Recently deceased director of the Fine Arts Museums of San Francisco (FAMSF) John E. Buchanan Jr. was the motivating force behind this singular West Coast display of the Gaultier collection which had its start in Montreal. Perhaps anticipating criticism of yet another "fashion show," Mr. Buchanan said at the time, "Was there ever a more perfect match than Jean Paul Gaultier and San Francisco? This exhibition fuses the energy of street culture with haute couture craftsmanship and presents it through the lens of cutting edge multimedia that is synonymous to the Bay Area. As the exclusive venue for previous exhibitions of the work of Vivienne Westwood, Yves Saint Laurent and Cristóbal Balenciaga, we know the Bay Area is ready to explore the oeuvre of yet another master of design, Jean Paul Gaultier."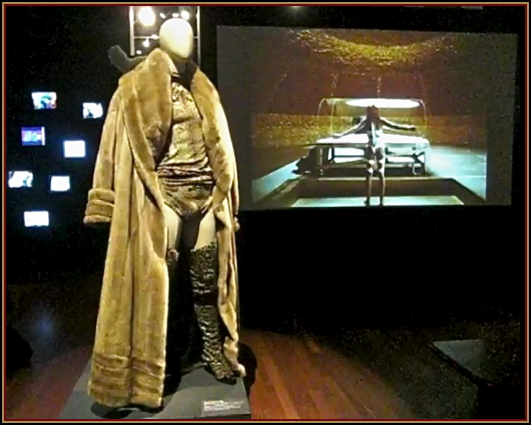 Jean Paul Gaultier - Men's maxi coat and ensemble. Riders and Horsemen of Modern Times collection, men's prêt-à-porter fall/winter 1995-1996. Synthetic fur maxi coat; leopard-print stretch jersey top; leopard-print synthetic fur thigh-high boots. Worn by Jean Paul Gaultier when he hosted the MTV Europe Music Awards, Paris, in 1995.
Photo, Sean Martinfield
The exhibit consists of 140 ensembles spanning over 35 years of Gaultier's couture and ready-to-wear collections. Once inside, there is an immediate atmosphere of excitement and sensuality, intimacy and tantalizing shock. The usually handsome and staid galleries have been transformed into a dark and edgy multi-tech/multi-spotlit arcade where up-close and very personal "models" are adorned in spectacularly outrageous finery created for such legendary performers as Madonna and her tour of Blonde Ambition, pop icons Kylie Minogue and Tina Turner, wardrobe designed for collaborations with film directors Pedro Almodóvar, Peter Greenaway, Luc Besson, Marc Caro and Jean-Pierre Jeunet, and from the contemporary dance world -- international celebrity choreographers Angelin Preljocaj, Régine Chopinot and Maurice Béjart.
"I respect individualities and I like particularities," says Gaultier. "I mix and match, collect, twist, and crossbreed codes. Past, present, here, elsewhere, masculine, feminine, remarkable, humdrum -- it all coexists." But as you approach the raised catwalks, if you sense you are being given the quick once-over by some of the tattooed mannequins in leather, feathers, lace and chains -- then take it up with the show's originating curator, Thierry-Maxime Loriot and Jill D'Allessandro from the de Young. These seemingly come-alive figures from JoliCoeur International are startling in their facial animation and soft-spoken asides.

The Fashion World of Jean Paul Gaultier: From the Sidewalk to the Catwalk is in residence at the de Young through August 19th. Click here to purchase tickets on-line: GAULTIER
ABOUT THE ARTIST
Jean Paul Gaultier sums it all up with his now classic observation, "Except for the medieval codpiece and the bra, garments have never had a gender."
In the early 1980s, Jean Paul Gaultier began to introduce a wide range of looks both hyper-sexualized and transgendered. The designer used this new wardrobe to celebrate alternative lifestyles with tropes such as "butch," "boy toy," and "dominatrix." Through each collection, Gaultier delved into the sexual climate of the era, when the twin forces of the sexual revolution and the advent of AIDS heightened awareness of human sexuality in its diverse forms and broke down traditional gender delineations.
In the summer of 1985, with his A Wardrobe for Two collection, he dressed both sexes identically as an investigation into the masculine, the feminine, and the androgynous. With The Modern Man (fall/winter 1996-1997), he presented feminine haute-couture detailing in a men's prêt-à-porter line. Beyond custom-made tailoring, this collection was enriched by delicate, sophisticated materials characteristic of women's couture. By introducing skirts and corsets for men, Gaultier encouraged an expression of fragility and sensitivity, while never depleting the underlying masculine sexuality. His men's collections remain distinguished by a blend of the classic and the unconventional, a mixture of tradition and rock-and-roll.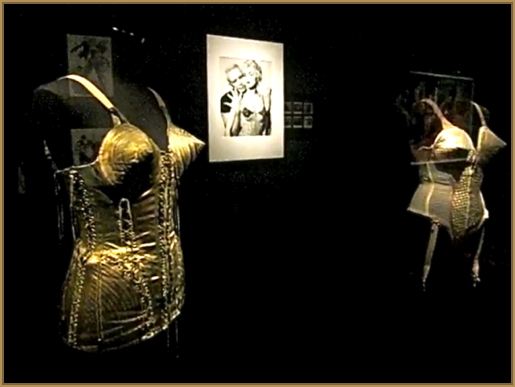 CORSETS. Madonna - Blond Ambition World Tour, 1990; Dazed & Confused, April 2008.
Photo, Sean Martinfield
In stark contrast, he also celebrated a woman capable of asserting her masculine side. For Madonna's 2006 Confessions Tour, he clothed the singer in sexually aggressive riding habits surrounded by harness-bound dancers. With their allusions to bondage wear (utilizing such materials as latex, leather, and fishnet) these garments catapulted women's dress beyond the late 1970s "power dressing" into new styles that have been considered, alternately, outrageously scandalous or sublimely elegant.
For Gaultier the skin and the body are inexhaustible sources of inspiration. His transparent knits become "second skins"; and with his prints of flayed flesh or tattooed bodies, he transforms each wearer into a trompe-l'oeil work of art. In his words, "I like the blemishes, scars, emotions of the skin, of the flesh, of movement, everything that is human." This carnal fascination has led to designs both romantic and fetishistic -- a duality that reflects Gaultier's playful, provocative, and sophisticated understanding of the gender issues that dominated the late twentieth century and resonate still today.
Watch this sneak preview of the Jean Paul Gaultier exhibit at the Dallas Museum of Art: