Keeping up with its very popular Halloween tradition, San Francisco Symphony presents Alfred Hitchcock's 1927 silent screen thriller, The Lodger, Thursday, October 31 at 7:30 p.m. The film will be accompanied on the magnificent Ruffatti organ by acclaimed concert organist, Todd Wilson. In the title role is one of Britain's most elegant and beloved personalities from the first half of the 1900s -- leading romantic actor and popular composer, Ivor Novello. The Lodger is based on the 1913 best-selling novel by Marie Belloc Lowndes which capitalized on the 1888 serial killings of Jack the Ripper. It is the last of Hitchcock's silent films and the first to incorporate a long list of his personal trademarks -- the signature touches, images and themes easily found throughout the remainder of his work.
The Lodger: A Story of the London Fog opened in London on Valentine's Day 1927. Ivor Novello's female audiences were swooning over their idol's latest film -- this one, a tale of murder and unspeakable horror taken from the headlines or the "wet press" as referred to in the film. Never before had they seen their favorite so beautifully photographed. From his first lingering pose in the doorway of the boarding house to a tender kiss at the conclusion, Ivor Novello remains fascinating, completely exposed, totally vulnerable, ideally romantic - and rather fey, even for the Brits.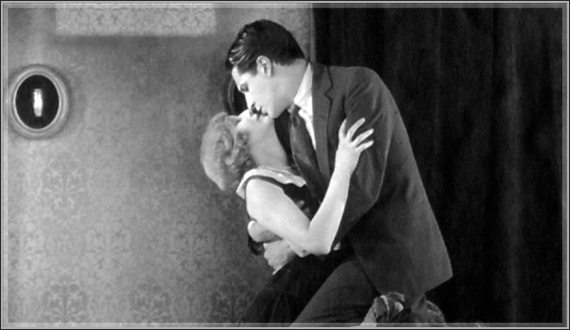 JUNE TRIPP and IVOR NOVELLO. The Lodger (1927). Photo, courtesy of San Francisco Symphony
Hitchcock's obsession with his blonde leading ladies is well known. His particular favorites include Grace Kelly, Janet Leigh, Eva Marie Saint, Tippi Hedren, and Kim Novak. For The Lodger, it is blonde newcomer June Howard Tripp - identified only as "June" in the opening credits. But Hitchcock also worked extremely well with handsome leading men whose fine-grained manner pushed the homoerotic buttons. Such energy clearly enhanced the suspense. In addition to Ivor Novello - whom Hitchcock directed again the following year in Downhill - those guys include John Dall and Farley Granger in Hitchcock's Rope (1948) and Robert Walker in Strangers On A Train (1951). Then there's that moment in Psycho with Norman Bates' swaying of the hips as he glides up the stairs towards Mother's room. It was Tony Perkins' choice to be very light in the loafers. I asked organist Todd Wilson how he will handle a few of Novello's own highly-stylized scenes that are bound to spark a bit of laughter. How does an organist use his improvisational skills to pepper a score that will last over an hour and accommodate a wide variety of moods, especially the worst of fears? That being, the depraved serial killer has advanced into the neighborhood and may be living upstairs from you.
"You can look for that," he said. "I'd be disappointed if there were not some laughter every so often. I know there will be and I want to be hand-in-glove with some of those moments. They're too good to pass up and are part and parcel with what's going on.
"Generally with silent films and especially with those such as The Lodger that have an inherent drama and suspense to them, I come up with a theme - a leit motif for each of the major characters - and go at it in a Wagner kind of a way. Then I weave those themes in and out more or less when those people are featured on the screen. At the same time, I create an on-going musical structure that enhances what you are seeing on the screen and doesn't distract from it in any great degree. In the best of all worlds, that's how it works out."
American audiences were not familiar with British matinee idol Ivor Novello when The Lodger opened here in 1928. But the novel by Marie Belloc Lowndes was - enough for the film critic of the New York Times to call-out the film's conclusion as being "deplorable". The truth is that the alternate ending was demanded by the film's producers who were protecting their own investment and banking on the strength of Ivor Novello's large female fan base. It is they who would not be happy if their dream lover turned out to be the killer of curly-headed blondes. It was a package deal and Hitchcock accepted it. But he also knew from an earlier screen test with Novello and June Tripp that there was a strong rapport between the two actors. It provided him the inspiration to incorporate handcuffs into the narrative. Miss Tripp, as "Daisy", the innocent blonde daughter of the landlords, is cuffed by her boyfriend "Joe" (Malcolm Keen) - a doltish cop who seems amused by what the audience views as sexual restraints. They will be used again in the concluding scenes, this time on the lodger who will be restrained and suspended from iron grates. With the angry mob beating on his hands, the scene evokes images of Jesus being scourged at the pillar.
"The Lodger is the first of Hitchcock's films that embodies his typical traits," said Todd. "The psychodrama and the sexuality aspects - good versus evil - all those things that appear in his later films. I keep that quality of not knowing how it's going to turn out - the ambiguity of the whole situation and the way Hitchcock sets it up. I maintain that in the music so that it stays a little on the edge and doesn't try to give too much emotional information at any one time. It seems to me that is the way Hitchcock is approaching his filmmaking also."
Although Novello is a captivating figure, it really isn't until the end of the film that his strength as an actor can be truly appreciated - and even moreso with a second viewing. Hitchcock had the cast and crew of Psycho raise their hands in a legally-binding vow that they would not reveal the film's ending. So, I won't either for The Lodger. But, when it comes to Mr. Novello, as the song goes - "Every little movement has a meaning all its own." In Novello we can appreciate that same cultured or gentlemanly manner typical of other English actors at the time, such as Robert Donat (from Hitchcock's 39 Steps) and Leslie Howard. In fact, Ivor Novello would have been a perfect candidate for "Ashley Wilkes" in Gone with the Wind.
"The same thought went through my mind," said Todd. "The organ world being what it is, you can hardly watch any two minutes of The Lodger without, as you say, being immediately aware of that and the sort of wonderful combination that Novello portrayed in all of his body movements. It's really quite fascinating. It's certainly in my mind and in my eye. I would imagine it comes out one way or another in the music. I hadn't thought about it in any concrete musical parallel. But all that sort of thing tends to be part of the organ world in a pretty everyday way. I think it's quite wonderful and in a way fascinating to see on the screen, because the portrayal you get from Novello is just so vivid and a lot of fun to watch."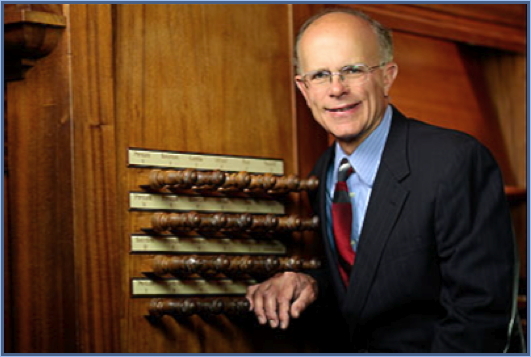 TODD WILSON. Photo, courtesy of the artist
Todd Wilson is the current Director of Music at Trinity Cathedral in Cleveland, Ohio. Immediately following his performance at Davies Hall, Todd is off to Jackson Hole, Wyoming where he will accompany a screening of Lon Chaney's ultimately popular silent classic, The Phantom of the Opera. I asked him how his history of silent film accompaniment has informed his other work, including recitals and recordings.
"That's a really good question. I'm always highly conscious of the difference, but I've always been interested in improvising. I will always improvise as part of a regular recital. I think I've become more conscious of the dramatic possibilities in music making. There is a high degree of spontaneity to it. You have your ingredients that you've sort-of set out, but you're never exactly sure how you're going to combine them - the transition points come now or thirty seconds from now. Whereas, when you're playing set pieces, all those sorts of choices are a little more proscribed. It's about appreciating the freedom that is available. The other thing I find is that I'm always thinking of two things at once. I'm looking at the film and thinking about what's coming next, how many more seconds are left in this scene, what's the next scene, and how am I going to work towards that. With set pieces you're a little more one-dimensional in your concentration. So, it's a different mind-game. And that is quite nice, because they are such totally different experiences."
Check out Todd Wilson's splendid CD, Duruflé: Complete Organ Music, recorded on the Schudi pipe organ at the Church of Saint Thomas Aquinas, Dallas.