The role of "Leone" in Verdi's Attila is the definition of a cameo appearance. This particular assignment requires an artist of the larger-than-life variety. The character is Pope Leo I, aka, Saint Leo the Great, a Doctor of the Church. Specifically, in the Doctrine Department. He wrote the book, so to speak. In addition to his passionate and enduring discussions on Hypostasis, Leo convinced Attila the Hun to take himself and his army back to where they came from -- or suffer Divine wrath, possibly, forever. Easier said than done. Some claim that Leo had been assisted by the celestial presence of Saints Peter and Paul. In its day, the gain of such political capital would have been hailed as miraculous. For Giuseppi Verdi, the encounter of the sacred and the profane is total Theatre: team the best with the best and throw in a few special effects. Verdi's Leo enters in full ceremonial regalia, complete with mitre and staff, bathed in Heavenly light, his entourage baring many tall crucifixes, as an enchanting children's chorus marches along with the pontiff toward the wretched Attila. The Hun is stunned. For the 2012 summer season at San Francisco Opera, that kind of entrance can be carried off by no one else but Samuel Ramey.
"Be sure not to blink!" said Mr. Ramey during our recent interview. "Leo was obviously a great negotiator having talked Attila out of sacking Rome. But it wasn't done quite the way it happens in the opera with all the cherubs and soldiers surrounding the two of them."
The time is around 452, the locale somewhere near Mantua. By then, Attila had amassed an empire extending from Kazakhstan to Central Europe and with waterways wending from the salty Baltic to the beautiful Blue Danube. Now he wants a palace along the Tiber. "Leave Rome to the Romans," Leo advised, "and a holy crown will come to your successors." Sold! Some claim the divine forecasting referred to Emperor Charlemagne. In any event, Attila already knew the recent bad weather meant the peninsula's wine industry had all but dried up. Time to sound the retreat! In the eyes of the Roman commanders, Leo had scored big time.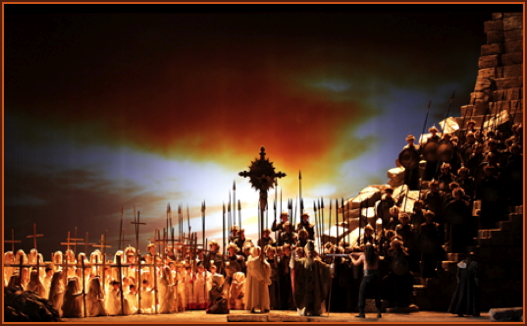 ATTILA, Act I
Photo, Brescia-Armisano/Teatro alla Scala
Today, in his red Prada slip-ons, the current vicar knows there's no place like Rome. But for Verdi's "Leo I" and this co-production of Attila by Teatro alla Scala and SF Opera, these are some pretty tough shoes to fill. At 70, with a nine-year-old son, Samuel Ramey is a potent gift from the gods, the man of the hour. Even though Leo's scene lasts less than ten minutes, on the world-class stages of Grand Opera, whoever sings this role still has to get there step by step. I wanted to know more about Mr. Ramey's first steps into professional opera and what was going on in-between the time he left college and his debut with New York City Opera in 1973.
"I graduated in the summer of 1968," said Sam, "and stayed at Wichita State for another semester just to work on my voice a bit more. Then I got a contract with a very small opera company in Raleigh, North Carolina. In their beginning years, they were called the Grass Roots Opera and then they changed it to the National Opera Company. It was a very small company of about ten singers. We toured around the southeastern part of the country performing mostly at schools, etc. I did Don Pasquale, Italian Girl in Algiers, La Perichole. We took off in two station wagons and had a lot of fun. That was only for about four or five months. I went to New York after that, found myself a nine-to-five job, and a voice teacher. My teacher at that time, Armen Boyajian, had a small workshop -- I wouldn't call it an opera company -- that did two productions a year. I did a number of operas with him and it was great, because I learned those roles really well and, eventually, they became staples in my repertoire. In fact, I did my first Faust with him. We also did Anna Bolena, Barber of Seville, La Boheme, and Don Giovanni. So, that's basically what I was doing during those years when I was studying and getting my voice ready to do some auditions. Most of the programs for young artists that exist today were not around then. The Merola Opera Program was there and was the best known, but for some reason I never auditioned for them. I don't know why."
"But what kept you going? What kept you motivated? Was it really an insatiable desire to sing? Or, maybe, because you didn't know how to do anything else?" With that, he laughed and threw up his hands.
"It was a combination. I've often been asked: If you hadn't become a singer, what would you have done? I have no idea. Sometimes it became a little discouraging. I felt I wasn't progressing quick enough. But, my teacher was really fantastic. I still work with him when I go to New York and have the time. I've been with him for over 40 years. We then decided I should do some auditions. At that time, you needed an agent. So, I auditioned for some agents. New York City Opera wouldn't hear anybody. You had to write them a letter and they would listen to you. They had what they called "staff auditions." You did your audition down in the basement in the Orchestra Room. If they heard something they liked and wanted to hear you again, they would call you back and have you audition on stage. I think I did an aria from The Marriage of Figaro. This was down in the basement. A few months later they called and asked me to come sing on stage. I sang, nothing came of it. They called me a few months later, again to sing on stage. And nothing came of it. They were famous for doing that. Beverly Sills auditioned twelve times before they finally hired her."
"As you left the audition that day, was there something you did -- like, screwing up a phrase or missing a note -- that made you think you might have blown it?"
"No. I always felt that I sang pretty well. They told me later on that, during the earlier auditions, they really didn't have a space or anything to offer me. It would be nice if they'd tell you that at the time -- just to give you a little encouragement! Then, one morning, they called me at my job and said, 'Can you come this afternoon and audition?' Sure! I went to my boss and said, 'Listen, City Opera just called. They want me to sing this afternoon. Can I have some time off?' He was an opera fan. So, yes. I had already made up my mind that the next time I auditioned I would sing the Diamond Aria from The Tales of Hoffmann. But on that day -- of course! -- I had not sung it for a while. So, I went home, studied the score, got it ready and sang. It went very well. They asked for a couple more things, and said 'Thank you.' They called me back about an hour later. Julius Rudel, who was running the company then, was not at the audition. They said, 'We like you very much, of course, but Maestro Rudel has to hear you.' I went back a few days later, again on stage. Julius had me sing a little bit from everything I had. That was the audition that got me into the company."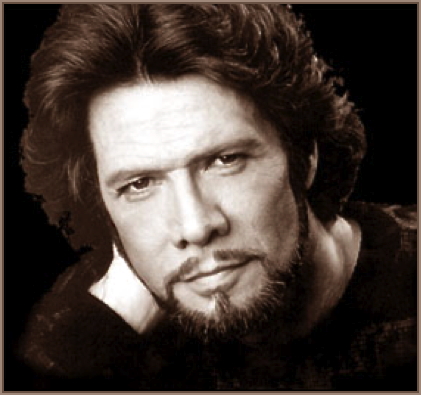 SAMUEL RAMEY
Photo, Christian Steiner
Samuel Ramey is the most recorded bass in history. Always known for his impeccable musicianship, physical vitality, dramatic depth, voluminous vocal fireworks, and smoldering sex appeal, Samuel Ramey is the definitive choice for each of the characters in his extensive repertoire. As "The Devil" in the separate operas of Gounod, Boito, and Berlioz, his manner and sound capture the absolute essence of the dreaded tempter. The stars came together when he signed to do his first Attila. His performance in this early (1846) work of Verdi virtually rescued it from the flames. Ramey and the role were one. Suddenly the opera moves into a newfound wave of popularity. I saw his 1981 performance at Wolf Trap; half of it, anyway. The New York City Opera had recently begun staging its productions at the outdoor theater. It was a sell-out. It was also horribly humid and an even more horrible downpour was on its way. By the conclusion of Act 1, the drizzle had started and some of us opted to leave. By the time we were out of the parking lot, the deluge was in full play. "I remember that," said Sam. "I don't remember Act II." It is a fortunate thing that his 1991 performance at Teatro alla Scala was captured on film. Available on DVD, the cast is excellent, Mr. Ramey's vocals are magnificent, and Conductor Riccardo Muti brings the opera to its fullest glory. Good thing for Verdi.
"The thing is," said Sam, "so many conductors don't like early Verdi. They think it's a little bit trashy. Riccardo Muti loves early Verdi and really loved Attila. It's funny how that production came about. La Scala did a production of I Vespri Siciliani. I didn't sing the premiere. Ferruccio Furlanetto [who will sing the role of "Attila" at SF Opera] was actually the bass in the premiere, but I had a contract to do it when they brought the opera back the following year. Muti wanted to do a recording of Attila. So, I'm in Milan for the recording, along with Cheryl Struder and Giorgio Zancanaro. The three of us were already contracted to do the revival of Vespri, so I said to Muti's assistant, sort of jokingly, 'Maybe we should do a production of Attila instead.' The next day at the studio, Muti comes into my room and says, 'Sam! I had a really good idea. We have you singers under contract to do Vespri. I'm thinking, maybe we should do Attila instead.' He stole my idea! So, that's how that production of Attila came about."
As a native San Franciscan, my heart is here. It has been my privilege to see Samuel Ramey at the War Memorial Opera House throughout the span of his career and, like every other gushing fan, I'm again anxious to be under the same roof with him -- even if it is for less than ten minutes! -- and especially when it's something by Verdi. Even early Verdi. I'm also very curious about what the City's occasional visitors most look forward to when they come back for a stay.
On Sam's must-do list is a Chinese restaurant that has great take-out. "It's a little restaurant down on Polk Street called Tai Chi. It's not a fancy place. But they have this one dish that I always have to have -- just one time. It started during one of the first times I sang here. I had been in Europe, I was reading the Herald Tribune. There was a column about a Chinese restaurant in San Francisco. The writer said he walked into this little restaurant -- "nothing fancy, with plastic tablecloths" -- and ordered a dish called 'General Tso's Chicken.' He said it was 'just the most fantastic thing I've ever had in my life!' So, I'm thinking -- I'm going to San Francisco, I'll have to try it. He was right. Since then, every time I'm here, I've gone back to get General Tso's Chicken."
Click here to get better acquainted: SAMUEL RAMEY
Click here to purchase tickets on-line: ATTILA