This week San Francisco Symphony presents soprano Susanna Phillips in Samuel Barber's enduring composition from 1947, Knoxville: Summer of 1915. Given the stinging heat wave that hovered over the City these past few weeks, the sentiments of the text by James Agee and the picturesque tones of Barber will spark an immediate tie-in, even consolation. The Program opens with Dispatches by Ted Hearne conducted by Christian Reif and concludes with Michael Tilson Thomas conducting Tchaikovsky's Symphony No. 6, Pathetique.
Last May, Susanna Phillips sang the Mahler 4th with SF Symphony and two years ago at the New Year's Eve Concert lit-up the party with fiery coloratura on an operetta favorite of Jeanette MacDonald's - the "Italian Street Song" from Victor Herbert's Naughty Marietta. I hastened to point out to Susanna that two of her forthcoming roles in 2016 - "Hannah" in The Merry Widow at Boston Lyric Opera and Romeo et Juliette at Lyric Opera of Chicago are likewise linked to Hollywood's immortal soprano. "I love to sing coloratura," said Susanna.
"Romeo and Juliette was the first full operatic role I ever did. It was in a very small community production in my hometown in Alabama when I was in college. Then, when I was a Young Artist at the Lyric Opera of Chicago I covered Juliette. One night, the Juliette was sick and I got to go on - with just a few short hours' notice. That was very exciting for me. It's a part I've known my whole singing life and a part that I love dearly. I'm very excited to do it - especially with Lyric Opera of Chicago, because it's like a homecoming for me."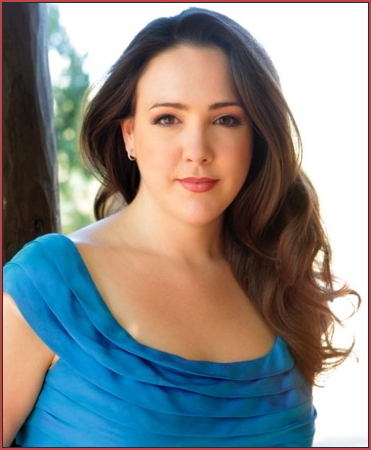 SUSANNA PHILLIPS. Photo, courtesy of SF Symphony
"I've sung Lucia di Lammermoor, La Traviata, Elixir of Love and many early Baroque things. It's important for any voice to be able to move and have that kind of flexibility. But you certainly have to keep it up, it's not something that's always there. For me, it makes me smile. I enjoy coloratura because you can express so much about a character in the way you sing it. It's not just about speed, it's the intention behind it that can really fill-out a character's emotions, let out steam, and express what the character is trying to say. I like to have it in my tool basket."
Knoxville: Summer of 1915 was commissioned and debuted by soprano Eleanor Steber. It is a luxurious example of the finest in American Art Song. Composer Samuel Barber transforms James Agee's liquid narrative into melodic ecstasy for the soprano who performs it. The sultry, sometimes electric orchestration floats the troubled character along as he grieves for his father during the stillness of a hot summer night. Barber's sensitivity to Agee's eloquent use of the language has inspired many great American sopranos to record the song, including Leontyne Price, Eileen Farrell, Dawn Upshaw, Barbara Hendricks, and Kathleen Battle.
"This is a character who looks back and waxes nostalgic about growing up in the south in the summertime. There really is nothing like it - the lightning bugs, sitting on blankets in the backyard, watching your parents rocking back and forth on the porch, people going by lazily. That's what it is. It's very close to home for me. But this is somebody who has left, who is remembering these things. There's a certain kind of pain in it, a sadness that comes with it. These are people you love and adore, but they can't tell you who you are. You have to discover your own person. That's what this character is about."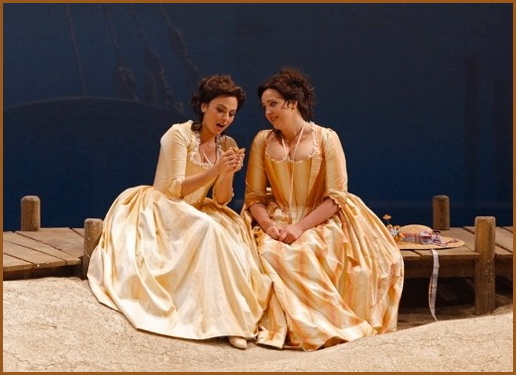 Isabel Leonard and Susanna Phillips (Cosi fan tutte). Photo, Marty Sohl/Met
In 2010, Susanna won the prestigious Beverly Sills Artist Award. Among the past recipients are Joyce DiDonato, Michael Fabiano (currently appearing at San Francisco Opera), Nathan Gunn, Isabel Leonard, Angela Meade and Quinn Kelsey. Susanna's vocal gifts and technical artistry shines on a broad spectrum of repertoire. She is at home in opera, recitals, opera and oratorio, orchestral concerts and chamber music. "My path," said Susanna, "is many paths that kind-of braid together."
"My parents really instilled a good music education with me - taking us to the symphony regularly and to other classical music concerts in the area and around the world. So, I really give credit to them. But, I can tell you - I did not grow up wanting to be an opera singer! That was not on my radar. It wasn't that I did not like opera, I just didn't know anything about it. I discovered this world when I was in college. I went to Juilliard because my high school guidance counselor suggested that I apply. Not because I had any ambition of becoming a professional musician. While I was there I was able to discover this whole amazing world. My father is a very big fan of Beverly Sills. So, she was the soprano I heard in every opera I first listened to. She was certainly an idol of mine. I literally ran into her when I was a student at Juilliard. I was holding a bunch of books, walked into the elevator and bumped into this person and all the books went flying. I'm on the floor, I look up and it's Beverly Sills - the most amazing opera star in the world. I immediately shut my mouth and did not tell her my name. I was so embarrassed I did not want her to know who I was. It was such an honor to win an award named in her honor."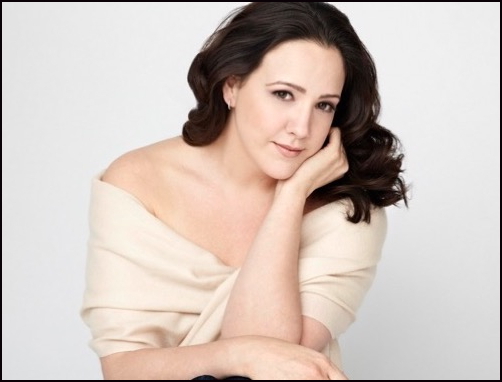 SUSANNA PHILLIPS. Photo, Zachary Maxwell
Also coming-up on Susanna's performance calendar - "Rosalinde" in Die Fledermaus at the Met, all performances from December 4 through January 7. And throughout January, also at the Met, "Musetta" in La Bohème.
Click here to stay in touch.