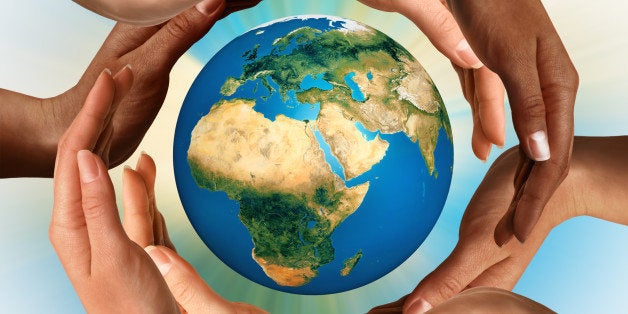 There's little doubt that quality shoes are valuable commodities for growing children; I've seen it from my own daughters. They serve as an important first line of defense against the cuts, injuries and infections kids face daily -- whether on their way to school or playing soccer with their friends. However, children in developing countries face more adversity than just needing a pair of shoes. And from this, TOMS and its understanding of shoes began to evolve. When we first began, our initial intention -- providing shoes to children without them -- was good, but we've since discovered a lot of untapped potential.
As TOMS has grown, expanding our global giving efforts to nearly 60 countries across five continents, we've learned that need takes on many forms. From a child's need for medical services, health, education, nutrition, protection, HIV/AIDS education and clean drinking water, among many others -- need manifests itself in different ways, and they're all critical to a child's development.
This got us thinking: What if shoes are inserted into organizations' strategies of addressing these needs?
And how could we make it our goal to link the products our customers purchase directly to an essential need that contributes to a child's development -- like health, education, nutrition, a stable income for caretakers, water and sanitation or hygiene?
We found that shoes, when used as a strategic resource, can do more.
TOMS Giving Partners, humanitarian organizations that are experts in their lines of work, use shoes as a vehicle to help address greater needs in the communities they serve. It takes sound and holistic development programs, solidly anchored in the local communities, to give a child the opportunity for a better future. By adding shoes to these programs, we can help provide children and their families with access to health care, increase school attendance rates, community enterprise and leadership opportunities.
Take Malawi, for example; a small East African nation, where need is great, but the spirit of the people is greater. In Neno -- a small district in the southern region -- Partners In Health has incorporated malnutrition screenings into shoe distributions. Their hope is to reach every child in a district with over 40,000 kids through the incentive-based program. And in Mchezi, goods for good empowers communities by teaching marketable skills that help finance orphan care and education programs. In a country where nearly half of children drop out of school by the fourth grade, goods for good distributes new TOMS alongside uniforms -- a requirement to attend school -- that have been sewn by community members and older orphans trained as tailors.
And now for the best part, the reason we're in business:
Both organizations have reported better school enrollment and attendance, in addition to improved health opportunities, important and deciding factors in breaking the poverty cycle. And this is where our true impact lies; in success stories like these, where shoes can be a critical element in our partner's community development initiatives.
And with this notion, One Day Without Shoes has evolved. Like our company, it started as a small, grassroots idea. But as we have learned about the great potential a simple intervention can have, it is no longer just a day to go barefoot for kids without shoes. Instead, One Day Without Shoes has shifted to bring global awareness to children's health and education issues that Giving Partners like Partners In Health and goods for good work to address every day, and how shoes can play a critical role when added as an incentive or complement to other programmatic elements.
One Day Without Shoes is also about the idea that we all -- NGOs, individuals and businesses -- together, can make contributions to those who need our support. It's a generation's belief that a business model can do good. We've seen business drive successful and impactful giving, and we recognize that there is still more that can be done. One Day Without Shoes invites our customers and greater TOMS community to help us sustain, and continue to grow, our giving model, to connect us more directly to those around the world and thus, create more positive change.
We hope you'll join us for One Day Without Shoes.
This post is part of a series produced by The Huffington Post and TOMS, in recognition of One
Day Without Shoes, an annual day to bring global awareness to children's health and education
by going without shoes. For more information, visit OneDayWithoutShoes.com.