By Petra Guglielmetti, SELF
You want an SPF 30. But which one? ID your major issue to find a smart pick.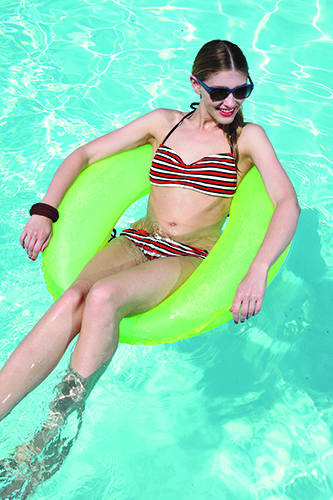 Photo credit: Robert Mitra
If you break out...
An oil-free, noncomedogenic (won't clog pores) lotion that promises a nongreasy or matte finish is your best bet. "It will have oil-absorbing ingredients and dimethicone, which stops the sunscreen from feeling sticky," says Howard Murad, M.D., a Los Angeles dermatologist. And this is just a bonus: Your go-to formula also works like a primer, leaving skin smooth and dry so you can apply makeup right away. Our favorite: Benefit Dream Screen, $32.
If you're dry...
Avoid sprays and gels. They often contain alcohol and exacerbate dryness, says Jessica Wu, M.D., a derm in L.A. Zinc oxide (a common UV filter) is also likely to sap moisture because of its astringent properties. So you're shopping for an SPF with chemical UV filters (you'll see avobenzone or octocrylene on the label) and hydrators such as hyaluronic acid, glycolipids or shea butter. We found Hawaiian Tropic Silk Hydration Face SPF 30, $9.
If you're sensitive...
You need a fragrance-free, hypoallergenic SPF with physical filters, like zinc oxide and titanium dioxide, rather than chemical ones such as avobenzone or homosalate. "You're less likely to react to physical filters, because they don't absorb into skin," Dr. Wu says. You'll love MD Solar Sciences Mineral Tinted Crème SPF 30, $32.
And one for all...
Body sunscreens are more universal, since skin below the neck is thicker and less problem-prone. Use a water-resistant option like Hang Ten Classic Sport SPF 50, $13.
More from SELF:
20 Superfoods For Weight Loss
Secrets To Firing Up Your Metabolism
6 Moves To Resize Your Butt and Thighs
Look Better Naked
Sneaky Stomach Slimmers
Drop Two Pounds in One Week!