The power of five.
For SELF, by Audrey Bruno.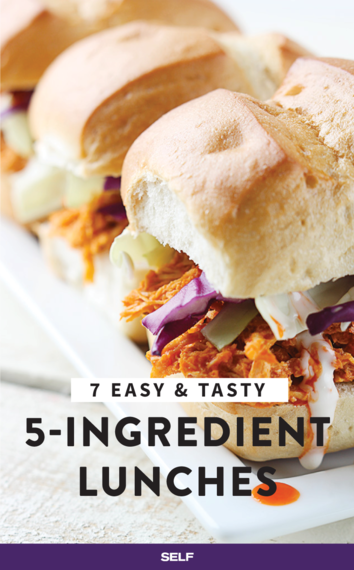 Photo: Tiffany Azure via lecremedelacrumb.com; Graphic by Jocelyn Runice
Weekday lunches are tricky: You're craving a seared turmeric chicken bowl, a warm and crispy avocado toast, or maybe a hearty chili. But, depending on your location and schedule, whipping up a fresh, homemade meal isn't always an option.
When you have a few minutes to spare, and access to a kitchen, these tasty recipes keep the ingredient count in check. If you're stuck at your desk, the meals below are excellent dinner options--ones that make for excellent next-day lunches.
So what's on the menu? Well these seven recipes only require five ingredients (not including salt and pepper, natch). From there, you can doctor them up if you like, but dishes like sweet potato and black bean chili and apple and gruyère quesadillas taste great all on their own. You'll be feeling--and eating--like a superstar chef. Easy peasy.
1. Spinach-Parmesan Zucchini Noodles from Two Peas & Their Pod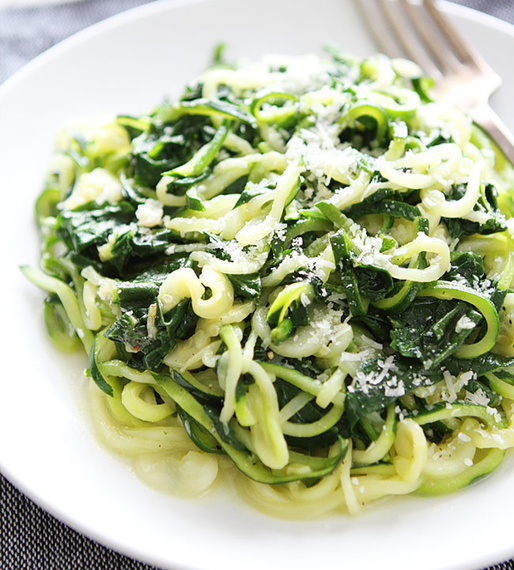 Photo: Maria Lichty via twopeasandtheirpod.com
A combo of butter, spinach, and Parmesan transforms this plate of zucchini noodles into a restaurant-quality meal. Get the recipe here.
2. Buffalo Chicken Sliders from Creme De La Crumb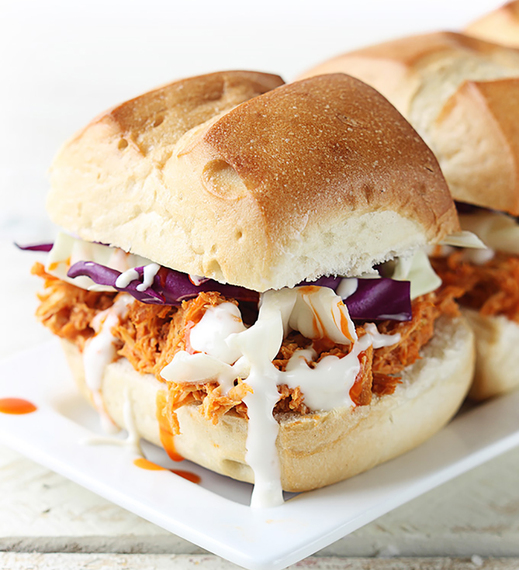 Photo: Tiffany Azure via cremedelacrumb.com
Kick lunch up a notch with these spicy sliders. Get the recipe here.
3. Sweet Potato And Black Bean Chili from Minimalist Baker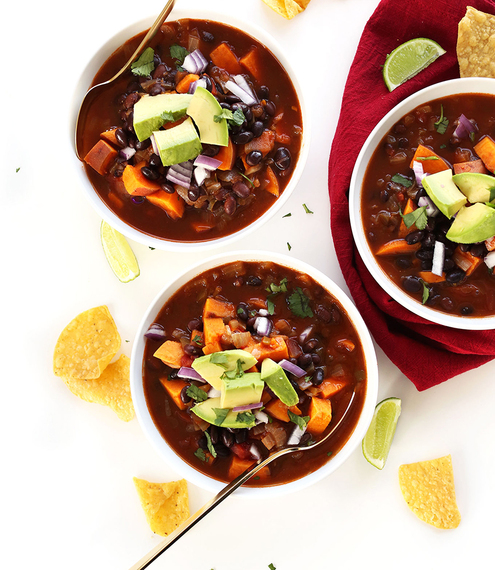 Photo: Dana and John Shultz via minimalistbaker.com
If you've got a little extra time and a few more ingredients, Minimalist Baker recommends adding a handful of spices. But you only need five ingredients to make the delicious base. Get the recipe here.
4. 5-Minute Chicken Quesadillas from Healthy Nibbles And Bits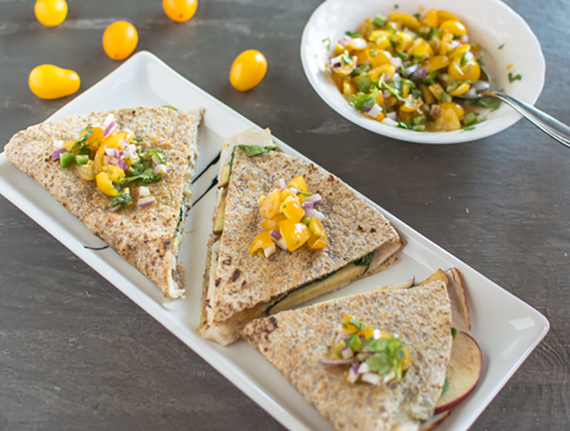 Photo: Lisa Lin via healthynibblesandbits.com
This is not your typical quesadilla: It's packed with sweet and savory ingredients like apples, gruyère, and spinach. It's best eaten with pinkies up. Get the recipe here.
5. Mexican Brown Rice from Kim's Cravings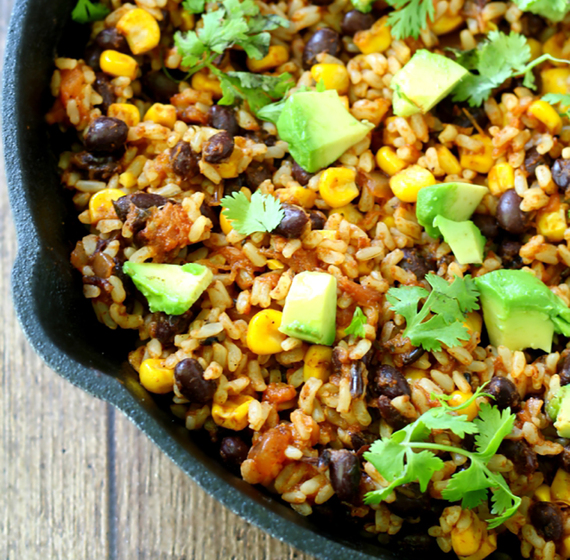 Photo: Kim Lee via kimscravings.com
This rice recipe only calls for corn, beans, chili powder, salsa, and rice. But if you feel like amping it up, throw some avocado or lean protein (like chicken or turkey) on top. Get the recipe here.
6. Cheesy Cauliflower Soup With Kale Pesto from Pinch Of Yum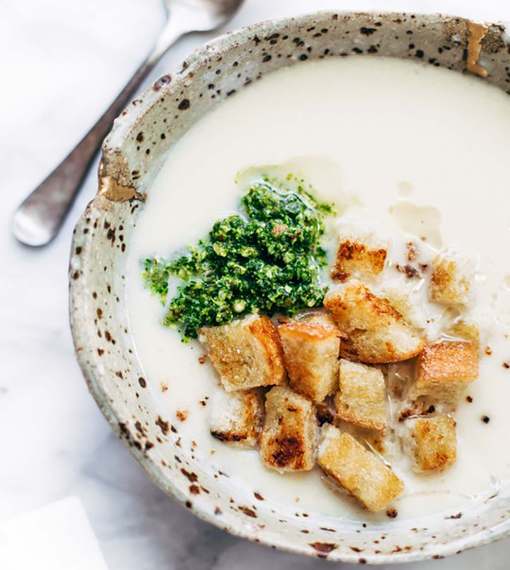 Photo: Jenna Arend via pinchofyum.com
Dreamy and creamy. If you have any truffle oil on hand, Pinch Of Yum highly recommends drizzling it over this creamy soup. Get the recipe here.
7. Pasta Salad from Gimme Some Oven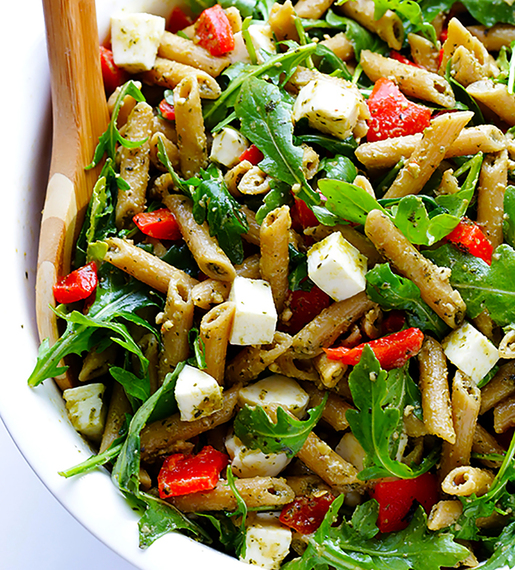 Photo: Ali Ebright via gimmesomeoven.com
Arugula gives this pasta salad a fiery zing and a nutty pesto rounds out all the flavors. Get the recipe here.
More from SELF:

7 Things To Know About Buying The Right Olive Oil
The One Thing That Will Make Your Sunday Meal Prep So Much Easier
5 Ways To Make The Best Eggs Every Single Time
11 High-Protein Breakfasts You Can Make In 15 Minutes Or Less
7 Completely Doable Tips for Your Best At-Home Blowout Ever