It's a horse away from water. A flower, shriveling in the absence of the sun. It's me, when I'm away from Chicago. I've been melting away in Knoxville, TN for a month, and two words: chain restaurants. If you have ever been to any suburb anywhere, then you probably know what my corner of town looks like. Expansive stucco buildings, Juicy Couture velour sweatsuits, and tons and tons of chain stores. Sigh. Does preferring small businesses make me a hipster-yuppie-blend? If not, this probably does: my first BYO stop back in Chicago was Lush Wine and Spirits in West Town, and I liked it.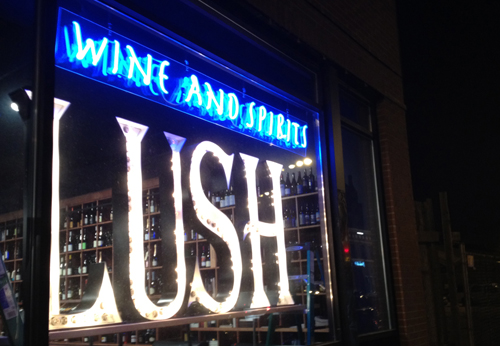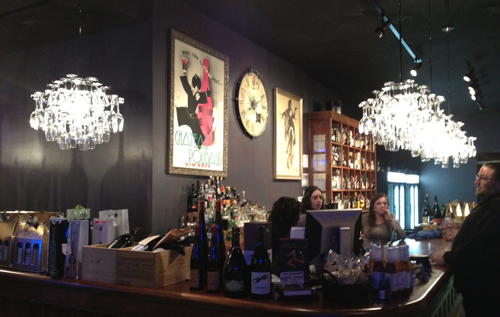 Okay, so Lush is technically not a BYOB, but hear me out. When hipster-yuppies dare to dream, they dream of Lush. At Lush, you buy from the store's extensive collection of beer and wine, including from two $10-and-under sections and several fridges full of single bottle exotic beers. Then, you drink the bottles in Lush's wide leather armchairs and order one of the spot's many cheeses, cured meats, or sandwiches, which are available Tuesday through Saturday 5 - 10 p.m. at West Town and Roscoe Village. Food + choose your own cheap bottle -- that sounds enough like a BYO for me.
But BYO alone does not a hipster-yuppie paradise make. Lush is the anti-chain wine--it was started over frustration about grocery store offerings, according to the website, which also describes the staff as "geeky" about wine. The outside of the West Town looks like a high-end strip club, but the inside feels vintage and gothic, softly lit by novelty chandeliers made of wine glasses. Its food menu requires an experienced cheesehead to navigate, and the cured meats have names like "Creminelli Finocchiona," which is a delicious American-made Italian salami. High end cheese? European meats? A certain taste-minded crowd steers here.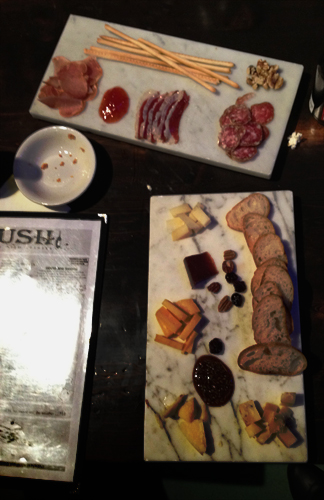 A meat plate and a cheese plate. Mm.
Full disclosure: My knowledge of food did not match my taste. I struggled to pick anything but the duck prosciutto for the meat plate. ("So, like, do you have any recommendations?" I asked. "I mean, what would you want to eat?") The staff of mostly cute young women was, if not fully geeked out, very helpful in making both wine and food choices. All the cheese and meat brought to my table on heavy marble slabs were delicious. The Dunbarton blue cheddar was a hit, as was the spiced fig concoction that accompanied the plates. The Creminelli sopressata, a sort of glorified pepperoni, won out as the best meat.
But the best food of the night was not the cheese at all: A small bowl of fried chickpeas and a larger one of duck fat popcorn is what the greasy hands of my party of seven really grabbed for. The chickpeas had hints of truffle oil, and the wonderful, rich taste of duck fat seemed light on the popcorn. Which all goes to say, at the end of the night, even aspirational foodies love nothing more than a good old helping of drunk food.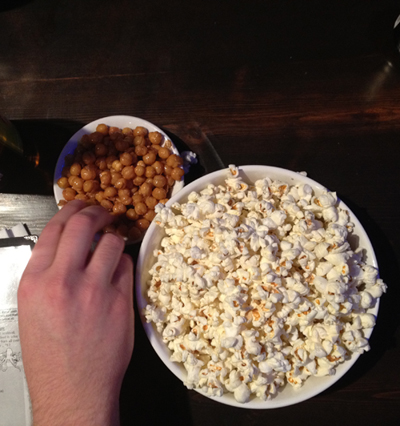 Crispy chick peas and duck fat popcorn
TLDR: Lush Wine and Spirits serves up fancy cheeses and cured meats that may require staff assistance to choose. It's worth the hassle: drink cheap by buying from their extensive collection of wine and beer, and spend a chill night with friends in their vintage-feeling lounge.
Food: 3/5






Atmosphere: 4.5/5






Friendliness to partiers: 4.5/5






Price: Choose four cheese plate - $14; choose three meat plate - $16; appetizers - $2 to $35 for a caviar dip
Lush Wine and Spirits
1412 West Chicago Avenue
West Town
2232 West Roscoe Street
Roscoe Village
1257 South Halsted Street
University Village (no snacks at this location)
Photos by author