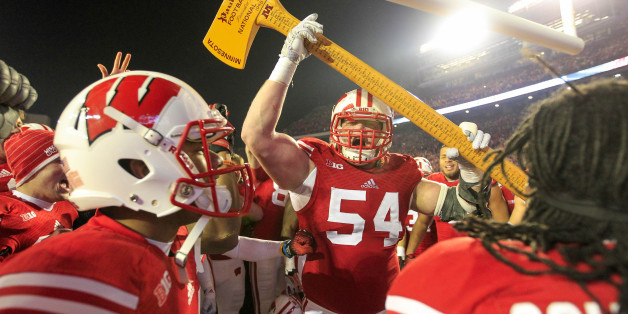 A couple days ago, I posted an argument for the Wisconsin Badgers making the inaugural College Football Playoff if they beat Ohio State on Saturday. The article drew a wide readership and many strong responses, a majority of which were along the lines of, "Wisconsin has no place in the playoff discussion." The College Football Playoff committee putting seven-wins-in-a-row Wisconsin at #13 this week, behind two teams from Mississippi whose combined record over their last 10 games is 5-5 -- with one of those wins coming against an FCS team -- seemed to confirm what many thought: Wisconsin has no shot at the College Football Playoff, win or lose Saturday.
But wait.
The final word on college sports, ESPN, has now chimed in to say that it believes Wisconsin is very much alive for the playoffs if it wins on Saturday and Florida State loses to Georgia Tech -- a scenario that's not at all unlikely. As ESPN correspondent Heather Dinich wrote in a feature article on the playoffs on Thursday (December 4th), "If Florida State and Ohio State both lose, the committee would then have to choose among a one-loss Florida State, a second Big 12 team, and Big Ten champion Wisconsin or Mississippi State."
So you're saying there's a chance.
In fact, ESPN doubled down on this prediction in its GameDay Kickoff Show live chat, in which Dinich said that if Florida State drops out of the top four spots after this weekend, the beneficiary would be "Ohio State or Wisconsin."
Because the top experts in the field are now saying Wisconsin's still part of this discussion, and because the question of whether Wisconsin should or should not be discussed as a serious contender to make the playoffs drew a lot of attention and energy this week, I've supplemented my six arguments in favor of the Badgers making the CFP with four more. Ten reasons in total seems like a good number.
Given that the CFP committee has pretty clearly signaled that Florida State won't hold on to their #4 ranking if they lose this weekend (after all, they dropped a spot last week even after beating Florida), and because it's inconceivable that a Mississippi State team that's lost two of its last three games would be in the playoffs ahead of a Wisconsin squad that -- with a win over Ohio State -- would have won eight straight games (including seven wins against FBS bowl teams), this article and its predecessor now seem more timely than ever.
1. No One Believes Two Losses Is a Disqualifier for the Playoffs. Throughout the college football world this week, we heard that if Alabama got its second loss this weekend against Georgia Tech, it could still make the CFP. We heard the same thing about an Arizona win over Oregon: that it could be enough to put a two-loss Wildcats squad into the playoffs. Kansas State fans took to social media en masse to note that if they beat Baylor and Florida State loses, they should get the #4 spot behind #3 TCU in January, even with two losses. Vegas oddsmakers announced on Monday that Missouri (9-2) had the seventh-best chance of making the playoffs -- 28-1 odds, certainly long ones but not nothing, either -- if they win on Saturday.
Yet somehow there has been a sense that Wisconsin (10-2) -- despite becoming officially the hottest team in the FBS if Florida State loses and the Badgers beat the Buckeyes -- was fooling itself to even consider a Big Ten championship and an 11-2 record worthy of playoff consideration. Josh Moyer on ESPN said it would require "unprecedented craziness" on Saturday, and other pundits agreed. But let's be clear: the chances of someone making the playoff this year with two losses are not particularly long, whether that someone is Arizona, Kansas State, Georgia Tech, Missouri, Mississippi State or, yes, Wisconsin. Heck, the committee even put a three-loss Ole Miss team within hailing distance of the top four. So let's not pretend a team having two losses is a basis for dismissing them from consideration for the playoffs.
2. The Argument Against Wisconsin Ignores the Reality of "Good Losses" and "Bad Wins." I wrote in my previous article that Wisconsin didn't lose to then-#13 LSU on the field in August -- which is true, given the in-game freak injuries to two-thirds of its defensive line, the loss of its starting quarterback, and a miscommunication that led to Melvin Gordon inadvertently sitting out the second half -- but even if you treat the LSU loss as an on-field defeat, it's a "good" loss.
The definition of a "good" loss is basically any loss that actually strengthens your argument for being a top college football team. Wisconsin, on the road, against a higher-ranked opponent, without its starting quarterback, without its starting running back, without two-thirds of its defensive line, was beating LSU 24-7 at halftime and 24-13 going into the fourth quarter. Whatever you think of what happened in the fourth quarter, remember that this was a game which -- according to the rankings of the two teams and the fact that it was being playing down South -- Wisconsin was supposed to lose. Nothing in that loss suggested that Wisconsin had been erroneously ranked or otherwise misjudged by the AP voters who put them at #15. In fact, the result only confirmed their -- and the nation's -- judgment of this Badger squad as Top 15 material in August. They're much more than that now.
There's no way around it: whatever happens on Saturday, one of Baylor's two most recent games will be a game in which it gave up 46 points to a 4-8 team. That's the very definition of a "bad win." While Mississippi State -- like every SEC team -- more or less gets credit for a "good loss" whenever they lose to anybody in-conference (whereas Wisconsin beating Top 20 Nebraska and Minnesota teams over the past three weeks seemed to mean nothing at all), even the "good loss" theory doesn't excuse Mississippi State losing two of its last three, and Ole Miss losing three of its last seven. Not when Wisconsin hasn't lost in months and by Saturday night it might be boasting three wins against Top 20 teams in its last four contests -- including one win, this Saturday in Indianapolis, against a Top 5 team.
3. If It Comes Down to Wisconsin and Baylor, Wisconsin Should Be In. Let's assume for a moment that the CFP committee won't put Mississippi State, a non-conference champion, two-loss team that (a) lost its last game, and (b) has lost two of its last three, into the playoffs. And let's imagine, as this article imagines -- and not unreasonably -- that Florida State loses to Georgia Tech on Saturday. If that happens, it's entirely possible that this whole discussion comes down to Baylor and Wisconsin, as the Oregon-Arizona winner (and Pac-12 champion) is likely in, as are Alabama and TCU with (heavily predicted) wins this weekend.
If it comes down to a one-loss Baylor team and a two-loss Wisconsin team, a lot of people will be surprised to learn that it's an incredibly close call on the merits, but in the end Wisconsin is the better option for the CFP committee. There are the obvious reasons for this, at least one of which have to do with the fact that if it comes down to Wisconsin and Baylor, TCU is likely already into the playoff due to a win over a horrid Iowa State team this weekend. So here are some numbers the committee would be looking at in that scenario:
(a) Wisconsin would be B1G champs, whereas Baylor would merely be an unofficial conference co-champion from a conference already well-represented in the playoffs.
(b) Wisconsin's 26-24 road loss to a Top 15 SEC opponent (LSU) in August is a better result than Baylor's pathetic 48-46 win over a terrible (4-8) Texas Tech team last week. If "good wins" and "bad losses" matter, Baylor having one loss and the Badgers two is a misstatement of where the two teams stand on that score.
(c) Wisconsin would be 11-2, and Baylor 10-1, meaning that while Wisconsin would have an extra loss, it would also have an extra win.
(d) Wisconsin, with a win Saturday, would have won eight in a row, with seven wins against FBS bowl teams, no narrow victories over bad teams, and three blowouts (more-than-three-score victories) against FBS bowl teams. By contrast, Baylor is 7-1 in its last eight games, with a narrow win over a bad Texas Tech team just last week and only one blowout of an FBS bowl team during that span. And the committee has made clear that recent performance matters a great deal in its deliberations.
(e) Wisconsin has defeated (assuming a win against Ohio State) eight FBS bowl teams in total, while Baylor (even with a win Saturday) would only have defeated half that number: four.
(f) Wisconsin went 3-1 in non-conference play, playing teams with a combined record of 24-24 and beating one FBS bowl team handily; Baylor went 3-0 in non-conference play, but played teams with a combined record of 11-23 and beat no FBS bowl teams.
(g) Wisconsin is a slightly more complete team, ranking #3 nationally in defense and #19 in offense, whereas Baylor has the #3 offense nationally and the #23 defense.
(h) Wisconsin wins on the intangibles: a Heisman contender, a Coach of the Year semifinalist, a fan base known to travel well, and the fact that it behooves college football -- all of it -- to have a Big Ten conference that's playing well and duly respected for it. The Big 12 will already have that angle covered with #3 TCU.
4. Smart People Believe Wisconsin Could Make the Playoffs. Is this case for Wisconsin only being made on The Huffington Post? No. Besides ESPN, The New York Times has registered its support for the Badgers, noting two weeks ago that "recent performance" could be considered by the CFP committee to justify saving a #4 spot for the Badgers this January.
But it wasn't just journos with professional reputations on the line who saw the Badgers as a possible playoff entrant, it was rich guys in Vegas with big-time money at stake. Prior to Wisconsin being named #13 on Tuesday -- rather than the #10 or #11 many expected based on the Badgers' placement in the AP and Coaches' polls -- the three top oddsmakers in Vegas gave Wisconsin 33-1, 35-1, and 40-1 odds to make the CFP, which sound like pretty long odds until you consider three things: (1) those are the eighth-best odds of any team in the nation, meaning that Wisconsin is properly in the playoff conversation, even if they're on the periphery of it; (2) those odds don't take into account this Saturday's games, meaning that a Wisconsin win over a Top 5 opponent (however hampered by the Barrett injury), coupled with a Big Ten championship, could move those odds substantially before Sunday's final CFP selection; and (3) of the seven teams with better odds than Wisconsin to make the playoffs, (a) Wisconsin only needs to outperform four of them to get into the CFP, and (b) at least one of those teams (Alabama or Missouri) has to lose on Saturday, while another (Ohio State) would have fallen behind Wisconsin if a Wisconsin win makes this whole Wisconsin-to-the-CFP conversation necessary. And as already noted, three more of those seven teams -- Oregon, Baylor, and Florida State -- will be playing Top 15 opponents this weekend, making the possibility that one of them loses a very real one.
In other words, we can look at what some very smart people are saying and see in their words more than a glimmer of hope for the Badgers if they win on Saturday.
A former public defender and current columnist for Indiewire and SB Nation, Seth Abramson is the author of five poetry collections and the Series Co-Editor for Best American Experimental Writing (Wesleyan, 2015). He is currently a Ph.D. student in English at the University of Wisconsin in Madison.