The most common experience in entrepreneurship is failure. Fears of mistakes and wrong turns loom large over founders' heads, and 9 out of ten startups do, in fact, fail. In reality, though, 100% of startups will face failures on a daily basis. Starting a business is really like conducting a series of experiments, starting with a hypothesis about your product and audience, and then adjusting over time.
The difference between the 90% that go kaputz and the 10% that make it is the ability to turn small failures into lessons, and using those lessons to make sure the same mistakes never happen twice.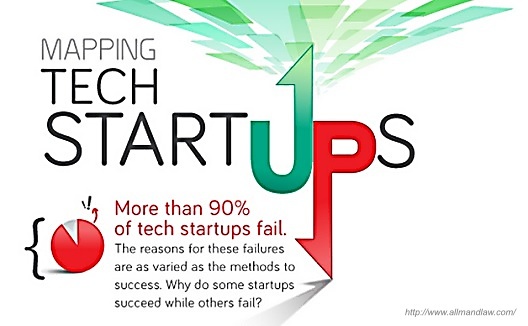 Here are 3 lessons we can learn from failed startups.
Lesson #1: Hire people with the right technical skills.

KiOR, a startup dedicated to replacing our gas needs with biomass alternatives, was backed by Vinod Khlosa, who is "the most successful venture capitalist of all time," according to Fortune Magazine. Former Secretary of State Condoleezza Rice sat on the company's board, former U.K. Prime Minister Tony Blair was a senior advisor, and Bill Gates committed millions to its mission. Needless to say, KiOR had the backing to support its daring ambitions. However, just two and half years after its groundbreaking at their main Mississippi facility, KiOR stopped producing biofuels, and by late 2014, it had filed for bankruptcy.
While the reasons for the company's failure are still the subject of heated debate and controversy, both Khlosa Ventures and KiOR's former CEO Paul O'Connor agree that perhaps the company's most consequential failure was KiOR's poor hiring decisions. O'Connor said that the absence of people with real technical experience running energy facilities "hurt KiOR a lot," impeding operations and mismanaging resources.
For startups that want to scale quickly and build momentum fast, it's tempting to hire immediately without doing full diligence on candidates. However, hiring sub-par talent can sink the venture, and hiring expensive engineers who aren't the right fit for your particular project will stunt your startup's potential.
Take your time to fully vet candidates. Consider taking on freelancers and getting to know them. If you're hiring back-end engineers and all of your founders have non-technical backgrounds, hire experts to take over the vetting process for you.
It's critical that you build a team of technical experts that shares your philosophy, work ethic, and will be able to solve problems dynamically when Plan A fails and you need to pivot to a Plan B or Plan C fast.
Lesson #2: Master your market.

In December, Sidecar, which began as a peer-to-peer ride-sharing service, announced plans to shut down all on-demand ride and delivery services. In a press release, CEO Sunil Paul explained that the company simply was "unable to compete against Uber, a company that raised more capital than any other in history and is infamous for its anti-competitive behavior." He continued, "The legacy of Sidecar is that we out-innovated Uber, but still failed to win the market."
There is no such thing as knowing too much about your target market. You need to make sure the market is big enough to sustain high growth and that the competitors won't make it impossible for you to be successful.
Define your target audience, look at competing products, and figure out how you can offer a product that offers more -- and not just more, but more of what your target customers want-- than anyone else in the market. You could develop a perfect product for which there is little-to-no demand, and guess what? That perfect product won't sell.
Lesson #3: Pitch to the right investment community at the right time.

Gaining financial backing, of course, is no small task. Fundraising takes the goldilocks paradigm to a new level: you can raise too little, too much, and too quickly to be able to validate your product, or too slowly to keep your expenses in check. You have to be incredibly savvy about when to approach investors, who to approach, and whose offers you'll accept.
First impressions matter. Don't go to investors until you have a solid product and the capacity to move forward, and make sure to weigh potential investors' value-add before bringing them on. In a Post Mortem reflection about his failed startup TigerBow, a service designed to match a virtual address with proxy physical addresses, David Levy cautions that while it's tempting to accept any offers for funding, you shouldn't raise money from people who aren't familiar with startups. "Aside from the fact that we got little (non-monetary) value added from these investors, people who are unfamiliar with investing in startups and the risks and challenges of building a company will drive you bananas."
Put in the extra work to find investors who know the startup landscape, believe in your product and philosophy, and can add value to your company by making introductions to potential partners and customers.
Conclusion

Failure is integral to the process of entrepreneurship. Your goal should be to fail fast and recover faster, rather than to never fail at all. That sort of outlook is not only unreasonable, but it also sets your team up to work towards not losing, rather than towards learning key insights to winning, which is a sure path to nowhere. By building the right team, winning your market, and finding the right investors, you'll put your company on the path to success.