Any employer in the technology field knows the importance of finding top-tier engineering and development talent. The shortage of high-quality engineers and developers means the cost of hiring full-time talent is skyrocketing. Rather than being bound to geographic restrictions (local talent) and paying full-time costs when you may not have a full pipeline of work ready, it makes sense to look at project-based contract work.
Ultimately, the decision of where to shop for your tech talent requires you to consider costs, project timelines, and the ROI - and that is why it makes sense to consider all of your options before committing your cash.
Freelancing Attracts Modern Tech Talent
According to Howard Greenstein at Inc., emerging tech gurus increasingly view freelancing as a viable career option or supplement: "Milennials (born after 1981) [are] adopting this online work style faster than other demographic groups." Greenstein reports that "over half the freelancers surveyed are reporting higher incomes" that they believe will continue to increase over time. If you're looking for engineers and developers who have experience with some of the latest technological challenges that your company faces, accessing a freelance talent pool may be your most effective option. And according to Elance, the talent is abundant.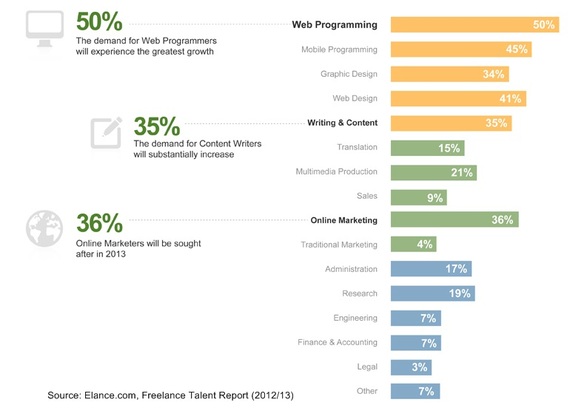 Freelancers Are Screened For You
According to Taso Du Val, CEO of the developer and engineer freelance network Toptal, while freelance options are abundant, it can be difficult to find honest and reliable freelance work. Du Val says Toptal was specifically designed to address this struggle. "We screen at a very rigorous, deep level the talent that comes into our system. We recognized that screening was missing from freelance talent pools. Now, we conduct in-depth interviews with every person who comes into our platform," Du Val said.
More screening leads to more competence and reliability for employers. "We have engineers screening other engineers, so they have that understanding of not only technical aspects but the tangential qualities that make for a great engineer," he says. Modern freelancing platforms can actually make it easier, not harder, to screen applicants and secure a good fit for your company.
Freelancers Are More Reliable Than Ever
In an article on freelancers in Entrepreneur, Kate Ratkiewicz of the Human Capital Institute notes that modern employers don't consider freelancers an unstable or temporary option. "Outsourcing is no longer considered a temporary fix to a short-term need," Ratkiewicz says. "Instead, it's being redefined as a permanent fixture in organizational makeup."
Toptal's Du Val agrees that freelancing has lost its volatile stigma. "If you're working with great people at an office, you don't need a camera watching you. It's the same principle for modern freelancers who are working from home." That doesn't absolve an employer from all responsibility, Sara Wilson of Entrepreneur asserts. "Create a list of your needs, your goals, the skill set required, the education and experience you desire, and whether you want to pay the individual by the hour or by the deliverable," she recommends, before you seek out freelance talent.
Freelancers Can Supplement A Growing Business On A Budget
Sara Angeles of Business News Daily notes that hiring freelancers is an underutilized option for startups and small business with fiscal constraints. "Freelancers can not only work on demand as needed, but businesses can also pick and choose work-ready talents with specific skills," she reports. "With payroll being a huge chunk of fixed costs for businesses, hiring freelancers lets businesses convert them into variable costs."
Angeles notes that freelancers tend to have an entrepreneurial spirit that meshes well with the values of a startup or small business. "Because freelancers run a business themselves, they typically share the same values as business owners," she says. From budget-friendly investments to flexible scheduling and common values, hiring freelancers is emerging as a hiring solution for growing firms.
You're In Good Company
Fox Business reports that "midsize and large businesses are hiring freelancers in record numbers...60 percent of enterprises plan to increase freelance hiring in 2014 [and] 47 percent of surveyed companies use third-party firms to hire freelancers."
Testimonials abound from CEOs and HR managers that freelancers are a sound investment. Brad Chase, who founded online health supplement resource, ProgressiveHealth.com is proof it can work. He "almost relied solely on the skills of freelancers" to build his business, and was able to ensure company growth and low overhead with his unconventional strategy. Du Val says that he's seen high rates of employer satisfaction through Toptal. "Ninety-eight percent of the time, companies are satisfied with the freelance talent they secure through the platform," he says. "These options are working to fix the developer/engineer crunch that most of the world is facing."
"The workforce of the future will need to be able to accommodate freelancers in order to compete," says entrepreneur Jeff Wald of Forbes. "Business planning for this starts now, as we're already seeing among the most forward-thinking of enterprises."
You need vetted, reliable engineers and developers to take your firm's technology integration to the next level. Whether you're confined within a startup budget or simply struggling to find competent STEM employees worth investing in, freelance talent may just be the solution you've been searching for.