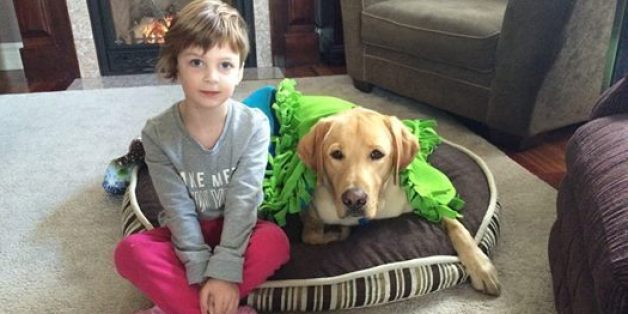 Dear Santa,
It's me, Oakley, the autism service dog. I finally met my girl. For many months, I knew I was training to be hers, and I wanted to let you know that every single minute of training was well worth it. The moment I met her and her little hands wrapped around my neck for an impressively strong hug, I knew we were meant to be. I've been her anchor and she my best friend and while she is truly everything I need, I thought I might mention a few things I wouldn't mind finding under the Christmas tree this year. It can't hurt to ask, right?
1. The Finest Food and Drink
Other than the love of my girl, the thing I am most motivated by is food and drink. What can I say? I am a dog's dog, through and through. I would love some gourmet kibble and ionized water in my bowls at meal time. Let's garnish them with a few doggie treats and throw in a bone dipped in peanut butter for dessert. I hardly think it's too much to ask, since I am working hard every single day.
2. A Heated Bed
I am a bit calmer than others of my kind; some would even say poised. In order to maintain my gentle, yet regal disposition, I need a good night's sleep. I must turn around at least three times to get even remotely comfortable on my current bed. It's been ghastly, to say the least. A large heated bed would do the trick. I prefer Egyptian cotton for the sheets; queen size would be fine. What?! No one said anything about a doggie bed.
3. A Housecoat and Slippers
If I am going to be spending cozy winter evenings snuggling with my girl, then I would like to be as warm and fashionable as I can be. Like I said, I am a proper gentleman, and when my service dog vest is off, I would prefer to maintain my modesty and my style with a finely made housecoat and slippers. A deep burgundy with sleeves of faux fur, of course.
4. A Ninja Turtle
My girl, Kate, is obsessed with these little creatures. They are everywhere around me. They often set up shop on my back as I snooze. I suppose I should have one to chew on so I can see what all the fuss is about. If possible, could you make it steak flavor?
5. A Dog Mansion
While I spend the vast majority of my time lounging in front of the fire, there are times when I like to explore the outdoors. Rather than come back each time I am in need of a break, I would like my own small dog mansion on the property. Please make sure it is equipped with a never-ending supply of treats and the aforementioned heated bed.
6. The Incorrigible Mr. Bill Bailey
Can you imagine a name like that for a cat? He thinks he is so charming just because he was born with a tuxedo on. He's always staring at me with those cat eyes like he's planning my demise. Would you mind doing something about him? He is really beginning to creep me out. I'm sure he would make another family a lovely pet.
Well, I guess that's all, Santa. You see, I don't ask for much. I'd just like to be treated like the fine specimen I am. Oh, and before I forget, could you see about those diamond earrings for my girl's mom? We are all quite sick of hearing about them.
Yours,
Oakley