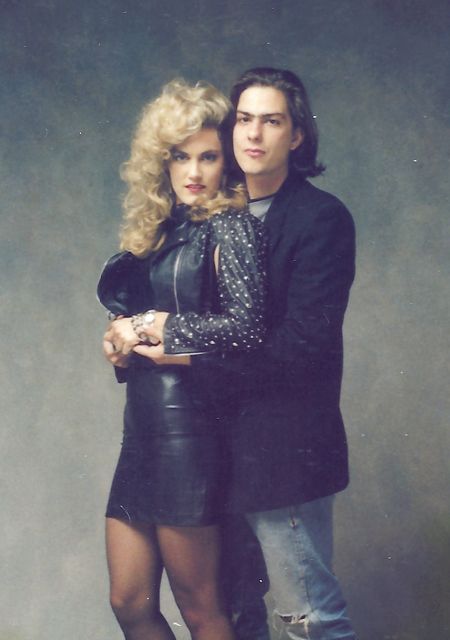 A press photo of me and Roman Coppola during the shooting of that timeless, cinematic classic Smash, Crash and Burn.
The year was 1989 and heavy metal, aka hair bands, were at their pinnacle. Bands with names like Abhorrence, Abruption, disEMBOWELMENT, Gorefest and Gorguts made me feel like I was taking my own life in my hands when I went to their sets at The Whisky A Go Go or Gazzarri's on Sunset Boulevard.
But I had no choice. Roman Coppola had just hired me to star in the second movie of a three-picture deal he had with his father's Zoetrope Studios. I played the manager of a real-life hair band called Brunette and this formerly Mormon, sheltered USC graduate needed to do her research.
I was paranoid about working on a set I imagined rife with drugs and sexually transmitted diseases you could catch simply by shaking hands with a head banger.
But I arrived to a familial, laid-back set where Roman set a placid tone. His cousin, Nic Cage, would stop by and make all the girls on set goofy. Roman's sister, Sofia, hung out frequently with her gaggle of Valley Girl friends. The likes and oh my Gods flowed like pink zinfandel. I felt certain she'd never amount to much.
I didn't think Roman would amount to much either. He was quiet, shy and unobtrusive on set. And Smash, Crash and Burn wasn't what you'd call high-brow cinema.
The scene that carried the most gravitas took place next to the john at the now-defunct Gazzarri's where my character stared at the hundreds of framed photos of Playboy Playmates that lined the walls.
Barbi Benton smiled beatifically down at me from between the twin aureoles of her breasts, inspiring my character to quit her job at the exploitative club and instead manage Brunette, thereby demonstrating that women are more than just sex objects, they are the masters of their destinies.
"And action!" called our director.
I stormed the stage in five-inch spiked stilettos, skin-tight pleather pants, prosthetic breasts and a midriff-baring bustier -- and struck a blow for feminism.
Six weeks after we wrapped shooting, I arrived home from my waitressing job, having served 65 chocolate bread puddings to the drunken Mark Taper Forum cast of Frankie and Johnny in the Clair de Lune, to discover a huge box addressed to me sitting on my front porch. The return address said Zoetrope Studios.
I tore the package open, thrilled that it might contain the final cut of the movie that would certainly propel me to stardom. Instead I discovered a crate of Coppola Pinot Noir with a note:
Dear Shannon, we're sorry to inform you that we've hired a troupe of comedians to redub all the voices -- including yours -- in the movie Smash, Crash and Burn. We just needed it to be funnier. I hope you will accept this gift of our finest vintage pinot as an apology. Sincerely, Roman Coppola.
I finished imbibing that entire crate of Coppola's finest vintage pinot a full year before I learned that Smash, Crash and Burn would never be released due to legal problems (or so they say). Five years later I quit acting and waitressing for good, embarking on the life of an ordinary civilian.
Over the years I've watched Sofia Coppola's star rise and that seemingly shallow, insipid little Valley Girl has become one of my favorite filmmakers. Her ability to capture the ennui and isolation of characters in rarefied circumstances (The Virgin Suicides, Somewhere) enthralls me.
In contrast to his sister, Roman seemed to fade into the background right up until I read the Oscar nominations and discovered that Roman, along with the inimitable Wes Anderson, is nominated for Best Original Screenplay for that perfect jewel Moonrise Kingdom, which should also have been nominated for Best Picture.
Roman, I underestimated you. Our two roads diverged in a yellow wood and you took the one least travelled by. I think it's safe to say you're having the last laugh.
(Read my unabridged version of working on Smash, Crash and Burn here)